The Russian Blue Cat is one of the noble cats with dark blue eyes. The Russian Blue Cat has made fans mad and desperate. However, Russian Blue cat price is quite high currently, about $700 for a cat raised as pet only. Those with full registration, allowed for breeding breed will have much higher prices, depending on the reputation of the breeder and pedigree, characteristics of each kitten. Details about Russian Blue cat for sale prices and breeders can be found below.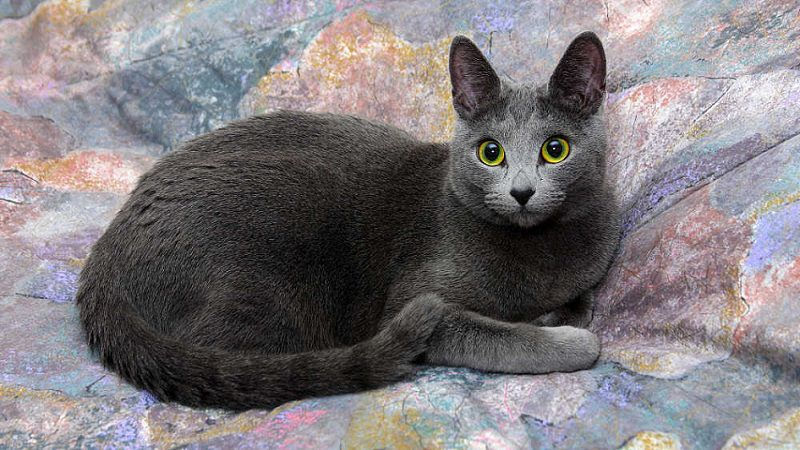 [ux_products products="24″ tags="cat-products" orderby="rand"]
Russian Blue cat price range
Depending on raising purposes and quality, each Russsian Blue cat will cost differently. If you intend to adopt Russian cats as pets, it is cheaper than those with good bloodlines and used for breeding.
Limited registered Russian Blue cat price
These cats are only allowed to raised as pets, not allowed for breeding. The average price for a kitten is between $500 and $800. With the presence of this cat breed at home, they will be wonderful companions for owners.
Fully registered Russian Blue cat price
Fully registered Russian Blue cats will be allowed for breeding. The price of each kitten depends on genealogy, lineage, breeding places as well as appearance (color, shape).
Russian Blue cats with normal family records, from the lesser-known breeding farm, usually cost between $800 and $1100.
Russian Blue cats with premium family records, from famous breeding farms, with beautiful eye colors and beautiful feathers, will cost $1100- $3000.
>> You May Also Like: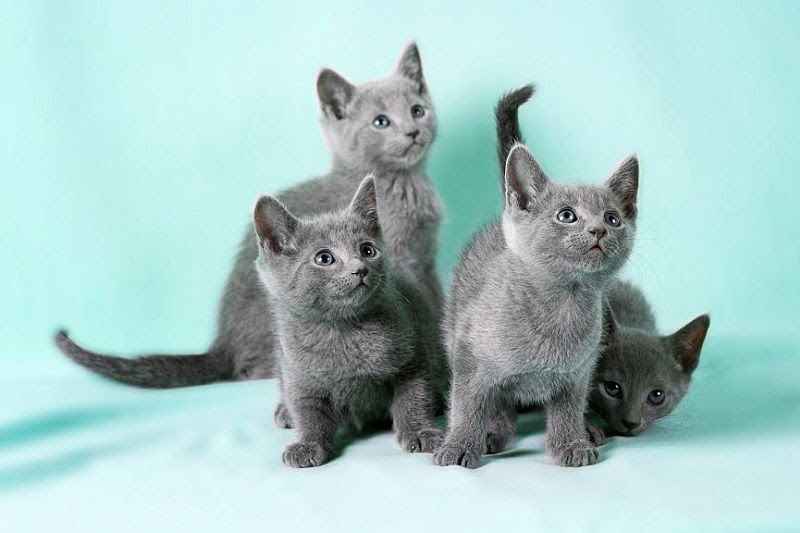 Prices of Russian Blue cats imported from England
Why are they imported from England rather than from Russia? In fact, Russia was the first place where Russian Blue cats were discovered, but Britain was the place where this cat breed developed to the top, and became the standard of Russian Blue cats in the world. Russian Blue Cats (allowed for breeding) imported directly from the UK  are about $2,000 each when sold in the United States.
Where to find Russian Blue Kittens for sale
Online Russian Blue cat for sale websites
http://www.hoobly.com/russian-blue-cats/ – This address will give you Russian Blue kittens for sale at an affordable price (about $600 to $2000). Information about Russian Blue cats is not much but is published clearly and in details. This is an ideal place for you to buy a Russian cat.
https://www.sweetiekitty.com/russian-blue/ – This is also a prestigious Russian Blue Cat site. When you buy cats here, you will have enthusiastic consultants and will be provided full information of cats and sellers. The price of each Russian Blue kitten here is also very affordable, mainly from $650 to $900 but cats here are still ensured in terms of health, beauty, etc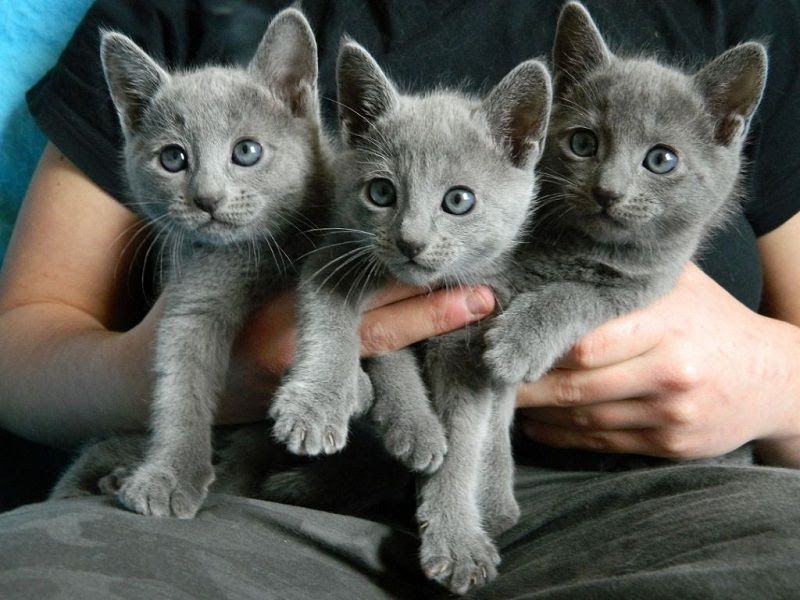 Russian Blue cat for sale reputable breeding farms
1. M&B Russian Blues
They are Russian Blue Cat breeders from Illinois. Every cat born here is very healthy and beautiful. The farm mostly breeds Russian Blue cat with short hair and gray, gray blue colors. Especially, their eyes are beautiful and attractive. This is the plus point for this breeding farm.
You can find more information and contact them through the website:  https://www.russianbluekitty.com/
2. Russian Blue Original
The farm has always tried to develop the Russian Blue cat more widely. They do not focus on market trend or quantity, the most important thing to them is the quality, is the original cat. The cats born here are very beautiful, intelligent, and loyal. They will definitely be the best companion for your family.
You can find out more information and contact them through the website: https://www.russianblueoriginal.net/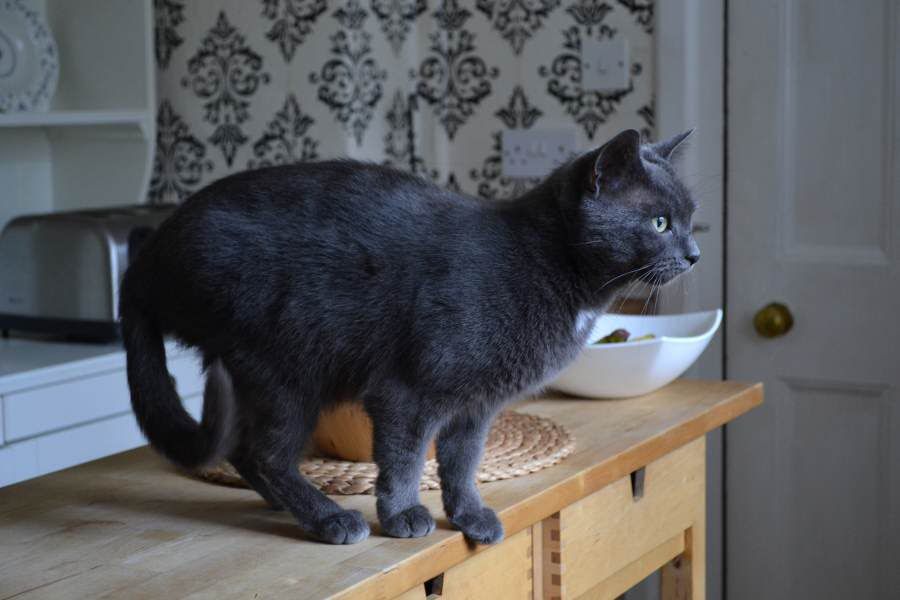 3. Righteous Russian Blues
The breeding farm specializes in breeding Russian Blue Cat. Like most of other breeders, their desire is to develop this cat on a traditional cat base. They are ready to consult you the way to take care of cats that fit needs of each individual and of their adoptive parents as well, because they hope that each kitten will have the best development environment.
You can contact them through the website: http://www.righteousblues.com/
Origin of Russian Blue cats
This cat breed is of Russian origin and was discovered by British explorers in the late 19th century. At the London cat show in 1875, they were widely introduced and attracted much attention of many guests in this exhibition. Since then, they became well-known everywhere and were recognized by the World Cats Association in 1800. Today the Russian Blue cat has become the most favorite noble cat.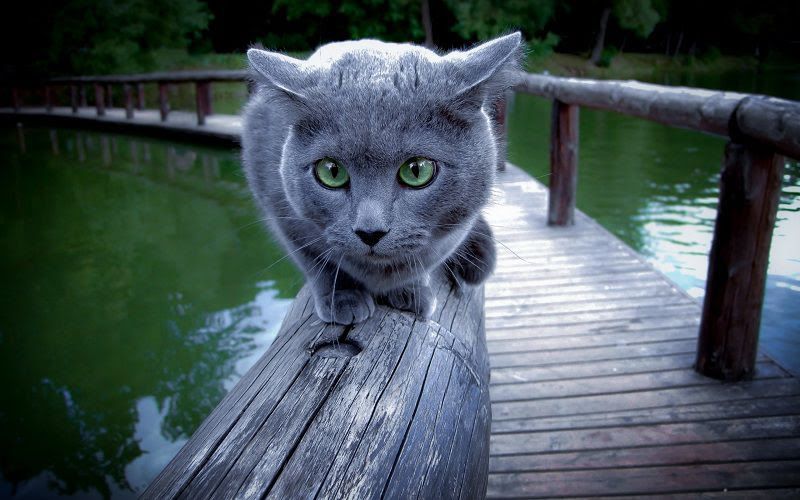 Characteristics of Russian Blue cats
Appearance
The Russian Blue cat is a medium sized cat, but their bodies are very strong and muscular. Tight bodies with long flexible legs are probably the reasons that they love to run and climb. This cat has a head described as a cobra head.
The most striking feature of these cats is that they have very beautiful blue eyes, which will become even darker over time. Such blue eyes have created the mysterious beauty and power of the Russian Blue Cat.
The most unique characteristic of the Russian Blue cats is that they have a short, thick, smooth coat, grayish-green feathers and silver-gray hairs, which give them an extravagant and bright look.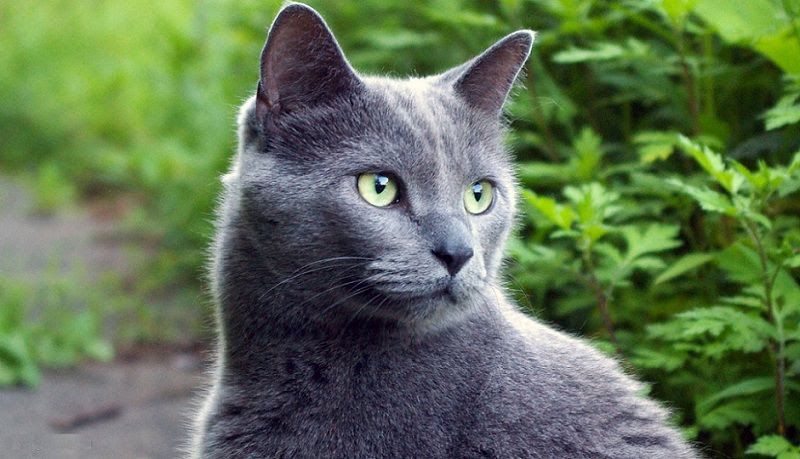 Personalities
Russian Blue cats are gentle and lovely cats. These cats are very gentle, calm and affectionate; they are close with familiar people but are shy with strangers.
They are always close with the owner. They do not often crave for caresses, they are children who understand and are friends to share the sad and the happy as well. Russian Blue cat is a great pet cat for those who like quietness.