As a crossbreed between an American Bulldog and a Pit Bull Terrier, the American Bully inherits distinctive traits of its parents. While descending from the Pitbull, the Bully is not at all aggressive. Instead, the Bully is gentle and patient, especially to children, which makes this breed adored and sought out by many dog lovers in the world. Nowadays, the American Bully price is quite high, around $1500/puppy. 
>> You may also like: Best Dog Food for Pitbull Puppies to Gain Weight and Muscle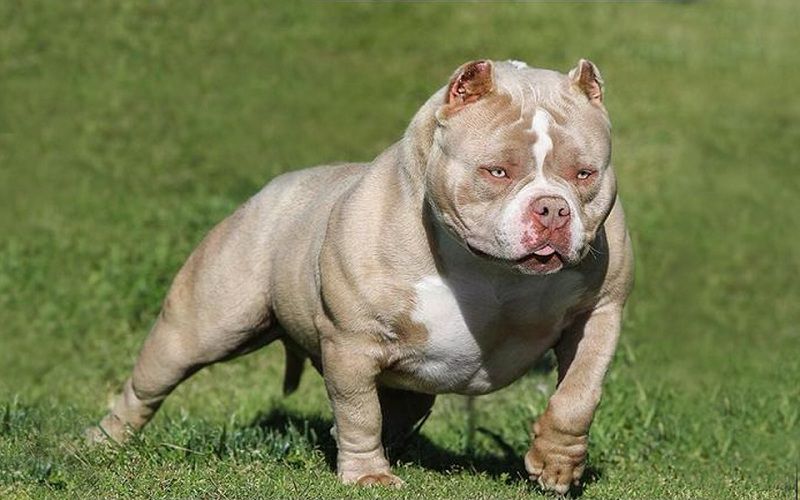 [ux_products products="24″ tags="pitbull-products" orderby="rand"]
In this article, we list out all information about prices and trusted places to buy Bullies. Also, you can find here details about traits and personality of this breed, along with things you should consider before buying an American Bully.
American Bully Price Range
Based on your purpose for raising a Bully and your expectation in its quality, the price of the American Bully is divided into 2 groups: Bullies with limited registration and Bullies with full registration. The difference between the two groups is that limited registered puppies do not have breeding rights while fully registered ones do. It also means that fully registered Bullies are much more expensive than the other.  
Price of American Bullies with limited registration
These puppies are quite affordable, ranging between $1200 and $1800. They are suitable for someone that looks for a companion instead of breeding them.
>> Price of Other Bull Dog Breeds: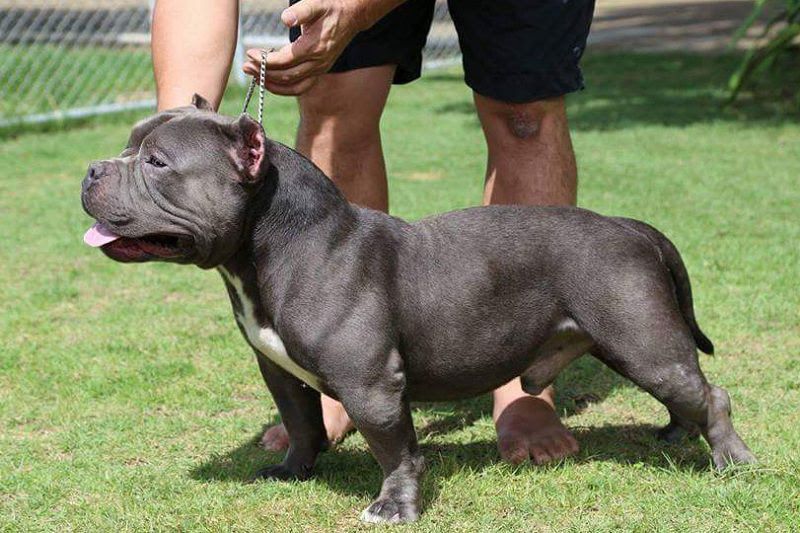 Price of American Bullies with full registration
Fully registered bullies cost much more than pet-only ones. Their exact price is very diverse, depending largely on their breeders, pedigree and lineage.
Bullies from ordinary breeding farms cost about $1800 – $3000/puppy. They are often of common lineage and raised as pets.
Bullies from well-known breeding farms is very costly, between $3000 and $6000/puppy depending on their lineage. Often of excellent lineage, such puppies are raised for breeding or for participating in Dogshows.
Where to buy American Bully puppies
Websites selling American Bullies
http://www.hoobly.com/american-bully/ – This is a popular place for people looking for a pet. It is very convenient to search for Bullies here as there is a great variety of puppies with full information and at affordable prices ($1000 – $2000). This website updates classified ads around the world quickly. Wherever you are, you can find Bully sellers in your proximity.
Puppyfinder.com/american-bully-puppies-for-sale – This is another site offering Bullies. Like Hoobly, there is a great number of puppies of different sizes, ages, prices,… for you to choose from. However, as only classified ads are available, the quality of puppies is not guaranteed. Therefore, you should check their registration papers and health certificates,… thoroughly before taking them home.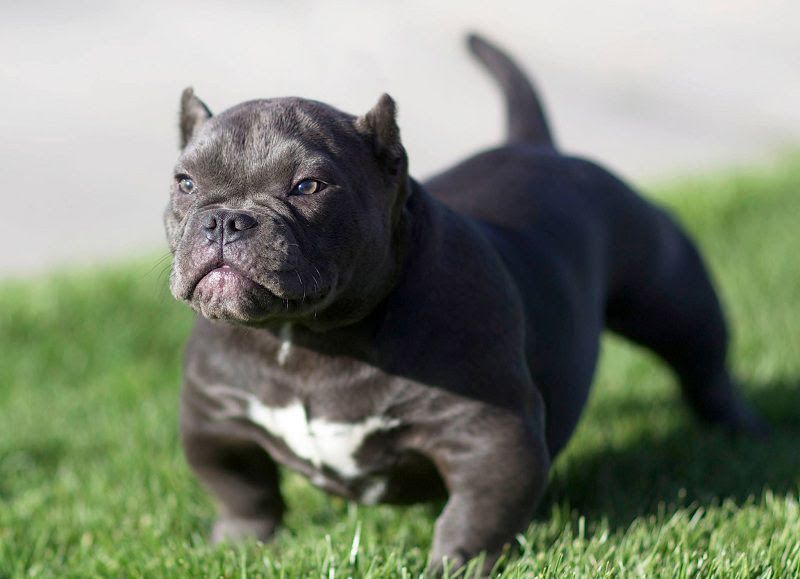 Reputable American Bully breeders
1. Carolina Bully Farms
Now a professional breeding farm, Carolina Bully Farms did not start as one. They started their job purely because of their love for Amerian Bullies. Up till now, this farm has years of experience and has bred may healthy and quality Bullies.
You can find more information and contact them via their website: http://www.carolinabullyfarms.com
2. Muscle Tone Bullys
This is a well-known and professional Bully breeding farm. With many years of experience in caring and breeding, they are well aware of what Bullies need and how to train them right. Therefore, all Bullies born here are healthy and up to customers' standards.
You can find more information and contact them via their website: http://www.muscletonebullys.com/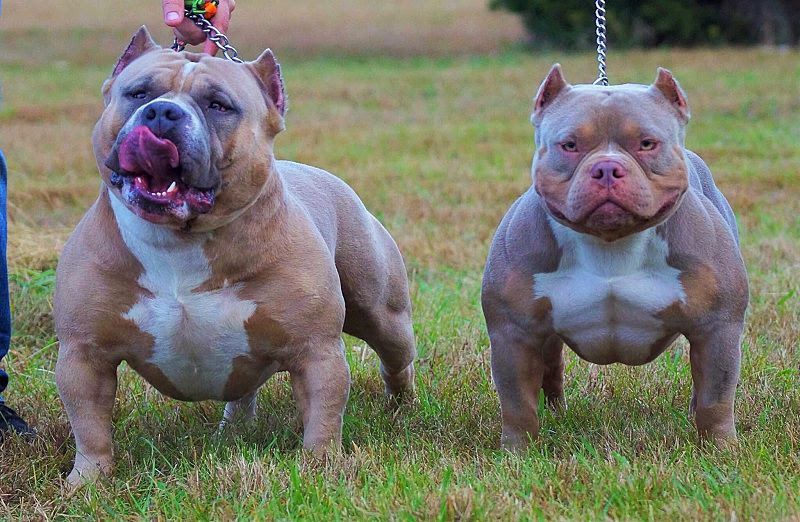 3. Checkmate Kennels
This place never fails to deliver lovely and healthy Bully puppies, which are also UKC and ABKC registered. Checkmate Kennels is the place you can rely on if you want to look for high quality Bullies with verified origin, good health and nice personality. Also, you are sure to be satisfied with this farm's dedication and professionalism.
You can find more information and contact them via their website: http://www.checkmatekennels.com
Characteristics of the American Bully
Appearance
The American Bully has a tough build and exposed muscles. Its head is bigger than that of the Pit Bull and proportionally long. The cheek muscles are pronounced. The ears are high, but often cropped for a cooler look. The neck is large, heavy, slightly curved and gets slimmer from the shoulders to the back. The chest is deep, wide and muscular. As for its weight, each Bully is around 60 – 80 pounds heavy.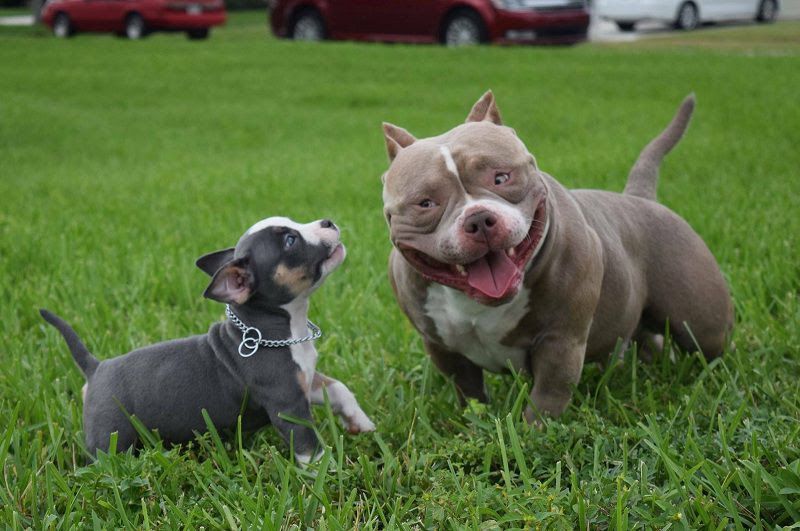 The Bully bears a striking resemblance to the Pit Bull. This is why many people confuse between the two breeds. However, the Pit Bull is slimmer and taller while the Bully is shorter and more muscular. The Bully has a big head and a muscular body. In terms of temperament, the Pit Bull is more aggressive. On the other hand, despite its tough appearance, the Bully is more gentle and easier to train, which makes this breed very popular among young people.
Personality
The American Bully is a nice and reliable companion. These dogs are known for their courage and their ability to become strong warriors if provoked. They are able to protect their owner and owner's property. They are even willing to sacrifice themselves for their loved ones. Although the American Bully has been selectively bred to become more gentle, it is still considered a fierce breed. Therefore, the Bully needs calm, confident and consistent owners.