[go_pricing id="airline-approved-pet-dog-cat-carriers-in-cabin"]
Holidays are a very wonderful experience all of us might want to avail ourselves of especially in this regimented society of ours, but pet owners usually find it a bit difficult leaving their beloved furry companions behind. Recently, numerous pet lovers choose to convey these adorable pets when they go on vacation simply because these cute pets might not be comfortable staying behind with pet owners' friends or any close family relation, due to their affinity with their closest pal.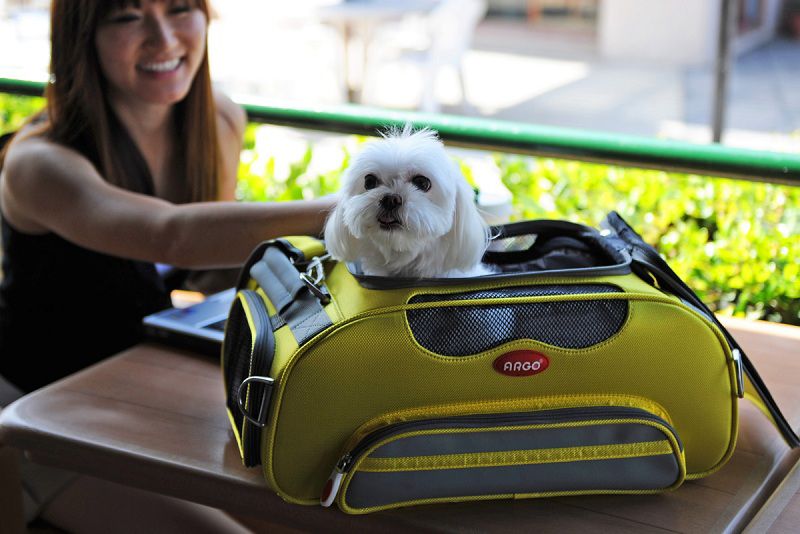 Flying together with pets is becoming more pronounced and very popular nowadays as many people are saving up to experience international vacation, even seeking relocation to foreign nations because of work. All airlines do have specifications that are many for flying pets, hence, similar rules and regulations aren't followed by two airlines.
So, have you been searching for a dependable and reliable approved airline pet carrier for your dog and cat? If your answer remains "YES" then keep reading. We have reviewed the best four best In-Cabin airline approved pet carriers to save you of the hassle.
>> You may also like: 
I. Best Airline Approved Pet (Dog/Cat) Carriers In-Cabin
1. Sherpa Original Travel Deluxe Pet Carrier
This brand of pet carrier isn't only famous, it is also a brand that is trusted in the Industry of pets. If you're looking towards taking a trip to your vet, or going on an expedition or traveling in a fashionable manner in a comfort by road or air then Sherpa Original Travel deluxe Pet Carrier is a very perfect carrier that suits this purpose.
This In-Cabin pet carrier features top panels which supplies a lot of ventilation and optimal visibility for your Dog and Cat. The pet carrier also features padded nylon covering with a mesh side.
Sherpa deluxe pet carrier for Dogs and Cats has baggage and a quilted strap for shoulders which makes traveling way much easier. It also has back pockets that make storing treats easier, pet pal, bags or leash needs for the journey.
Pros:
It is very strong and dependable
It has a fashionable design and compact
It is very easy for Cats and Dogs to go in and come out of the carrier thanks to the wide openers at the top and side
Cons:
Limited space is allocated to the pet for movement since the carrier is primarily designed for comfortable and safe travel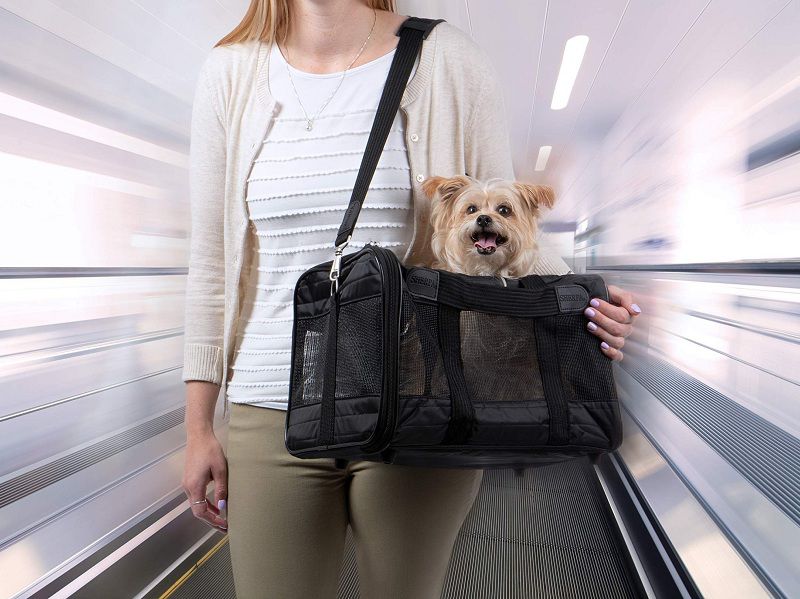 2. Sleepypod Air In-Cabin Pet Carrier
Portable pet carrier for Cats and Dogs which is an In-Cabin carrier for airplane are suitable for pets that weighs almost 17.5pounds. This pet carrier has a quilted strap for shoulder and along with it comes an ultra-plush machine washable bedding.
Sleepypod Air In-Cabin Pet Carrier for Dogs and Cats are easier to zip off if you want to gain access to your adorable pet. It possesses pockets with large zippers on the two sides for preserving vacation miscellaneous and utilities of pet owners as well as that of the pet.
Pros:
It is easy to maintain and clean
The mesh is resistant to tears
The shoulder strap can be adjusted to suit your convenience
It features a safety leash or cord in order to prevent pets from escaping
Cons: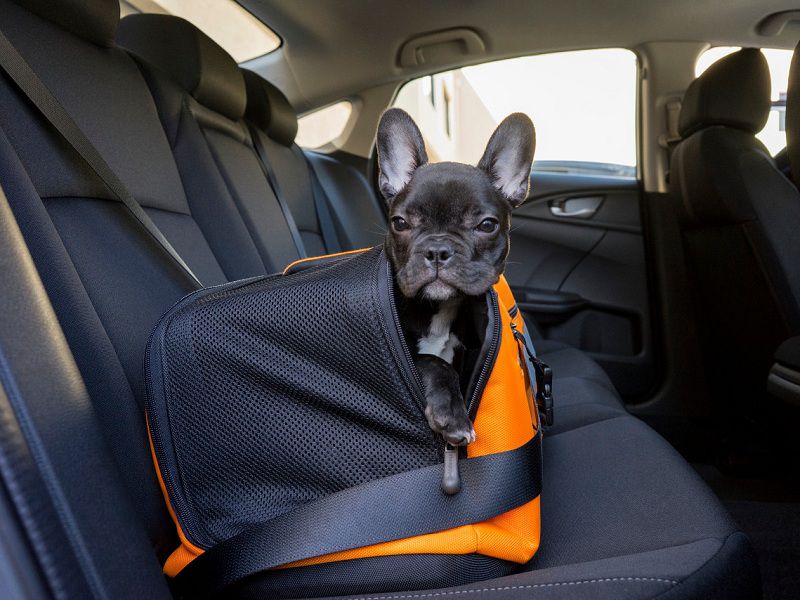 3. Mr. Peanut's Soft-Sided Pet Carrier
This approved  In-Cabin airline pet carrier which has a length of 18 inches, width and height of 11 inches perfectly suits pets who have their length to be 16 inches while lying down. This premium brand pet carrier has a very strong tote simply because it can't be openly pushed from the inner section and it possesses a premium brand automatic self-enclosing zippers for security purpose making Mr. Peanut Soft Sided Pet Carrier recommended for your furry pets.
Pros:
It is weightless and last long
It features an automatic zipper that is self-locking which cannot be easily withered
It is very much available in different colors
It guarantees privacy due to the availability of roll away covering of the textile
Cons:
Proper pet training is required for soft-sided carriers before traveling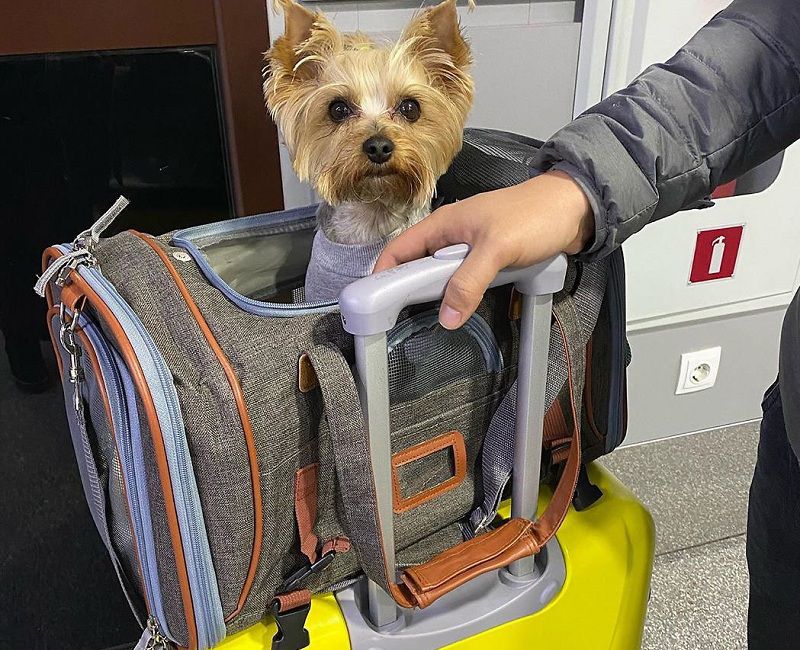 4. Pet Magasin Luxury Soft-Sided Pet Carrier
This pet carrier is approved by airlines and measures 11 inches in length and 18 inches in height, so flying with this particular pet carrier will be very perfect with smaller cats and dogs. When the latter end sections of the zippers are closed, the carrier takes a very good shape making the bag spacious by folding down on the floor in a flat manner.
The Pet Magasin Luxury Soft-Sided Pet Carrier is a very excellent choice for folks facing mobility issues or pains due to the very fact that this pretty cool In-Cabin pet carrier weighs merely 2 pounds.
The interior of this pet carrier has also been padded in its interior to ensure maximum comfort for your pet while traveling.
Pros:
It is way cheaper
Suitable for smaller pets
It is easier to care for and clean up
Super light and durable
Cons:
It won't be suitable for larger cats and dogs due to size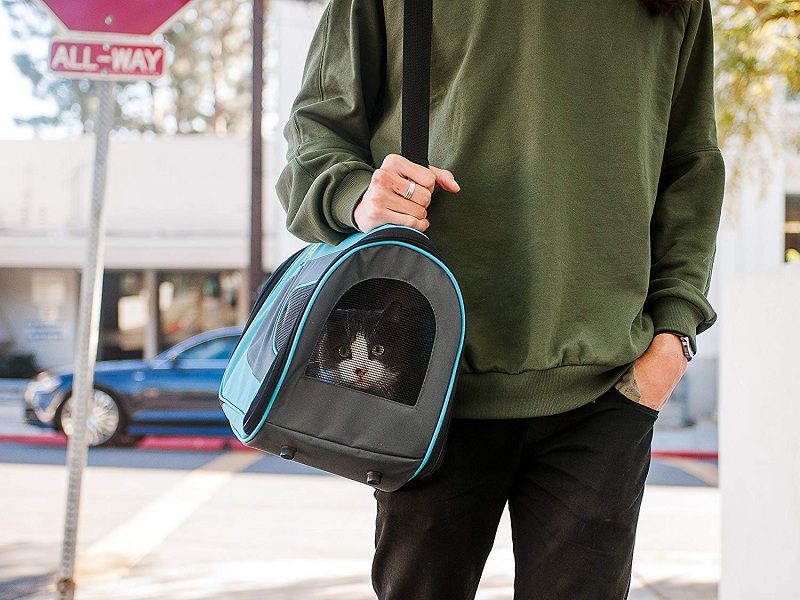 II. Buying Guide
Features to Look Out for When Going Ahead to Purchase Your In-Cabin Pet Carriers
You need to be very careful when choosing a pet carrier. There are arrays of different carriers and crates that are available in the market even online. The features highlighted below should be considered while choosing your preferred In-Cabin pet carrier before your journey.
Air circulation
Material
The comfort of the pets
Air Circulation: One of the crucial concerns every owner of pets needs to inquire about is the ventilation or airflow of the pet carrier before going ahead to make purchase of the carrier. A perfect carrier should possess plenty of mesh sections with heavy-duty which would not only make the pets see through the carrier but also optimize airflow.
Material: A very important feature that must be checked when buying a pet carrier is the material of the crate. The exterior of the crate should be made of hard substances like steel, aluminum, plastic and some are made up of softer materials like synthetic fibers of various measurements.
The comfort of The Pets: This aspect cannot be overemphasized simply because if pets aren't comfortable, most properly made carriers can also go waste. The linings of the carries should be detachable in order to ensure maintenance that is free of hassle.
III. Frequently Asked Questions
Can I choose a seat if I travel with my pet?
You can choose a seat based on own preference before you checking-in the flight depending on the airline you have selected. A corridor seat might not be available due to the fact that these seats have the lowest seat clearance and most airlines might refrain people traveling to select these seats while coming in with a pet. It's noble to make your airline aware of these facts before you go ahead to purchase your air tickets.
Should my pet be sedated for longer flights?
It is not in any way recommended to sedate your pets while traveling as this can increase their risk of respiratory and heart problems.
How am I sure if my carrier complies with the In-Cabin carrier requirements?
Almost all airlines do accept USDA and IATA compliant pet carriers. However, checking the pet policies of the concerned airline that you have selected for the journey is advisable.
IV. Conclusion
Travelling with your pet dog and cats is easy when you make use of these approved pet carriers. Look through and make your choice in selecting the right product based on your budget and pet preferences. Your holiday can now be enjoyed without any rumination.