The Japanese Spitz is a medium-sized dog breed of the Spitz type, developed in Japan in the 1920s and 1930s. They are recognized by most major dog associations, except for American Kennel Club due to their similarity to the white Pomerian, the American Eskimo and the Samoyed. However, it does not stop these friendly and sociable dogs from getting more and more popular. Nowadays, the average Japanese Spitz price is $1000/ puppy. In this article, we will provide necessary information about prices, reputable sellers to find Japanese Spitz puppies for sale, and an overview of their characteristics.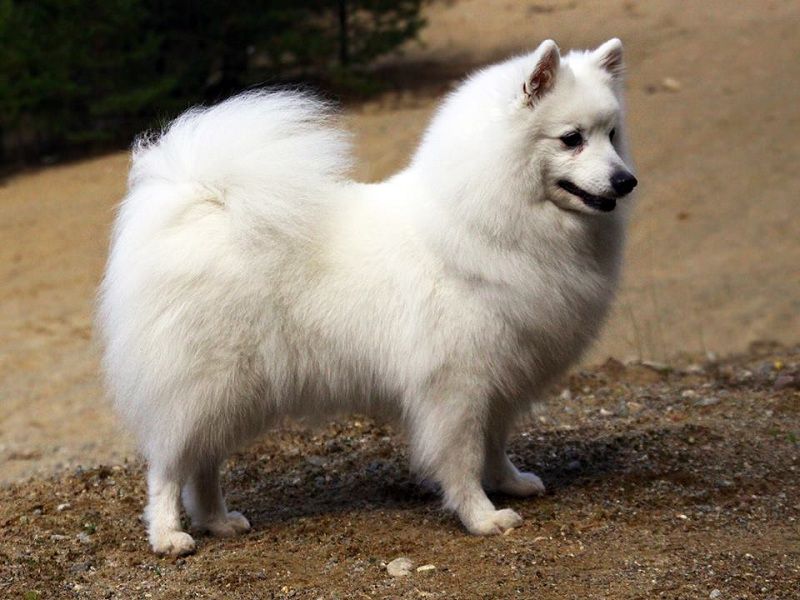 [ux_products products="24″ tags="dog-products" orderby="rand"]
Japanese Spitz price range
The prices of the Japanese Spitz can be divided into two groups: Japanese Spitzes with limited registration (pet-only) and Japanese Spitzes with full registration (with breeding rights).
Price of Japanese Spitzes with limited registration
Such puppies are not allowed to breed and are sterilized since birth. If you are not a professional breeder and just want a companion dog, a Japanese Spitz with limited registration will be a smart choice. These puppies do not cost much, with prices ranging from $800 – $1200/ puppy.
Price of Japanese Spitzes with full registration
Fully registered Japanese Spitzes vary greatly in price depending on their lineage, pedigree and breeder's reputation.
Japanese Spitzes from lesser-known breeding farms are very affordable, around $1200 – $2000/ puppy.
Japanese Spitzes from well-known breeding farms are a lot more expensive, from $2500 to $6500/ puppy. In case of excellent puppies, the prices can go way high up.
Price of Japanese Spitzes imported from Japan
There are only a limited number of Japanese Spitzes on the market nowadays, so many breeders are actively importing high-quality Japanese Spitzes from Japan to enrich the gene pool. The price of such imported puppies is about $2000 – $4000/ puppy, shipping excluded.
>> You May Also Like: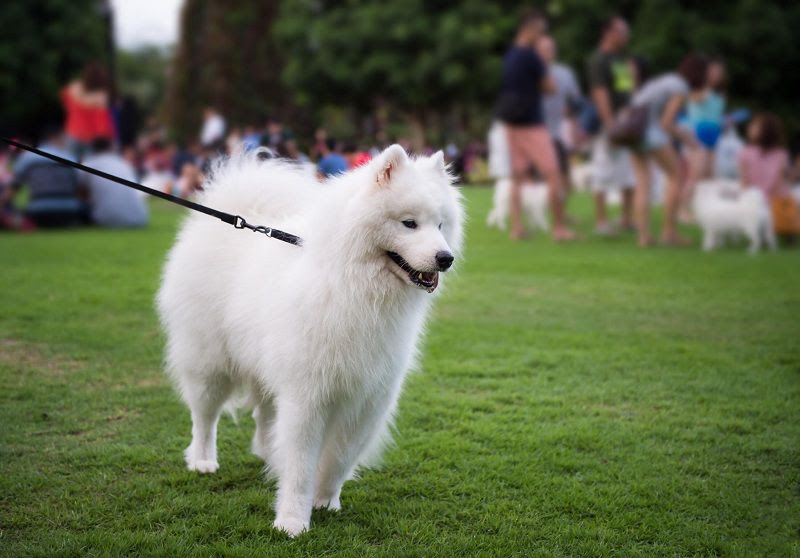 Where to find Japanese Spitz puppies for sale?
Japanese Spitzes for sale from classifieds websites
http://www.puppyfinder.com/japanese-spitz-puppies-for-sale/ – This is a major pet classified website that many pet lovers entrust. You can find here a great variety of Japanese Spitz puppies for sale diverse in ages and sizes. Their prices are also reasonable, commonly ranging from $1000 – $1200.
Among very few websites offering Japanese Spitzes, Puppyfinder is the most popular. Japanese Spitzes can be usually purchased from professional breeders. If you are looking for a higher quality Japanese Spitz, you can refer to some recommendations below.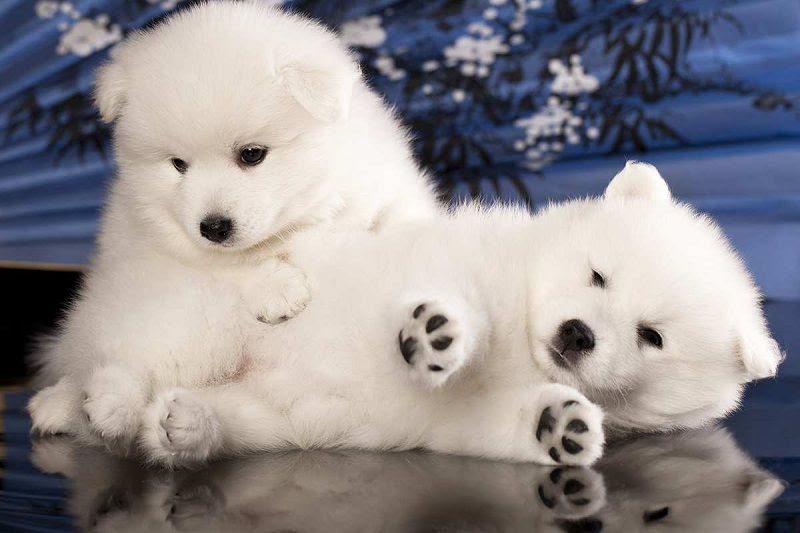 Japanese Spitze dogs for sale from reputable breeders
1. Kiraleea Japanese Spitz
This is a professional Japanese Spitz breeding farm, known for their success in breeding Japanese Spitz puppies that won Dogshows from 2008 – 2015. From the puppies' health, appearance to personality, everything is well cared for so that customers do not have to worry about their quality.
You can find more information and contact them via their website: http://www.kiraleeajapanesespitz.com/
2. Konalae Japanese Spitz
Highly experienced in breeding this breed, they know very well how to raise the Japanese Spitz in the best way possible. The puppies born here are properly trained since birth and are sure to meet all customer's standards.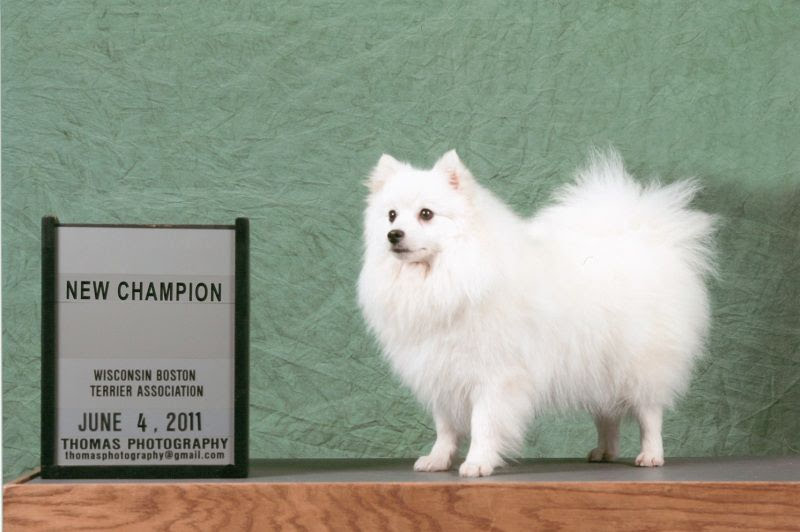 You can find more information and contact them via their website: http://konalaejapanesespitz.com
3. Albany Pet Resort
This massive breeding farm provides their Japanese Spitzes with a luxurious living condition that is unrivaled by almost any farms. The puppies here receive great care and training since small so you can certainly put your trust in this farm.
You can find more information and contact them via their website:http://www.albanypetresort.co.nz
Characteristics of the Japanese Spitz
The Japanese Spitz is a small to medium-sized dog breed with a weight commonly of between 14 and 20 pounds (6 – 9 kg). Their body is square with a deep chest and a pure white coat. The coat consists of an outer coat covering the soft inner coat. The fur is shorter on the muzzle and the ears as well as at the front of the legs. The fur around the neck is longer.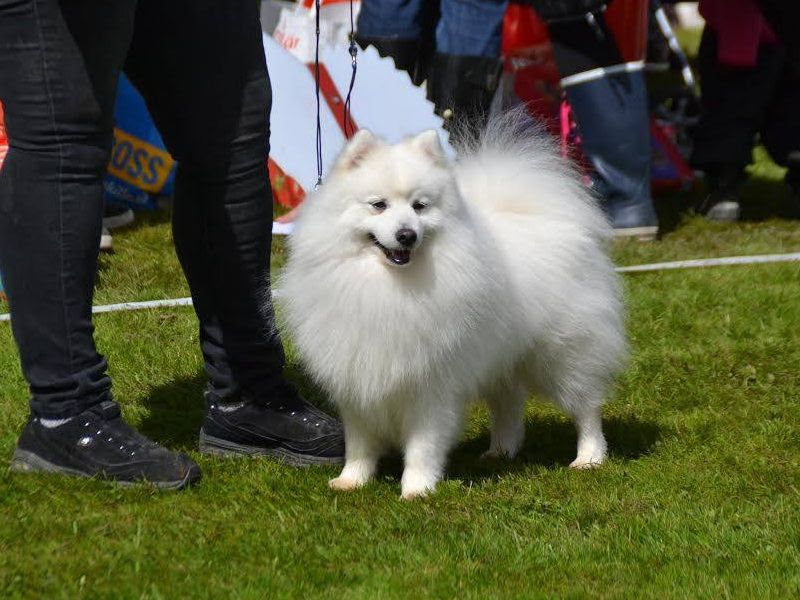 They have a pointed muzzle and small triangular ears. The tail is long, lying on the back and fully covered with fur. The white fur contrasts with their black feet, black noses and black eyes. They have large oval eyes (like ginkgo seeds) with dark colors and white eyelashes. Their nose, lips, and eyelids are black, sitting on their wedge-shaped face.
The Japanese Spitz bears a striking resemblance to the white Pomeranian, the Samoyed and the American Eskimo.
The Japanese Spitz is known for their bravery, loyalty and dedication to their owner. They are excellent companion pets and great caretakers for the elderly and children.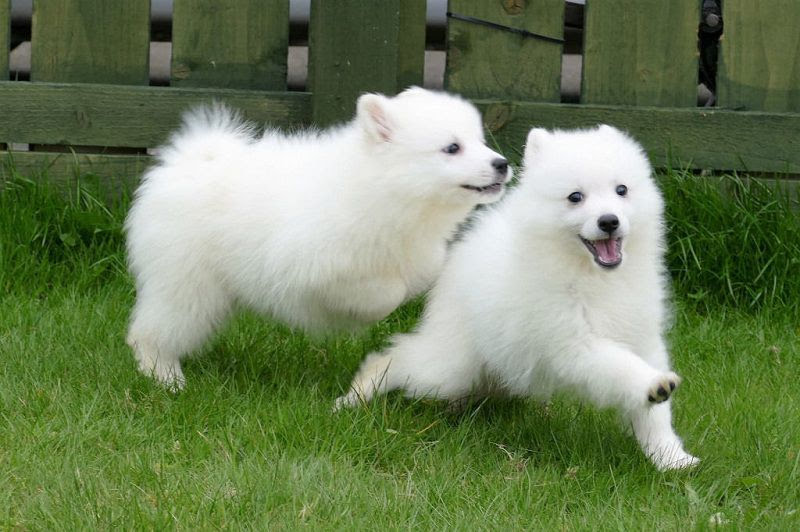 They are highly active and love being outdoors. They are intelligent, cheerful, vigilant and obedient. They especially get along well with children. They are also great guard dogs and will alert their owner when necessary. Overall, as great companions as they are, Japanese Spitzes are a good fit for every family.