Great Pyrenees is a mountain dog breed granted the mission of protecting sheep, goats, cattle and anything related to their family's "territory". The loyalty of Pyrenees is rarely seen, they always have unconditional love to their owners. Great Pyrenees are likely to show their luxury and nobility which easily leave a great impassion to anyone at their first sight. However, Great Pyrenees price has currently been not quite high, about $600 per puppy, on the average. Through this article, we will provide more information about prices, reputable places to buy Great Pyrenees and some details about this breed's appearance and personalities.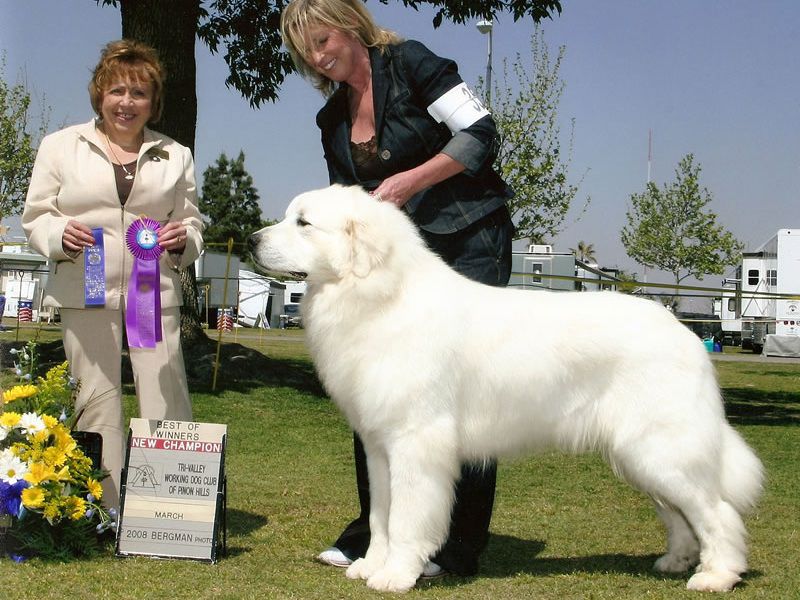 [ux_products products="24″ tags="dog-products" orderby="rand"]
Great Pyrenees for sale price range
Limited registered Great Pyrenees price
Limited registered Great Pyrenees  that are raised as pets are priced from $500 to $900 per puppy. If you need to raise a puppy only for satisfying your passion rather than for breeding purposes, a limited registered Great Pyrenees puppy would be a suitable option for you. 
Fully registered Great Pyrenees price
These Pyrenees puppies would be priced much more expensive than those raised as pets, you could only find these puppies at professional breeding farms. Prices of purebred Great Pyrenees puppies with full registration are fluctuating; which depends mostly on pedigrees, lineages and sizes, etc.
Great Pyrenees dogs from normal breeding farms are priced from $1000 to $1300 per puppy. These puppies have normal pedigree, more than 95% of breed purity; and are usually raised as family pets.
Great Pyrenees dogs from reputable breeding farms are priced quite high, from $1300 to $1500 per puppy; price could be even higher for really outstanding puppies. They usually have outstanding pedigree, notable lineage and are raised to take part in Dog shows.
>> You May Also Like: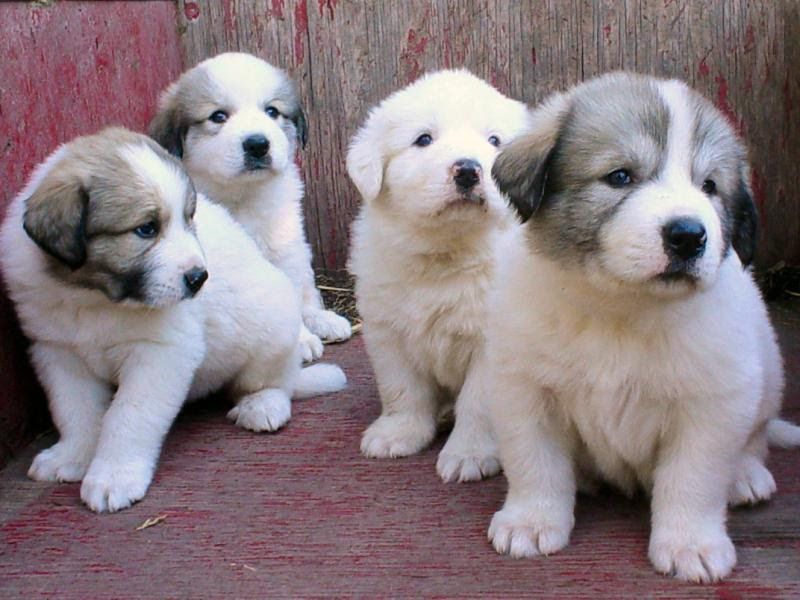 Where to find Great Pyrenees puppies for sale?
Great Pyrenees dogs for sale from classifieds websites
http://www.hoobly.com/great-pyrenees-puppies-for-sale/ – is a reputable advertising composite website which provides various puppy types. The website is always provides you a lot of pet searching results from almost every country around the world. However, because of its advertising feature, quality of puppies here is not fully verified and you need to carefully consider before buying. Prices here are diverse, commonly from $500 to $800 per puppy.
http://www.puppyfinder.com/great-pyrenees-puppies-for-sale/ – Like Hoobly, this is a great advertising website which provides a large amount of various dog breeds. The website supplies Pyrenees puppies with abundant types; however, you should think carefully of quality before bringing one home.
http://marketplace.akc.org/puppies/great-pyrenees/ – This website is certainly well-known by any pet lovers; it's likely that when AKC Market is mentioned, no one needs to worry about the quality here. At present, Pyrenees quantity here is abundant and you are assured of their appearance and health.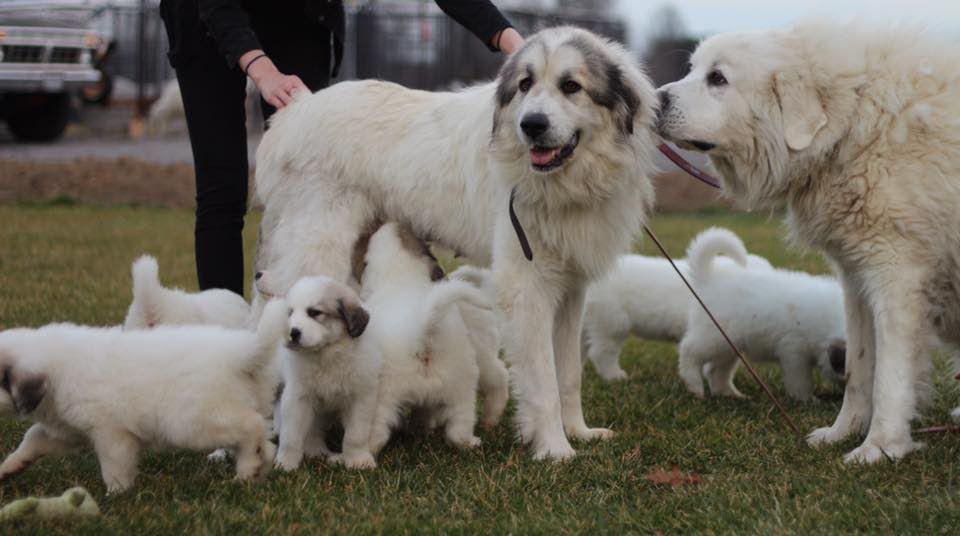 Great Pyrenees puppies for sale from breeders
1. Housman Great Pyrenees
This is a reputable Great Pyrenees breeding farm, the owner has spent much time on  Pyreness puppies to research and to learn about factors that help a puppy grow comprehensively. As a result, the farm has been breeding many healthy, energized puppies and been participating in some small and large-sized Dog shows around the world
For further information, kindly contact here: https://housmanfarmpyrs.weebly.com/
2. Great Pyrenees Rescue Society
The farm is quite well-known place for breeding Pyrenees; puppies here are carefully looked after and ensured about appearance feature, personalities and health. This website would be an ideal place to provide high-quality Pyrenees puppies for you.
For further information, kindly contact: http://www.greatpyreneesrescuesociety.org/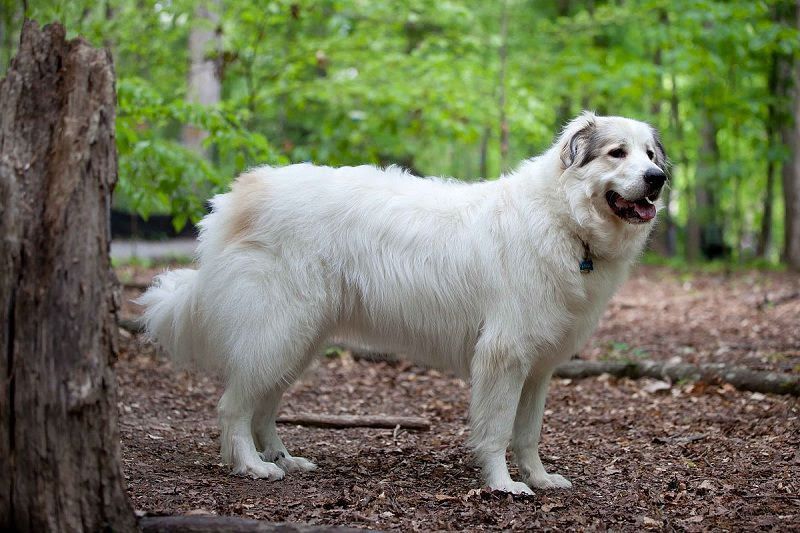 3. Mill Creek Family Farm
The farm's objective is to breed the most quality puppies that are ensured both in terms of good health and shape. Pyrenees puppies here are bred from healthy and charming parents with clear origins; which in turn makes sure that their next generations will have superior quality.
For further information, kindly contact here: https://www.millcreekfamilyfarms.com
Characteristics of Great Pyrenees
Appearance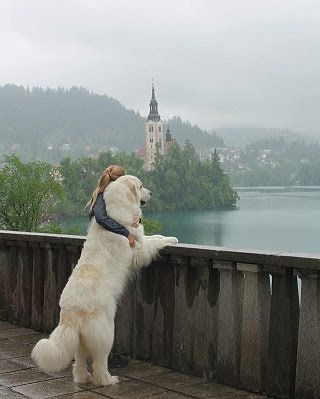 Male Great Pyrenees could be to 110-130 pounds (50 – 56kg) in weight and 27-32 inches (69 – 81cm) in height, whilst females could reach 90-115 pounds (41 – 52kg) in weight and 26 – 31 inches (66 – 79cm) in height. Their average lifespan is about 10 to 11 years.
They possess a weather resistant double coat, which is composed of a coarsely long, flat, thick, straight and slightly undulate coat. The coat is more prolific at their neck and shoulders. In addition, there is hair growing along the back of the front legs and along the thighs; which creates a "pantaloon" effect.
The coat colors could be white, grey, tan or rust-red around their face, ears and sometimes on their body and tail; but the main color is usually white. Colors of  nose and eye-rims are usually black. Another characteristic of Great Pyrenees is that claws in the hind legs are often twice as long as those in the front legs.
Personalities
Great Pyrenees are confident, gentle and affectionate. Their general behavior is made up by composure, patience and loyalty. This dog breed isnot only strong and independent but also thoughtful, fearless and loyal. Their large size makes them to become firm and trustworthy guardians.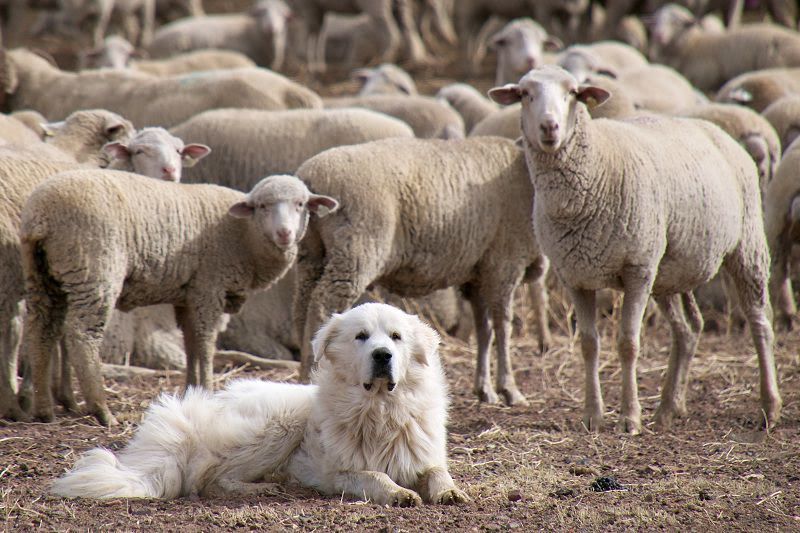 They are highly alert towards strangers; and usually do not allow any strangers to enter their house, but it would be fine if the owner feels comfortable with that stranger. Great Pyrenees dogs were formerly raised as livestock guard dogs, and currently it is able to see them perform such job in many farms.
Great Pyranees is a great friend to the family; but the problem is their low intelligence quotient, so they are slow to learn new commands when they are mature.