Together with Alaskan Malamute and Siberian Husky, Samoyed is one among three most beautiful sledge dogs in the world. Samoyed has the origin from Taiga region in the northwest of Siberia (Russia). Samoyed has been bred by local Samoyedic peoples since thousands of years ago. Current Samoyed price in America has been at a relatively very high level compared with other pet breeds. Pet Samoyed puppy price is usually not below $1,100. In fact, a pet Samoyed would cost popularly around $1300 – $1800. We will list all Samoyed prices for your references in the following.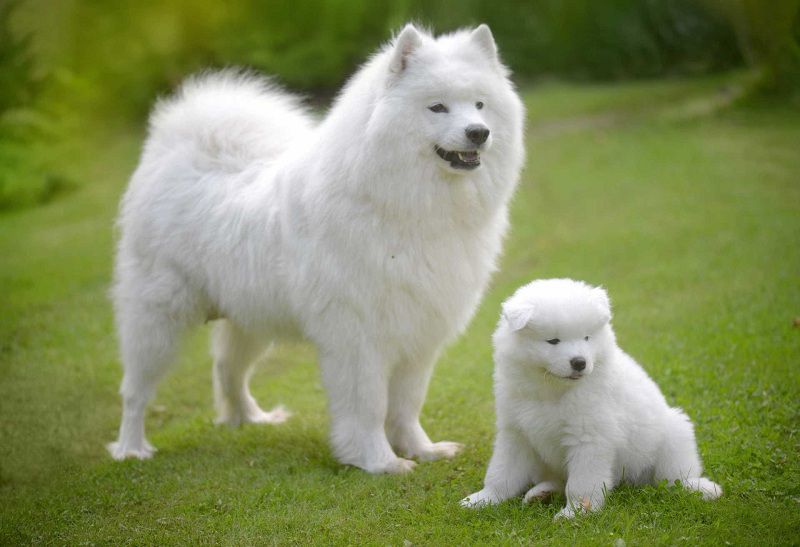 [ux_products products="24″ tags="samoyed-products" orderby="rand"]
Current Samoyed price range
Prices of pet only Samoyed
Limited registered and pet only Samoyeds usually cost from $1300 to $1800. It is rarely to see beautiful (purebred) Samoyeds offered below $1200, maybe there are, yet these puppies are probably un-registered. You should avoid buying these Samoyeds since their health risks are very high and breed qualities are not ensured.
You could find Samoyed puppies in this price range in below pet websites:
Prices of purebred and fully registered Samoyed
Samoyeds who have full registration and could be not only raised as pets but also used for breeding will be priced from $1800 to $2800. These puppies have good family records, high level of breed purity and were bred by professional breeders.
>> You may also want to read: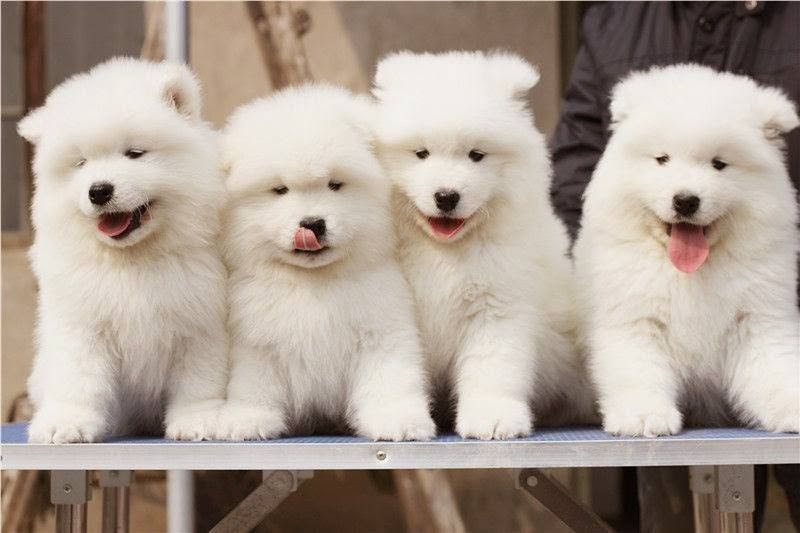 Samoyeds with above characteristics are usually offered in below pet websites:
How much is a purebred Samoyed with high gene quality?
High quality gene Samoyeds usually cost from above $2800 to $6000. These Samoyed costs are very hard to be priced and have a high fluctuation. These Samoyed prices depend mainly on the origins and family records of at least 6 generations of the offered Samoyeds.
If you are currently looking for a pet Samoyed, you need not to pay attention to puppies in this price level since these dogs are majorly for professionals who raise Samoyeds for breeding or for participating in dog shows.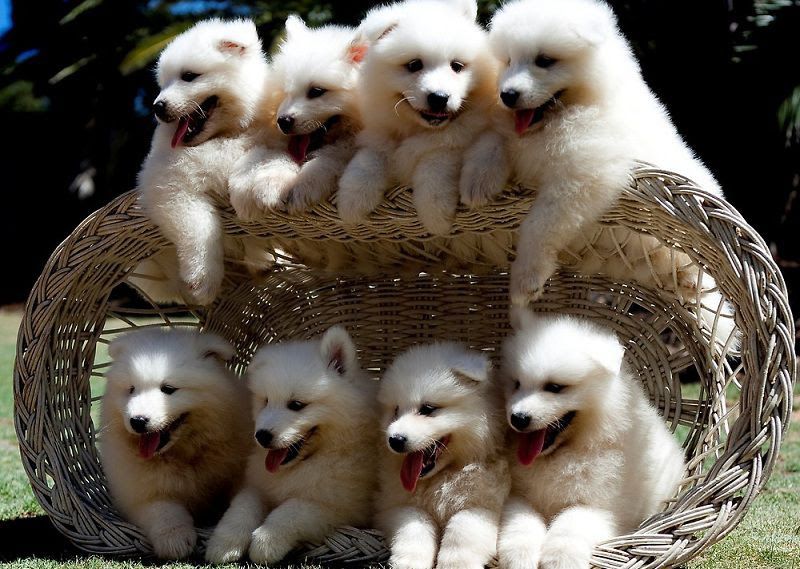 If you would like to own such top quality Samoyed, you should not look for them in pet websites; rather, you should find information in the official market place of AKC or official websites of famous, professional Samoyed breeders. Some of these websites are listed below:
Traits of purebred Samoyeds
Appearance
Samoyed has clean-lembed and well-portion body. A mature Samoyed will have an average height from 50 to 60 cm and average weight from 20 – 30kg. Samoyed has black and deep eyes, black or brown nose, pointed muzzle and very strong jaw. Their ears are of medium size, triangle in shape and stand erect. The tail is carried curled over the back or carried lying over the back and to one side. Samoyed legs are big and rugged, feet are soft, smooth and covered with thick hairs. Samoyeds have light steps.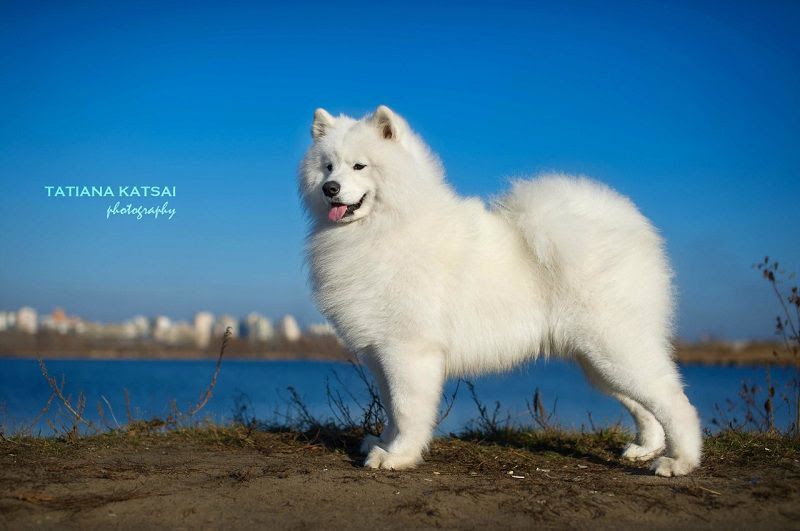 Coat is the most impressive trait of this breed. Samoyeds usually have pure snow-white color (for camovylaging in show when they are hunting). Some Samoyeds have creamy, biscuit or white and biscuit colors. Coat colors significantly affect on Samoyed puppies' price. Puppies with pure snow-white color, soft, and thick coat always have very high prices. Samoyeds with cream and biscuit colors (not pure snow-white color) will have relatively lower price.
Samoyed characteristics
Samoyeds are very intelligent, hard working and highly loyal. They tend to give their commitment to only one owner during their life spans, but they are very friendly to around people and other pets.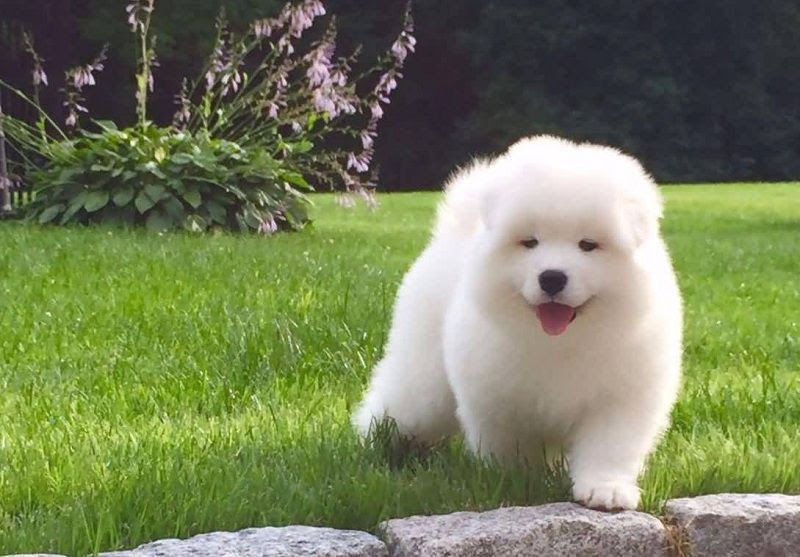 However, they will have a high tendency to destroy furniture if Samoyeds are keeping in narrow spaces for very long time. This is because Samoyeds are working dogs and prefer exercising a lot. Thus, when they are not allowed to exercise, their accumulated energies urge them to destroy things. Therefore, you should not raise Samoyed in very small and narrow room and you should spend your time to walk around with your Samoyed so that your dogs could spend a lot of energies.
Annual Samoyed cost
The first year of raising Samoyed will have the highest cost since you have to spend for many expenses in only one time. These expenses are dog house, dog bed, dog bowl, dog belt etc. Total costs of these expenses are around $500 – $1000 depending on conditions of things bought. If you would like to save money, you could buy second hand equipments, the cost will be lower and just around $300.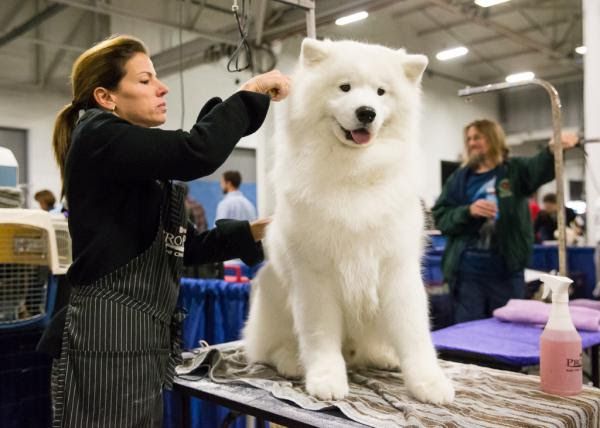 Beside onetime cost, there are other costs such as pet food expenses, bath lotion expenses, and health check expenses. Especially, Samoyeds are large dog breed with thick, long and light-color coat, thus, you will need to spend a lot of money on their hair cutting and bathing. Samoyed need to cut hair and take bath around once or twice a month, and each time will cost around $40. These annual expenses for your Samoyed are around $700 – $900.
Therefore, the total cost for a Samoyed puppy in the first year will be around $1000 – $1800. Expenses from the second year and above will be only around $700 – $1200. If you could cut your Samoyed hair and could help your Samoyed taking bath, you could save around $300 every year. If you have time, you should take care of your puppies yourself to increase the loyalty as well as the love of your Samoyed.