Chartreux is one of the oldest cat breeds in existence and has been recognized by CFA. This breed was not much valued, except for their pelt which was prized by furriers. Chartreux might well be compared to a silent friend but loves to communicate and sometimes silly. Chartreux Kitten price is average $500 – $700. Please find below details on prices, reputable breeder addresses, and basic information about the breed for your reference.
I. Chartreux price range
Chartreux price depends on the reputation of the breeder, pedigree, and ability to perform and become Champions in show competitions. Qualified Chartreux must be registered by breeders and have been vaccinated some specific diseases.
Price of Chartreux in pet standard: A registered kitten with full vaccination is priced from $500, and in the range of $500 – $700. The average price is $600 per kitten.
Price of Chartreux in show standard: Chartreux with show qualification are sold at a higher price than the ones in pet standard because they are chosen based on the beautiful pedigree, the Champion parents. A kitten of this type can cost $800 or more.
II. Where to buy a Chartreux kitten?
Some websites for selling pets online
1. Tica
http://tica.org/en/find-a-breeder/item/244-chartreux-breeders
Click on the tab "Cat Breeders" in the left pillar, select the breed you want to purchase (following by the list by ABC and with the images of cat breeds), you will be navigated to the list of Chartreux breeders who are TICA members. You contact the breeders by the attached addresses and they will help you find your desired cat.
2. Sweetiekitty
https://www.sweetiekitty.com/cat-directory/
This is a website created by a cat-loving woman. Both cat breeders and cat buyers can access this site to meet their own needs: sign up for a list of cat breeders or find their favorite cat. As a cat buyer, you will be satisfied with this site: you can search for the breed you want by placing the tick mark in the corresponding box. The site will return a list of breeders for you to choose from.
Reputable Chartreux breeders
1. Chanson Bleu Chartreux
As a current member of CFA, Chanson Bleu Chartreux has been breeding this breed for over 10 years (since 2003). This kennel specializes in breeding, exhibiting and providing Chartreux in pet standard as well as show qualification. With the view that "the waiting list is a buyer list to help breeders choosing who will pay the higher price", the Chanson Bleu Chartreux owners do not use the waiting list: when they receive your order, they will check their litter and confirm the order with you. After that, you will negotiate the price, send the deposit and the transaction is carried out.
You can find out more information related to Chanson Bleu Chartreux and contact them through the link below: http://www.bluecatfarm.com/
2. Forever-Moor
This kennel is a member of TICA as well as CFA. All Forever-Moor cats are sterilized before reaching the buyers. Therefore, the only issue you need to consider is to help the new member of your family integrate into her/his new environment (which does not take much time for cats coming from Forever-Moor). Cats will come with some clothes and pictures of their parents.
Here is the link to the website of Forever-Moor owner, Barbara Moore that you can refer to: http://www.vistamania.com/forever-moor/kittens.htm
3. Learn more about other Chartreux breeders?
If the above breeders are not enough to meet your needs, there may be other breeders that will help you find your suitable Chartreux. The website below provides a list of recommended Chartreux cat breeders.
http://siggysparadise.com/kittens-for-sale/chartreux-cat-breeders/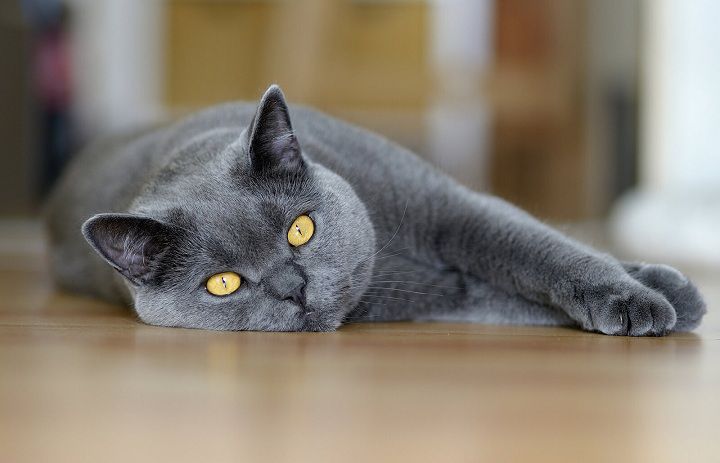 III. Origin of Chartreux cat breed
There are many opinions and legends around the origin of this breed. It has been widely believed that the Chartreux cats have lived with the Carthusian monks in France, who have drunk the Chartreux liqueur, and from that, the name Chartreux was born. However, later studies indicate that this name has existed since the 18th century when it was found that the fur of this breed is very similar to the feather of a type of a Spanish type of wool which has the same name.
Chartreux, or the gray-furred French cat, is probably the descendant of a healthy, gray-furred Syrian cat breed that was brought into Europe during the Crusades. Initially, the Chartreux was highly prized for its pelt, meat quality and its outstanding ability to capture mice, rather than being a beloved friend of humans. Later, the cat lovers paid attention to its lovely qualities, and since 1928, Chartreux has been participating in cat shows in Europe.
In the 1970s, Americans began importing Chartreux. Chartreux in the United States is the purest Chartreux breed in the world because after the World War II, in order to conserve Chartreux from the risk of extinction, the breeders in Europe had to crossbreed Chartreux with the Russian Blues, Persian and short-furred British cat breeds. Characteristics of Chartreux
IV. Chartreux appearance characteristics:
A male Chartreux weighs in the range of 4.5-7kg, which is usually heavier than a female Chartreux, which weighs in at only 2.7-5kg. Chartreux is a medium/large cat breed with solid muscles, short but relatively strong limbs, large toes and flat feet. Chartreux reacts extremely quickly. People use the word "primitive" instead of "classic" to describe this breed.
Occasionally, Chartreux is confused with short-furred British breed due to their fur color and appearance. For comparison, you should remember that both breeds have a large, solid and plump body, a grayish-blue pelt that is less common in domestic cats, but Chartreux looks slimmer and more elegant than the short-furred British breed. Many people describe Chartreux as a "potato on toothpicks".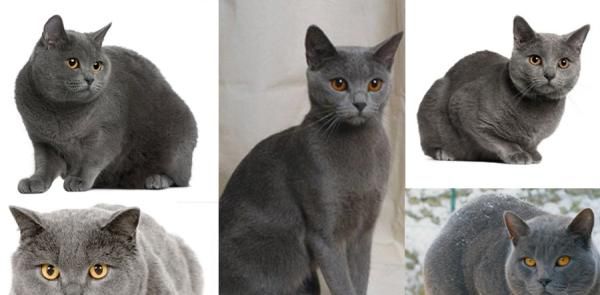 V. Chartreux personality characteristics:
Chartreux is friendly, intelligent, confident and affectionate. He is quiet, not the kind of cat screaming or meowing all day to annoy the owner. He is very observant, therefore he knows how to turn on the radio, or how to use his legs and face to open the latch.
Chartreux is quite naughty until maturity. He is very gentle and harmonious with the other pets and children in the family. He is emotional and likes to follow his master around the house. Although he is very close and loves every member of his family, Chartreux tends to be more attached to a particular individual in the family.
>> You may also like: