If you are looking for a dynamic, fearless yet loving companion, the Norfolk Terrier is for you. Acclaimed as a big dog in a small body, the Norfolk is a loyal, loving dog with a zealous heart of a working dog. With such qualities, it comes as no surprise that Norfolk Terrier price is now quite high, with an average of $1000/puppy. In this article, we will give you information about their prices, websites and reputable breeders to find Norfolk Terrier puppies for sale. Besides, there are also details of their characteristics and temperament for your reference.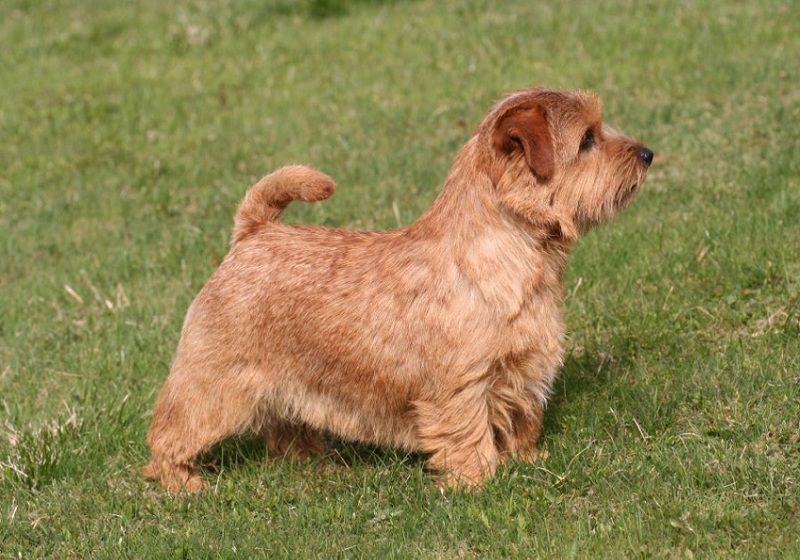 [ux_products products="24″ tags="dog-products" orderby="rand"]
Norfolk Terrier price range
Based on what they are raised for and their quality, Norfolks are divided into 2 price levels: Norfolks Terriers with limited registration (pet-only) and Norfolk Terriers with full registration (with breeding rights).
Price of Norfolk Terriers with limited registration
With no breeding rights, such puppies are reasonable in price, ranging from $800 – $1200/ puppy. If you are not a professional breeder and just want a companion, limited registered Norfolks are the perfect fit for you.
Price of Norfolk Terriers with full registration
Such puppies are allowed to breed. As a result, they have to meet strict standards about genetics, health, appearance,…, which leads to higher prices. However, their prices vary greatly depending on their quality, pedigree and breeders.
Norfolk Terriers from lesser-known breederscost from $1300- $2400/ puppy. These puppies often have ordinary pedigree and appearance, so they are mainly raised as pets.
Beautiful Norfolk Terriers from well-known breeders are way more expensive, ranging from $2500 – $6000/ puppy. These puppies often have excellent lineage and pedigree. They are mostly raised for breeding or participating in Dogshows.
>> You May Also Like: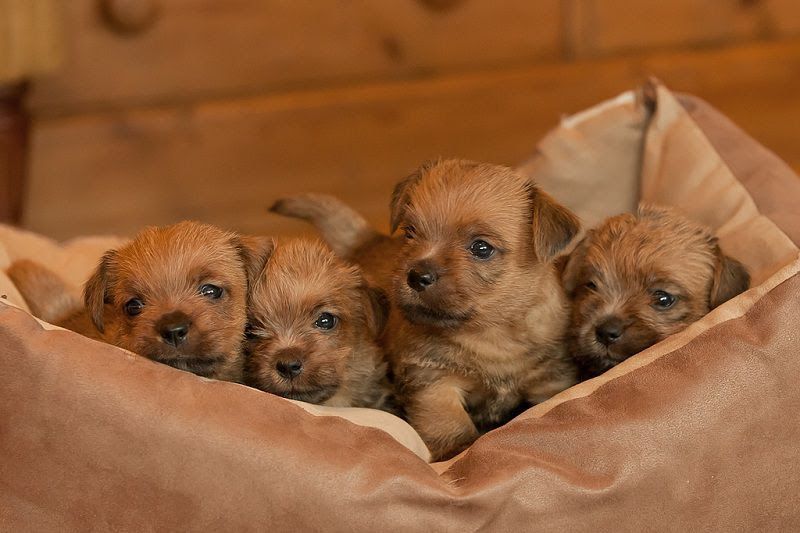 Where to find Norfolk Terrier puppies for sale?
Norfolk Terriers for sale from classifieds websites
http://www.puppyfinder.com/norfolk-terrier-puppies-for-sale/ – Puppyfinder is one of the very few websites that sell Norfolks. It offers a great number of Norfolks diverse in ages and sizes. In terms of price, Norfolk puppies for sale here are not cheap, from $800 – $3000/ puppy, with the most common price being $3000/ puppy. This website is worth checking out if you want to buy a Norfolk in the fastest and most convenient way.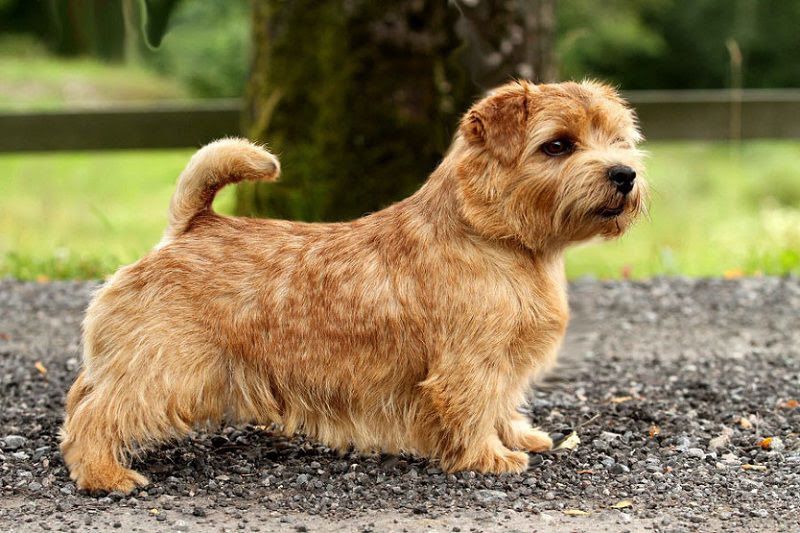 There are not many Norfolk Terriers on the market nowadays. They are often bred by professional breeders so there is only a handful of websites selling this breed in great quantity. Therefore, for more options, you should refer to professional breeders mentioned below.
Norfolk Terrier dogs for sale from reputable breeders
1. Trinity Farm
With over 35 years of experience, this farm has always raised their puppies as family members, alongside with their children. They train the puppies professionally and scientifically so that puppies can keep their nature as working dogs, while at the same time, controlling those instincts to some extent to avoid problems. In addition, puppies here were born to high quality parents so you do not have to worry about their health.
You can find more information and contact them via their website: http://www.trinitynorfolkterriers.com/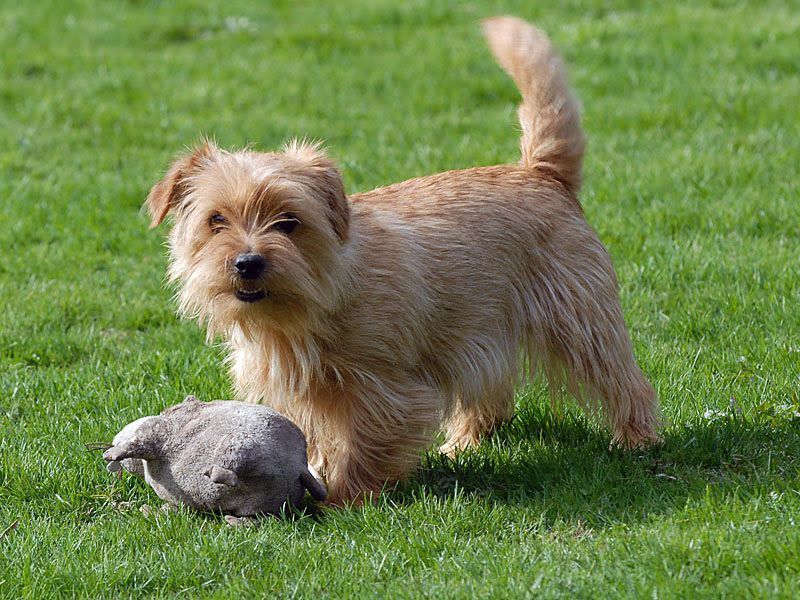 2. Regency Norfolk Terrier
Starting to breed Norfolks in 1995, now they have over 20 years of experience and have created 30 champions in international Dogshows in America, Mexico, Japan,… With the goal of breeding the top quality dogs in terms of appearance and personality, they have constantly strived to learn and improve their skills.
You can find more information and contact them via their website: http://www.regencynorfolks.com
Characteristics of the Norfolk Terrier
Appearance
According to the standards set by American Kennel Club, Norfolk Terriers come in colors such as red, wheat, black, brown or grizzle. Their coat is commonly straight, stiff, with the fur around the neck thicker than other parts. The fur on their ears and head is short and smooth, except around the muzzle and above the eyes, where the fur is slightly longer and looks like eyebrows and beard.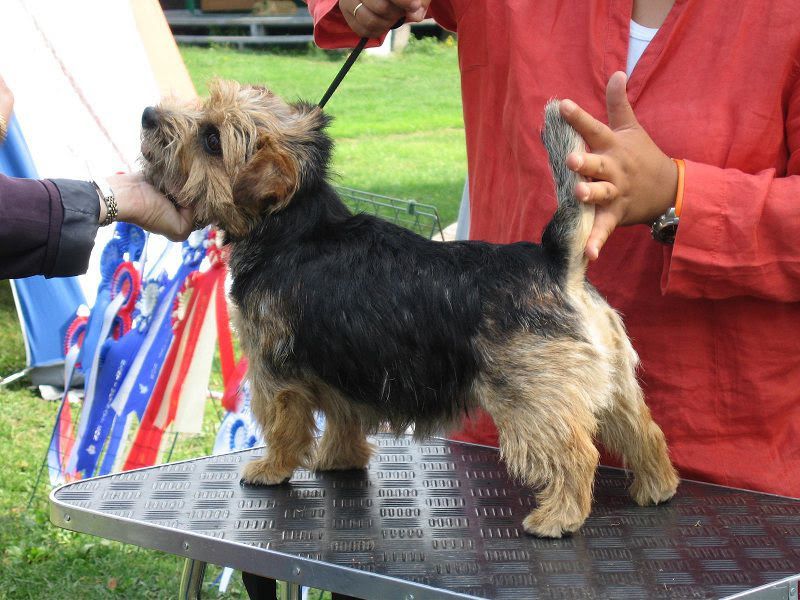 The Norfolk Terrier is one of the world's smallest hounds with a height of 8 to 10 inches (20-25 cm) and a weight of 8-12 lbs (3.5 to 5.5 kg).
Norfolk Terrier's eyes are oval and may be black or dark brown. Their ears are medium in size, V-shaped, dropping down to the cheekbones. Although the Norfolk is small, their teeth are extremely sharp and strong with remarkable bite strength, which is a common feature of a hound. Their bites can cause serious injuries to the victim.
Personality
Norfolk Terriers are stable and lively. They often have a cheerful attitude and appear to be trusted friends to children if grown up together. However, if you want to bring an adult Norfolk home to live with children, it might not be a good idea.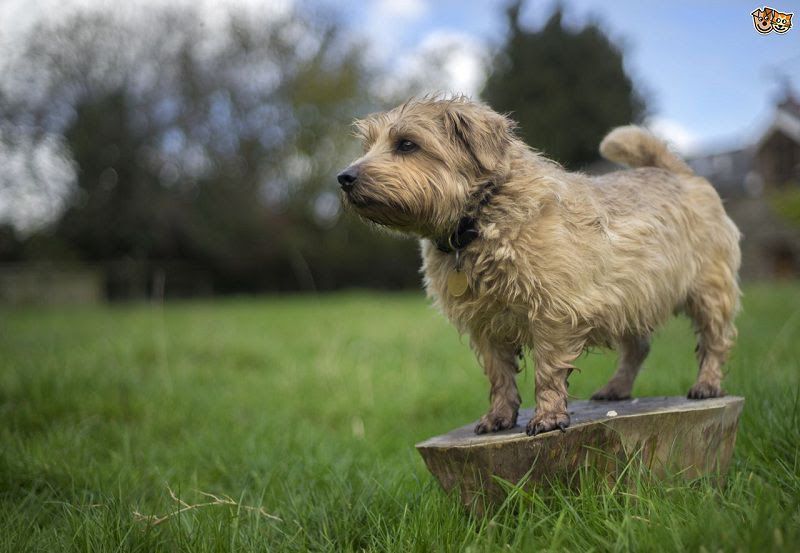 If left alone outside for a long time or not getting enough exercise, Norfolks will bark and dig around. Norfolks should be kept an eye on when in the public because their powerful hunting instincts are easily triggered by squirrels, rabbits or other small animals.