Most people don't see the importance of dog boots. However, veterinarians will surely agree that getting a waterproof dog boot is highly recommended, most especially if your country of residence usually experience snowy climates. When your dog walks on snow and ice too often, it could result in cracks on the paws of your dog, which could cause infections.
We all know how the paws of dogs easily get some injuries, most importantly if your pet is an active one that runs around throughout the day. This is why dog boots are specially designed to protect the sensitive paws of your dog from cold and heat during the winter and summer seasons.
We have reviewed the four best waterproof dog boots in the market. Feel free to make your pick.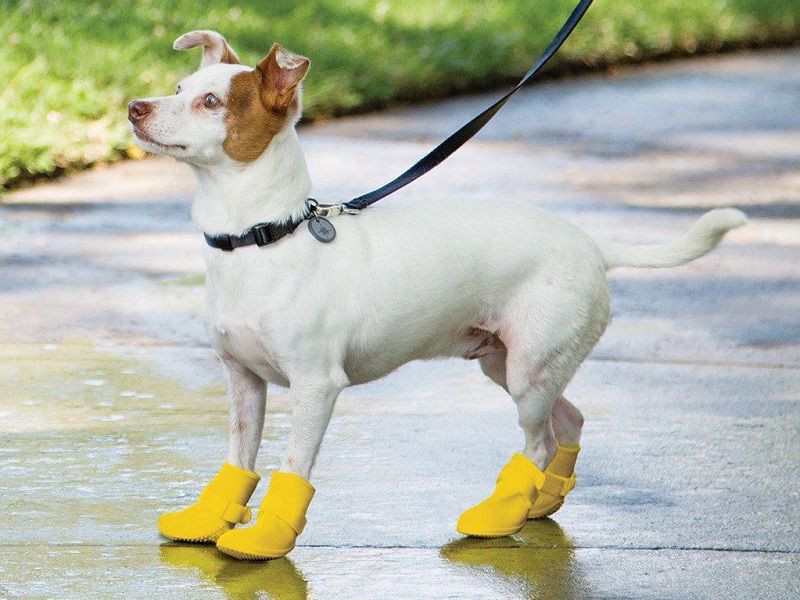 >> You May Also Like:
I. Best Waterproof Dog Boots with Reviews
1. QUMY Velcro Rugged Waterproof Dog Boot
If you have a tight budget and still want all the great qualities of a dog boot, then the QUMY Velcro Rugged Waterproof Dog Boot is for you. They are affordable, but to our surprise, they are water-resistant and durable.
It features anti-slip soles hat are rubber-made, which works perfectly fine when on slick or uneven surfaces. This rubber covers the slides and front, ensuring great protection for dogs that knuckle or drag their feet. This also serves as a security measure against hot pavements, pointy sticks, and thorns.
These dog boots can easily be fitted on because its seam opening can be widely expanded.
Pros
High-quality and yet affordable
Large opening to aid easy put on
Great for knuckling dogs
Cons
Not warm enough for freezing winters
Cuff no high or tight enough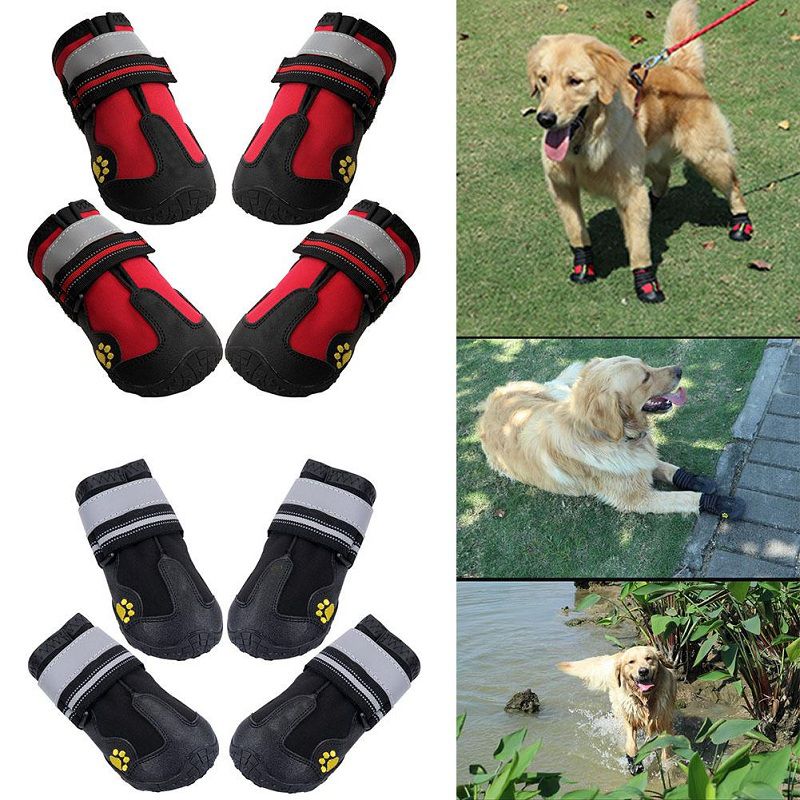 2. PROPLUMS Anti-Skid Waterproof Dog Boot
The PROPLUMS Anti-Skid Waterproof Dog Boot is one of the best in the market when it comes to delivering excellent traction. This high-quality sole ensures that your dog's paws are protected from burns and scratches.
With the excellent traction it delivers, your pet dog can easily roam into snowy and muddy grounds without getting hurt or slipping. Its Velcro straps have a reflective look, which doesn't just ensure that the paws and boots are tightly integrated but makes them stand out brighter than the stars.
Cleaning this dog boot is very easy, as they can be hand-washed or air-dried
Pros
Delivers great traction on snowy and muddy grounds
Its rubber sole is sturdy enough for protection
Hand washable and easy air-drying
Cons
4 pairs available, which isn't too good for dogs having different sizes for their back and front paws.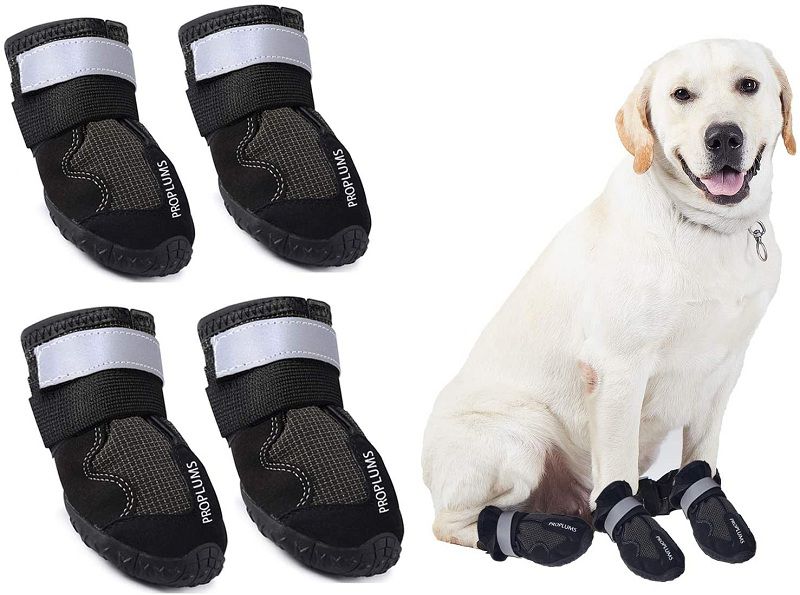 3. My Busy Dog Anti-Slip Sole Waterproof Dog Boot
The My Busy Dog Anti-Slip Sole Waterproof Dog Boot features anti-slip soles that help in protecting the paws of your furry friend from salt and snow during the winter season, hot pavements and asphalt during summer, as well as sharp thorns.
This shoe's fabric comes with high-quality with very rugged soles. Unlike other dog boots with low quality that the fabric is glued with the sole, this dog boot is tightly sewn to it.
It also comes with fastening straps that are adjustable and reflective, which ensures visibility while in the dark, and a good fit. It comes in different colors and sizes, so you have no problem selecting your preferred color and size.
Pros
Available in different colors and sizes
Adjustable, expandable, and durable
Water-resistant design
Cons
Boots look flat and do not seem to angle upward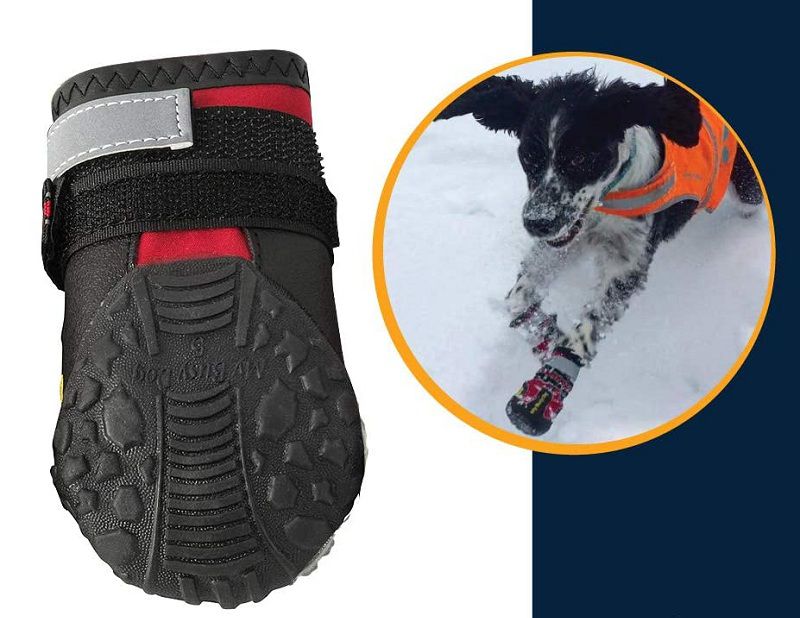 4. Pawz Rubber Waterproof Dog Boot
If you are searching for a convenient and 100% disposable boot for your pet dog, then the Pawz Rubber Waterproof Dog Boot is for you. There's no need washing or drying anytime you take your dog out.
They are made from natural rubber and are completely biodegradable. Also, they are specially designed to ensure that it fits your dog's paws easily, without the need for any straps or zippers.
Users love this boot because it creates a natural feeling, even without including any unnatural padding. With this, your pet dog will continue to feel the ground, which will help them to maintain their sense of security. It is also very affordable.
Pros
It is reusable and disposable
Very affordable option
100% biodegradable
Cons
The boot's coloring may stain the paws of your dog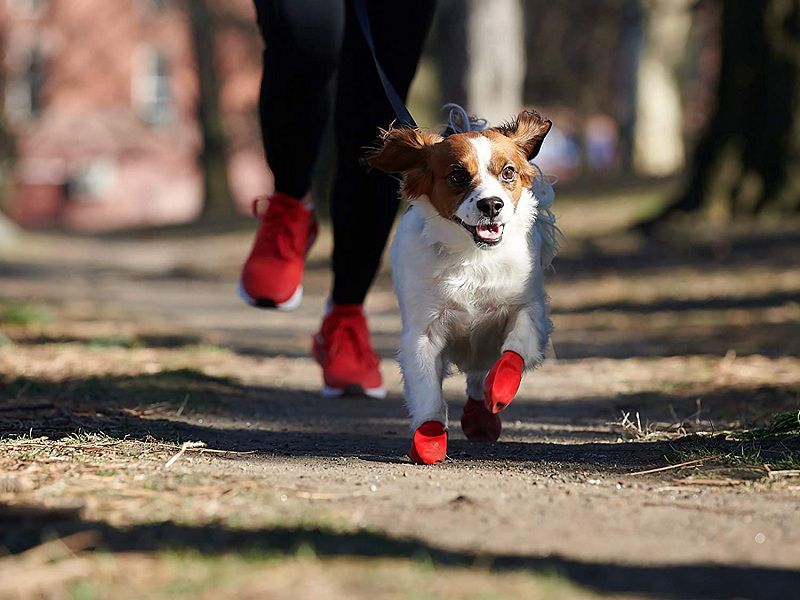 II. Buying Guide: Features to Consider when buying a waterproof dog boot
1. Material
Dog shoes come in different materials – neoprene, rubber, breathable mesh fabric, and nylon. If it is meant for playing or walking in the rain, it is advisable you choose waterproof, silicon, or rubber material
2. Size
Don't just buy a dog boot without considering the size of your dog's paws. Too big or too small, then it's useless.
3. Grip
The best waterproof dog boos come with good traction. With a good grip, your dog will maintain god traction all through the rainy season. Skid-proof soles are highly recommended for senior dogs or dogs having arthritis
4. Adjustability
This factor has a role to play in your dog's comfort level. Velcro straps are great to ensure a secure fit.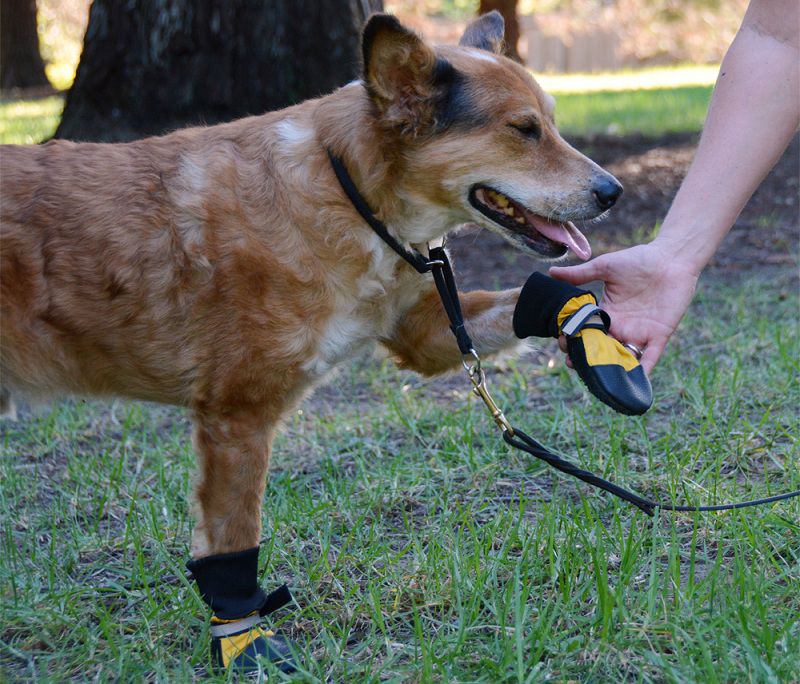 5. Related Questions
Are dog boots worth it? We all have different opinions. Some dogs will surely benefit from them, most especially if their furry fit collects snow and ice between the toes. However, it must be super fit.
When should I make my dog wear boots? This should happen during sub-zero temperatures, where dogs may get frostbite simply from side or road walk contact.
III. Conclusion
Your dog may have enough padding got from their paws; however, there's a need for them to be protected during unfavorable conditions like hostile weather and rough terrains. This is why a water-resistant dog boot is very necessary. There are lots of different brands and options to choose from, which could confuse many dog owners. However, with our carefully reviewed selection for dog boots, you shouldn't have a problem choosing the best for your pooch.