The Bolognese, also known as the Bichon Bolognese or the Bolo, is an Italian dog of noble origin. Its small figure with a long, wavy and white coat makes the Bolo look like a dog in the fairy tale or a smooth cotton ball. Smart, friendly, adaptable, curious and humorous, the Bolo is considered ideal as a companion. On average, Bolognese dog price is about $900. In this article below, we will provide details on their price ranges, selling places to find Bolognese for sale and their characteristics.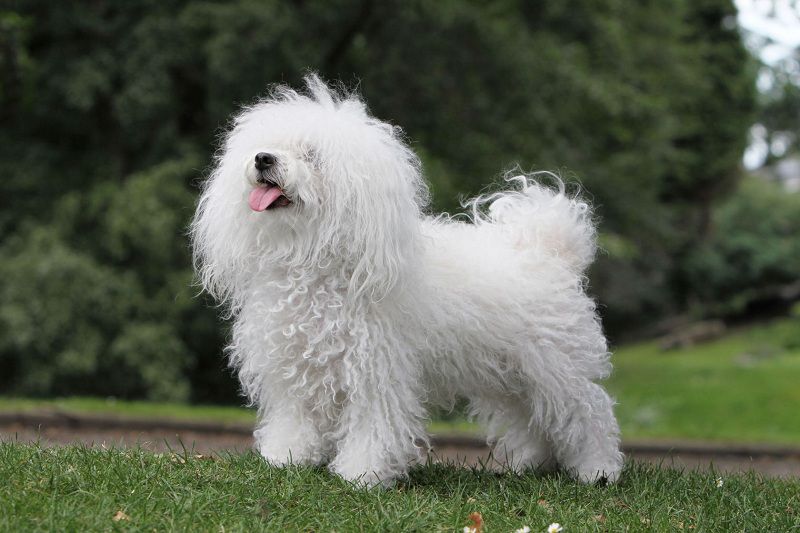 [ux_products products="24″ tags="dog-products" orderby="rand"]
Bolognese dog price range
The price of a Bolognese largely depends on factors such as the breeder's location (transportation cost), the breeder's reputation, the puppy's level of socialization, the number of puppies in the same litter, pedigree, age, demand and supply,…
Besides, Bolos with limited registration (pet-only) have different prices from fully registered Bolos (with breeding rights). Therefore, based on your preference and purpose, you can choose a suitable Bolognese for yourself.
Price of Bologneses with limited registration
Compared to the average price of the Xoloitzcuitli ($600 – $800), that of the Bolognese is slightly higher. With a budget of around $900 – $1000, you can easily buy a limited registered Bolognese. Such a price, after all, is still way cheaper than the price of a fully registered Bolo.
>> You May Also Like: 
Price of Bologneses with full registration
If you prefer excellent pedigree Bologneses with performing ability and breeding rights, make sure to prepare a budget of at least $1900 – $5000 to be able to make your wish come true.
Where to find Bologneses puppies for sale
Bolognese dogs for sale from classifieds websites
http://americanbologneseclub.com – Created by a community of well-known and experienced Bolognese breeders and Bolognese lovers throughout the country, this site is the perfect place to find quality Bolognese puppies for sale. Not only does it introduce you to Bolognese breeders, this site also gives you a detailed instruction on how to choose the right puppy for yourself.
http://www.puppyfinder.com/bolognese-puppies-for-sale/ – This pet classified website does not only offer Bologneses but also other dog breeds. Visitors can quickly search for their favorite puppies thanks to the site's search filters: by breed, by region, by type (purebred, crossbred,..), by gender, by feature or by price range. As the Bolognese is quite rare in America, the search result can be limited. But it does not mean that your chance of finding your ideal Bolo here is low.
Bolognese dogs for sale from reputable breeders
1. Bellissimo Bolognese Home
Starting with caring for and breeding only one Bolognese, the owner of this farm has chosen to personally raise and train Bolognese puppies, which have become an inseparable part of her life. She knows very well the personality of each parent and prepares thoroughly for the puppies so that they can adapt quickly to their future home.
You can find more information and contact them at: http://www.bellissimobolognese.com/ or https://www.facebook.com/Bellissimo-Bolognese/
2. My darling dogs
This farm breeds two rare breeds which are the Bolognese and the Coton de Tulear. They provide pet Bologneses, Dogshow Bologneses to trained Bologneses (get along with other pets and get used to strangers).
This facility is customer-friendly and therefore receives many good reviews from customers. You can find more information and contact them at: https://www.mydarlingdogs.com/
Characteristics of the Bolognese
Appearnance
The Bolo is a fairly small dog with a normal weight in the range of 6 – 11 pounds (2.5 – 5kg). This breed has a small, solid body with a special white coat, a moderately long head and an oval shaped skull. Their eyes are big and round, with black rims and a dark ocher iris.
Personality
The Bolo possesses cute personality traits such as playful, easygoing, cheerful, intelligent and loyal. They are considered more conservative than their brother Bichon Frize.
They are always happy to be friends and builds a close relationship with their owner. They are the true definition of a friend and a companion.
Thanks to its agility and intelligence, the Bolo is a great guard dog. However, their ability to bark loudly is not comparable with other dog breeds. Bolos are not aggressive and can live in harmony with other pets in the house. However, they would be much happier being the only pet of their owner.
Bolos are suitable for families with children who is old enough to treat their pets well, families with the retired or families in urban regions.
Daily exercise or play (a 10-minute walk per day or 20-25 minutes x 2 times a week) is recommended to ensure the Bolo's strength and agility. Training Bolos is not difficult, but they do not like repetitive games and being scolded. Therefore, you should diversify the activities, be gentle and be consistent when training them.