The African Basenji (or Ango, Angarri, Congo Terrier, Zande Dog) is a hunting dog breed native to Central Africa. Small but powerful, they are intelligent and extremely loyal, which makes them a great companion for any family. At the moment, as one of the rarest dog breeds in the world, there is no surprise that the Basenji price is relatively high, around $1000 per individual. In this article, we will give you an overview of the Basenji, including its price range, Basenji puppies for sale websites and reputable breeders.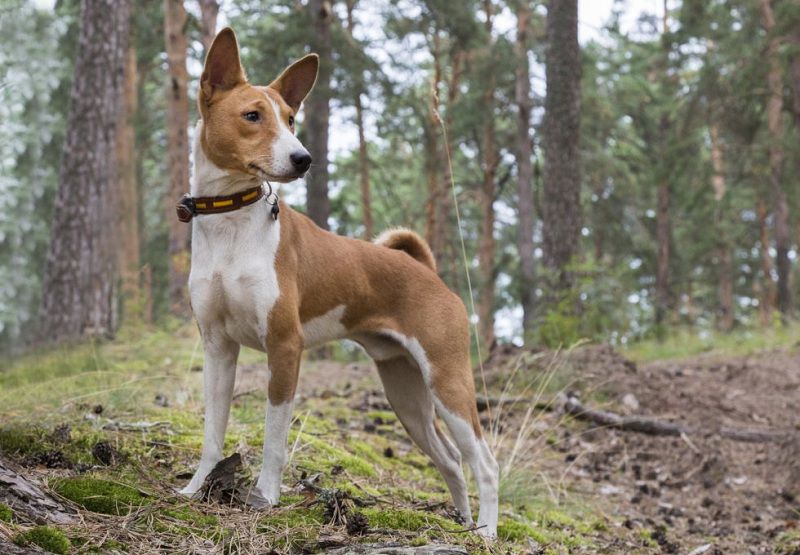 [ux_products products="24″ tags="basenji-products" orderby="rand"]
African Basenji price range
Based on what they are raised for and their quality, Basenjis are divided into two categories: Basenjis with limited registration (pet-only dogs) and Basenjis with full registration (dogs with breeding rights).
Price of limited registered Basenjis
Pet-only Basenjis cost around $800 to $1300. Although deriving from "ancient hunting dogs", with its small figure and playful temperament, this breed is perfect as a pet.
Price of fully registered Basenjis
Once fully registered (full registration ensures a dog's quality and its fertility, lowering the possibility of sick or disabled litters), Basenjis are allowed to breed. Their price depends largely on their lineage, pedigree and breeders,…
Ordinary pedigree Basenjis, from lesser-known breeding farms, cost from$1300 to $2500.
High quality pedigree Basenjis, from well-known breeding farms, are more expensive, at between $2500 and $5000.
>> You May Also Like: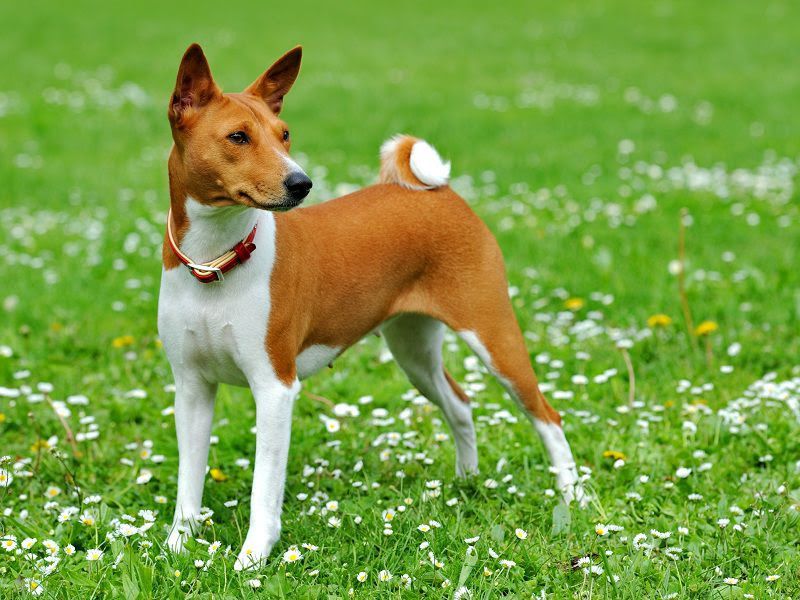 Where to find Basenji puppies for sale
Online Basenji for sale Websites
Websites are the place to go if you are looking for a pet Basenji.
Below are some reliable websites:
https://www.nextdaypets.com/for_sale/basenj/ – This is one of the most trustworthy sites on selling Basenjis. Their competitive advantages lie in not only the great number of Basenjis they offer, but also the variety in ages and sizes of puppies. Information about puppies is fully accessible on their website. The price range also varies, from around $900 to $3000.
http://www.puppyfind.com/for_sale/basenji-puppies/ – This website updates new Basenjis quickly. Lots of 4 to 16 week old Basenjis and even newborns can be found here, with all related information. Price of Basenji puppies for sale on this site is generally more budget-friendly, ranging from $800 to $2000.
marketplace.akc.org/puppies/basenji– This is a must-know address for any dog lovers. Any dogs from AKC Market are 100% guaranteed good health and quality.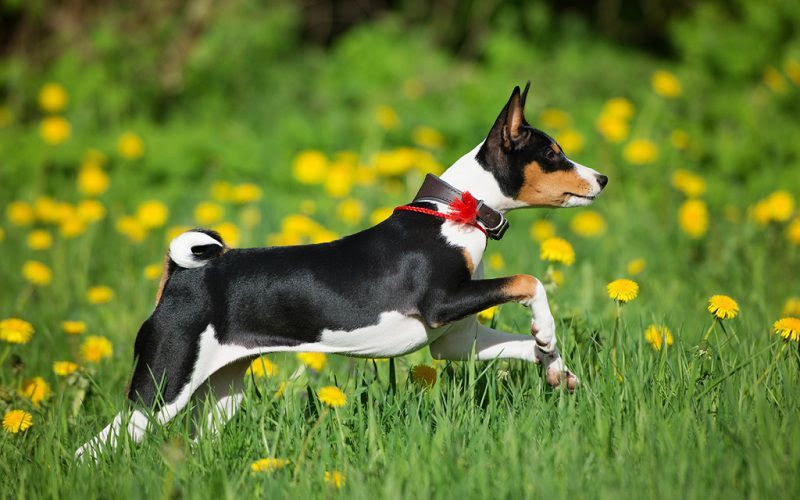 Basenji puppies for sale from reputable breeders
The following breeders are known for their high quality, purebred and healthy Basenjis.
1. SunDiata Basenjis
This breeding farm gives their first priority to puppies' health and happiness. With years of experience, they have bred many Dogshow-winning Basenjis. Their experience only is enough to ensure the quality of Basenjis here.
You can find more information and contact them via their website: http://www.sundiatabasenjis.com
2. Eldorado Basenjis
This professional and highly experienced breeding farm never fails to offer beautiful Basenjis with verified origin or even ones of noble lineage. They have been constantly developing this breed with the hope that Basenjis here can unleash their full potential while maintaining their health and life expectancy.
You can find more information and contact them via their website: http://www.eldoradobasenji.com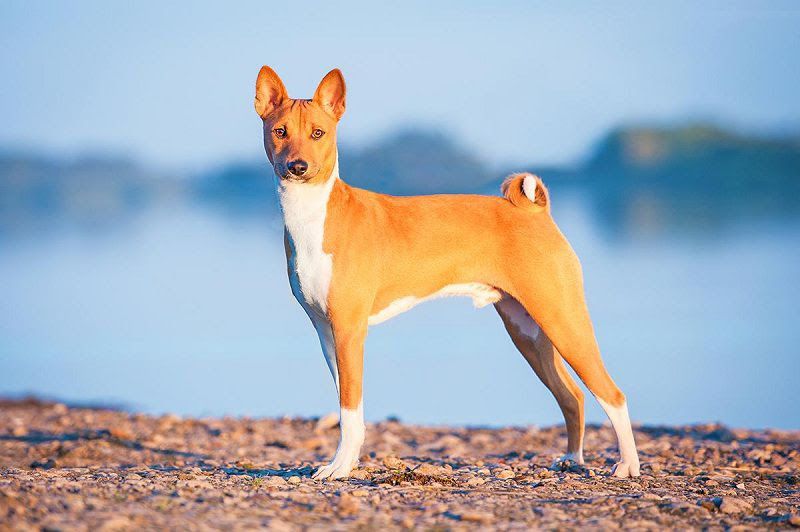 3. Jumoke Basenjis
Dogs for breeding are selected based on strict criteria so that litters are healthy and agile. This is a relatively large and professional breeding farm, producing many healthy and good-looking Basenjis up to customers' standards.
You can find more information and contact Kitoko Basenjis via their website: http://www.jumoke.com
Characteristics of purebred Basenjis
Appearance
The Basenji is small and graceful with light but strong build, straight legs and level back. A Basenji typically weighs around 16 to 25 pounds (8 – 12kg).
Their muscles are firm and strong due to their origin from "ancient" hound. Basenjis never barks, but they do have their own pronunciations such as growling and moaning depending on how they feel.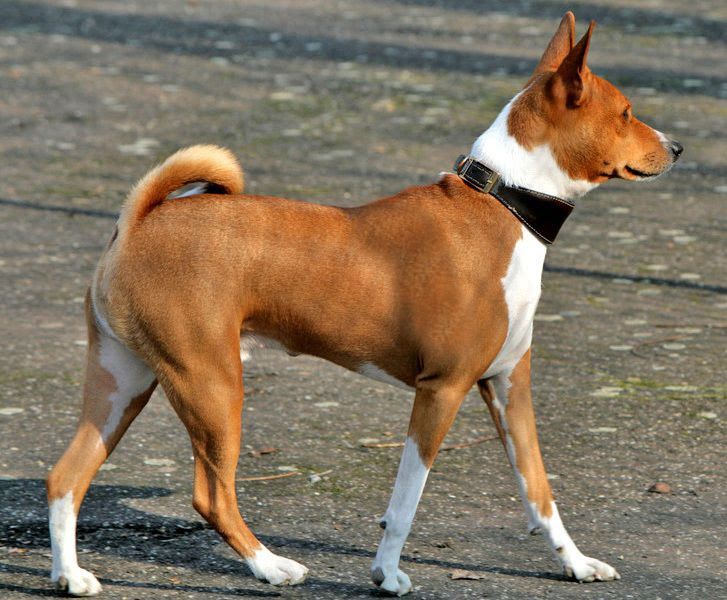 They have sleek fur, coming in different colors such as copper, red, black and tan, black and brindle. Eye-catching and powerful looking, red Basenjis are always more expensive than the others and considered the beauty standard of this breed. On Basenjis' coat, there are some white markings at the position of their legs, chest and tail tip. Basenjis shed very little so they are quite suitable for people who are allergic to dog hair.
Not a giant type of dog, the Basenji still gives off this "cool" vibe which is unique and appealing.
Personality
The Basenji is intelligent, eager to learn, naughty and sometimes stubborn. Unless they discover the danger, they rarely bark or make noises. This very trait is what makes many dog lovers fall for them.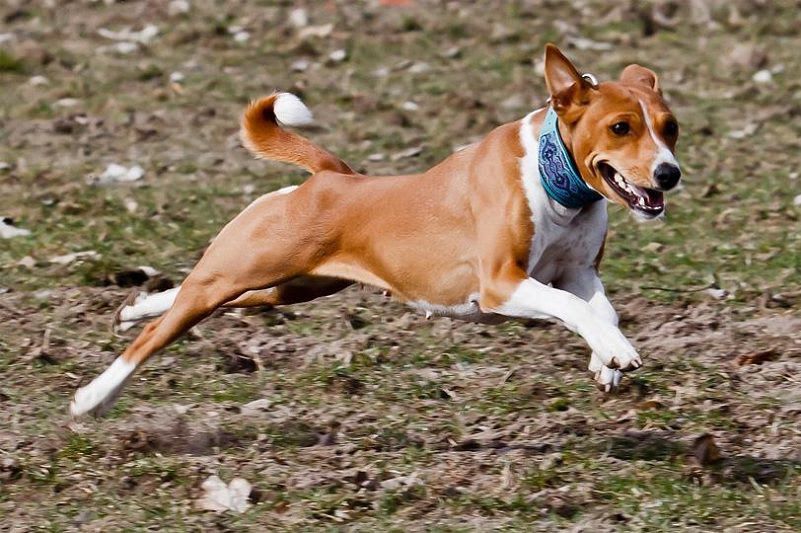 The Basenji is households' favorite pet because of its nimble, playful and affectionate nature. They are also very protective of their owner's family and responsive to what their owner asks for. However, extra caution should be taken when letting children play with Basenjis. Despite nice dogs, Basenjis may get overly excited and push the children down.