Lhasa Apso is a dog breed originating in Tibet, where they are regarded as a sentinel of the palaces and Buddhist monasteries along high mountains. Nowadays, despite the small appearance compared with their predecessors, Lhasa Apso dogs are still independent and persistent, they are also a loyal and trustworthy companion to family. Lhasa Apso price is currently quite low, about $500 per puppy, on the average. The below article will give you more details about prices based on raising purposes, and about the most reputable breeders and websites to find Lhasa Apso puppies for sale.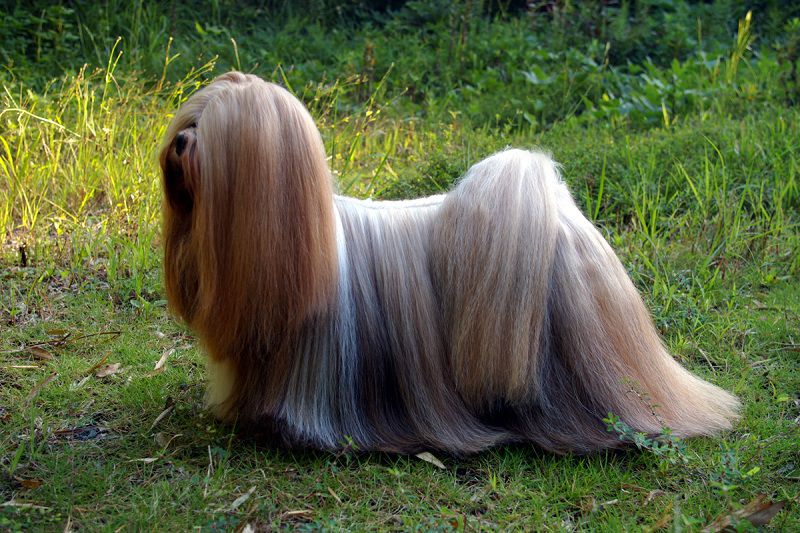 [ux_products products="24″ tags="dog-products" orderby="rand"]
Lhasa Apso price range
Lhasa Apso dog prices are divided into types: limited registered Lhasa (raised as pets) and fully registered Lhasa (raised for breeding). Based on your hobbies and purposes, you can choose a Lhasa dog that suits yourself the most.
Limited registered Lhasa dog price
With these dogs, you can only raise them as pets rather than for breeding, so their prices are not expensive, from $500 – $100 per puppy. If you are not a professional breeder, a limited registered puppy will be suitable to your purposes of raising a family pet.
Fully registered Lhasa Apso price
These dogs are mainly raised for breeding, so their prices are considerably high, though price fluctuation depends mostly on their pedigrees, lineages, and breeders.
Lhasa Apso dogs from less reputable breeders are priced at around $1000 – $1500 per puppy. These puppies are usually raised as pets because they usually have a normal pedigree
Lhasa Apso dogs from reputable breeders will be more expensive, from $1500 – $5100 per puppy. These are the dogs with ideal appearance, notable pedigree so they are raised for breeding or for participating in Dog shows.
>> You May Also Like: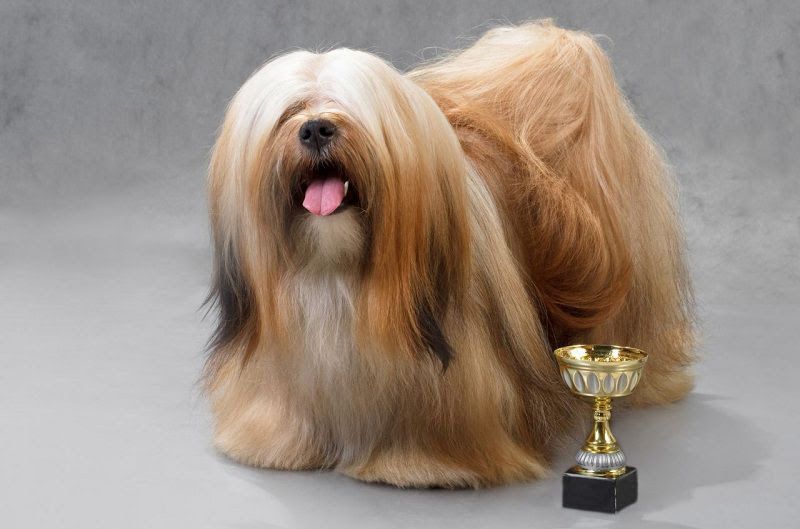 Where to find Lhasa Apso dogs for sale
Online Lhasa Apso puppies for sale websites
https://www.nextdaypets.com/for_sale/Lhasa-Apso/ – This is a great and reputable website, the site provides a large amount of pets. Here you will find Lhasa Apso puppies for sale with a wide range of ages, gender, appearance and prices. The price is reasonable, from $500 – $1500 per puppy.
https://www.puppyspot.com/puppies-for-sale/lhasa-apso/ – Puppyspot is a reputed website for finding a puppy. The prices here are slightly higher than other websites, from $1500 – $2000 per puppy.
http://www.puppyfind.com/lhasa-apso-puppies/ – Puppyfind is a large advertising website, where you can find Lhasa Apso puppies with common prices from $600 – $1000. They have many puppies with various sizes, ages, and gender; therefore, you will have more choices.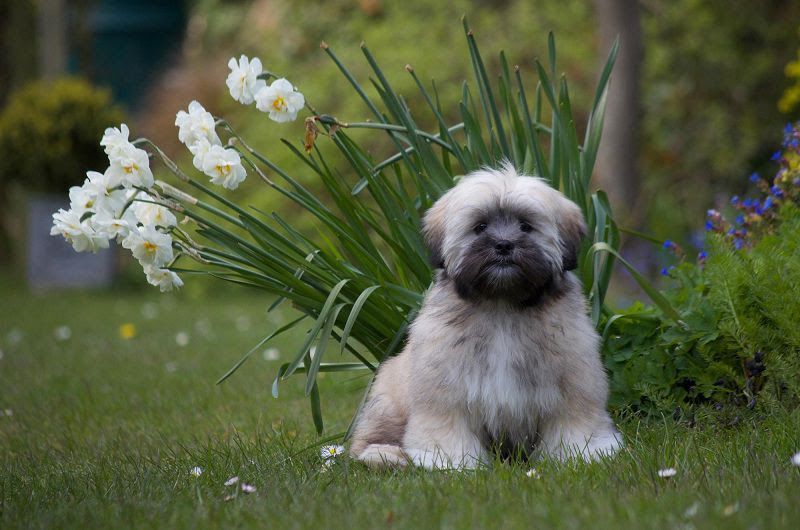 Lhasa Apso puppies for sale from reputable breeders
1. Sandy's Kennel
Although it was just established in the year 2013, Sandy's Kennel has become an active member of the American Kennel Club and Continental Kennel Club. If you are looking for a high-quality puppy, pay a visit to the farm for reference
For further information, kindly contact with Sandy's Kennel here: http://www.sandyskennels.com/index.html
2. Ellen Voss
Used to be the chairman of the Lhasa Apso Club of Southern California, Ellen Voss ensures to bring you the most quality Lhasa puppies. With over 150 awards from dog shows, you can completely trust in Ellen Voss for a high-quality Lhasa Apso puppy.
For further information, kindly contact them here: http://www.galaxylhasas.com/home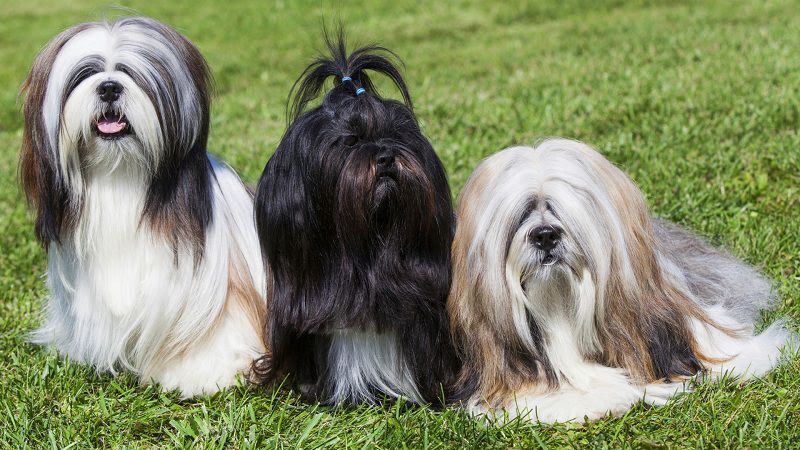 3. Debby, Julie, Kaylee
The breeding farms of Debby, Julie and Kaylee were historically established in 1979 and have been getting over 120 awards from Dog shows. They understand and know how to look after, domesticate Lhasa puppies. Therefore, you can completely rely on them to find good puppies
For further information and more stories on the success of Debby, Julie & Kaylee's Kennel, kindly contact: https://fleetfiretimbers.com/
Characteristics of Lhasa Apso dogs
Apperance
Lhasa Apso is a small dog breed with 10-11 inches (22.5 – 25cm) in height and 13-15 pounds (5.5 – 7kg) in weight. They have a long, straight and dense coat with various colors such as honey gold, black, white and slate grey.
To take care of your Lhasa Apso puppy more conveniently, you should shear and wash them regularly to avoid bacteria and pathogens grown below their dense coat.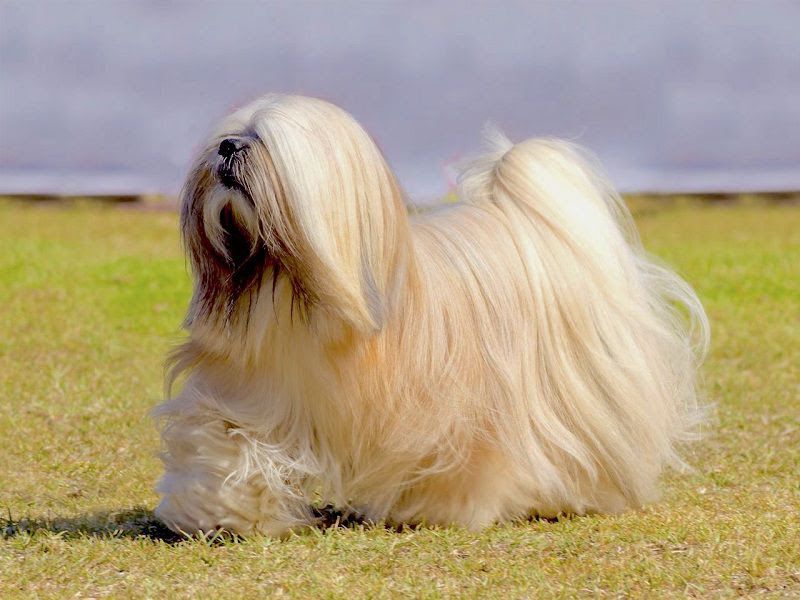 Besides, routine brushing your puppies' teeth at least twice or three times a week to get rid of accumulation of debris and bacteria is essential to avoid mouth-related and intestine-related sickness
Personalities
Lhasa personality is a special and exciting combination. They are not only happy and playful but also diligent and independent. They could take over the responsibility of protecting your house seriously.
Although they are a small-sized breed, Lhasa puppies are very intense and highly alert towards strangers. They have a great sense of observation, and also tend to make friend with strangers as long as those strangers expose no danger to the puppies' owner.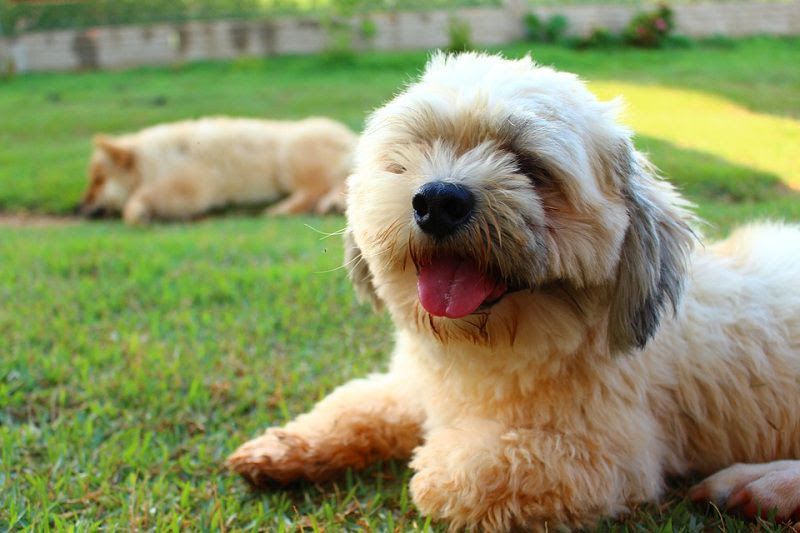 Lhasa will be a good pet for those people with less spacious living room. In spite of their affection towards outdoor activities, they are not an over playful and highly energized puppy. Every day, they just need to stroll with you; and will be very happy if they are cuddling in your arms, wandering around your house or playing with their stuffs.
In addition, Lhasa Apso puppies are well-known for independence. They are always healthy and not worried when left alone at home. Lhasa are not much friendly towards children; however, they could get along very well with other pets, even with cats.