Egyptian Mau is a cat breed from ancient Egypt period. Egyptian Mau has a charming body, interesting personality and striking appearance. Their nimble, hyperactive, intelligent personalities have conquered so many cat lovers everywhere. Egyptian Mau price is not too high, only about $600 per kitten. For more details on prices, Egyptian Mau for sale websites and reputable breeders, as well as features of purebred Egyptian Mau cats, you can refer to the article below.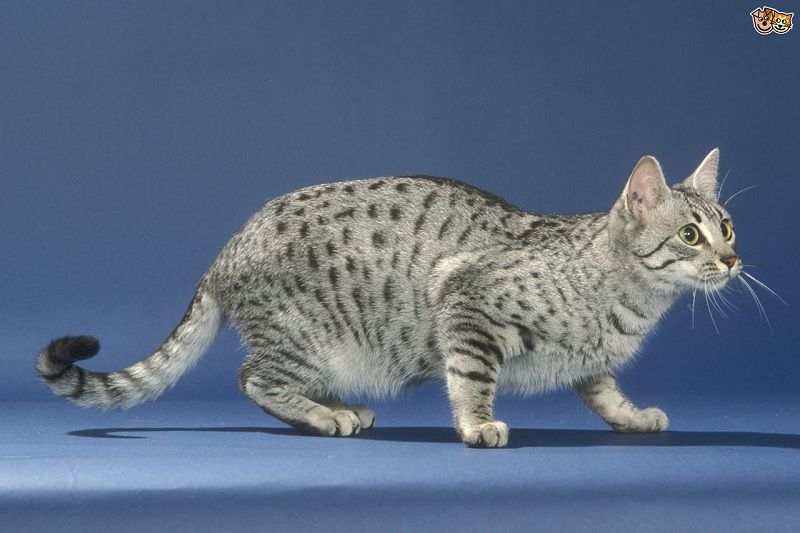 [ux_products products="24″ tags="cat-products" orderby="rand"]
Egyptian Mau price range
Based on raising purposes and quality, the Egyptian Mau cat is divided into two categories: limited registered cats (raised as pets only) and fully registered cats (allowed for breeding).
Limited registered Egyptian Mau cat prices
Because of their limited registration, these cats are not allowed for breeding and just will be raised as ordinary pets. Hence, their prices are not too high, from $450 to $750. They will be great companions for each family.
Fully registered Egyptian Mau cat prices
Once they have full registration, Egyptian Mau will be allowed for breeding. Price of each kitten is varied, depends on where they come from, where they are bred, their body portions, their color, etc.
Egyptian Mau with normal family records, coming from less-well known breeding farms etc will cost between $750 and $1500 per kitten. These kittens are suitable for breeding purpose rather than for pet purpose, because they usually tramp during breeding season.
Egyptian Mau with premium lineages, coming from famous breeding farms, they have well proportioned body, beautiful colors, etc. They will be priced higher, between $1500 and $4000. These kittens are very suitable for breeding, or participating in big cat shows at domestic and
>> You May Also Like: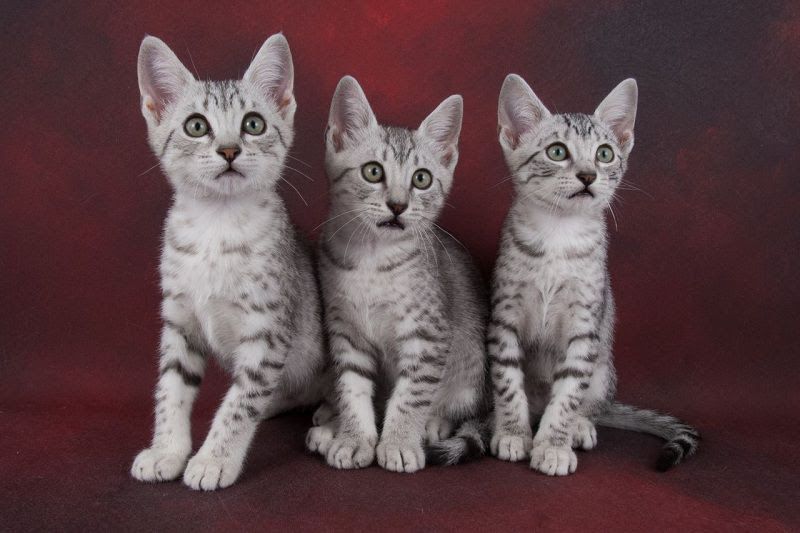 Where to find Egyptian Mau kittens for sale
Egyptian Mau for sale websites
https://www.petclassifieds.us/c/1377/Egyptian-Mau.html – Egyptian Mau kittens are sold on the web almost all are well-checked to ensure the most basic quality. The web provides a lot of photos of each cat's activities with personal information and specific sales information that makes it easy to be referred. This is an ideal place for you to find suitable Egyptian Mau with the price is not too high.
http://www.hoobly.com/egyptian-mau-kittens/ – Talking to online pet websites, we cannot forget mentioning Hoobly. This web provides a variety of Egyptian Mau kittens for sale in terms of sizes and colors. For giving their consumers convenience when searching, information about pets and their sellers are provided clearly and quite fairly. It is important to mention that each Mau cat price here is very reasonable and pleasant (from $500 – $2000).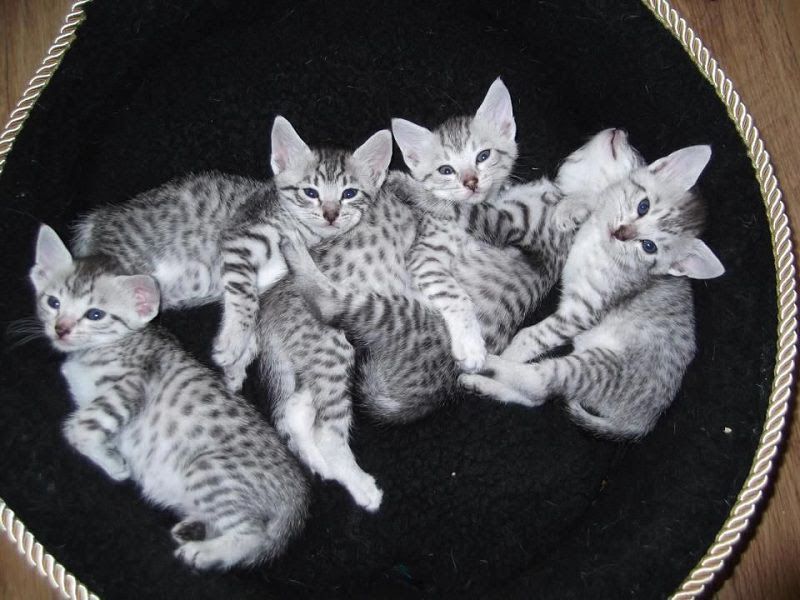 Egyptian Mau cat for sale from Reputed Egyptian
1. Belle Hollow
Belle Hollow is the leading farm in in raising Savannah cats and Egyptian Mau cats. They aim to create beautiful, healthy and well-socialized pets. Not "producing" by  series, the farm always emphasizes quality over quantity. They are constantly learning about Egyptian Mau cats to find out the best features of them. From such features, they developed them to provide owners of the best cats, but still retain the unique characteristics of this cat breed.
You can find more information and contact them through this website: https://www.bellehollow.net/
2. Mas-Ree Mau Cattery
Name of the farm: Mas-Ree Mau in Arabic is Egyptian mau and Mau means cat. In this farm, they breed Mau with traditional colors such as Silver and Bronze. These cats here are always ensured of health, and are well trained from young age so they are very docile, friendly and sociable.
However, this farm only provides kittens raised as pets because they believe that breeding cats need special conditions that not everyone can meet. They never put cats in cages, rather, they keep them in love environment.
You can find more information and contact them through the website: http://www.masreemaus.com/
3. The Chirpy Cats
This is an Egyptian mau breeding farm in Kansas, Missouri. Their mission is to provide the best cats in terms of personality and appearance. If you are looking for a beautiful and friendly Mau cat, this is the ideal place for you to refer.
You can find more information and contact them through the website: http://www.thechirpycats.com/
Characteristics of Egyptian Mau cats
Appearances
Egyptian Mau cat is a medium-sized cat breed. They have well proportioned firm and slender body with straight back and high legs. They have a pretty round head and full face. The special feature on their face is the letter M on the forehead and two black lines on the cheek. They have beautiful green eyes and are fascinating.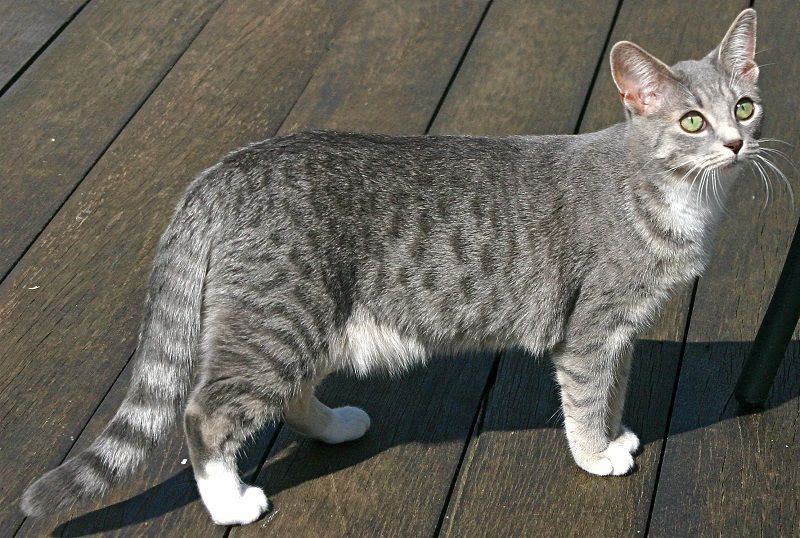 The coat is short, soft and silky. Egyptian Mau can be seen in three colors that may have been shown in the championships: Silver, bronze, and smoke. Some colors are also recognized for registration purposes, but not for performance purpose, there are solid black and faded versions of primitive colors: blue – silver, blue spotted (fades bronze color), blue smoke and solid blue colors.
Temperament
Egyptian Mau is a very intelligent cat breed, they have open nature, fun, nimble and playful personalities. They like to play, hunt rodents, run and climb. These cats are very affectionate, loyal and friendly, they also have strong attachment to their family, good for children and other pets in house.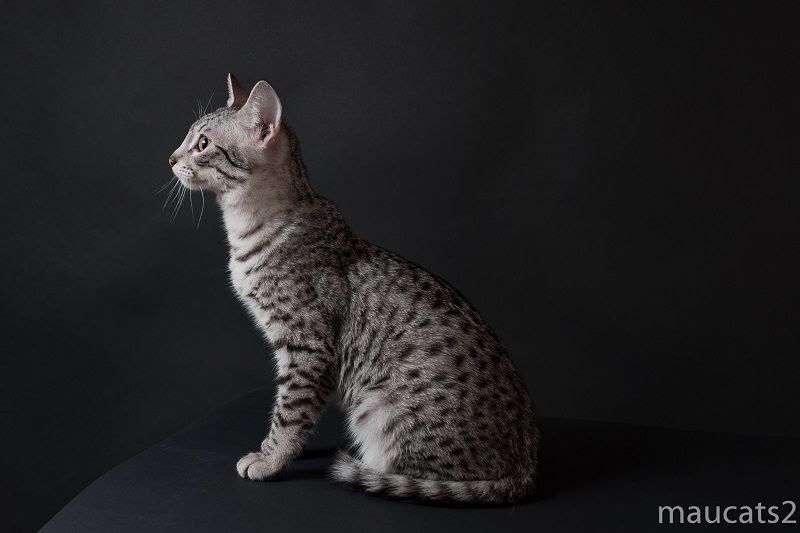 The Egyptian Mau cat lays great importance on family, people and even themselves, they are also loyal animals. They do not exercising much and often express their happiness with cheerful voices in soft and melodious voice and sway their tails very fast while walking with the front legs similar to human hands.