About Von Evman Rottweilers kennel
Von Evman Rottweilers was founded by Evie Lynn for the purpose of breeding healthy, well-tempered, good-looking, correct in type, and intelligent Rottweiler puppies. Their first Rottweiler, Champ was bred by Evie's husband, Michael in Germany from the famous Vilstaler Land Rottweilers. Currently, Evie and Michael are both members of several prestigious Rottweiler club and organizations such as AKC (American Kennel Club), ARC (American Rottweiler Club), USRC (United States Rottweiler Club)…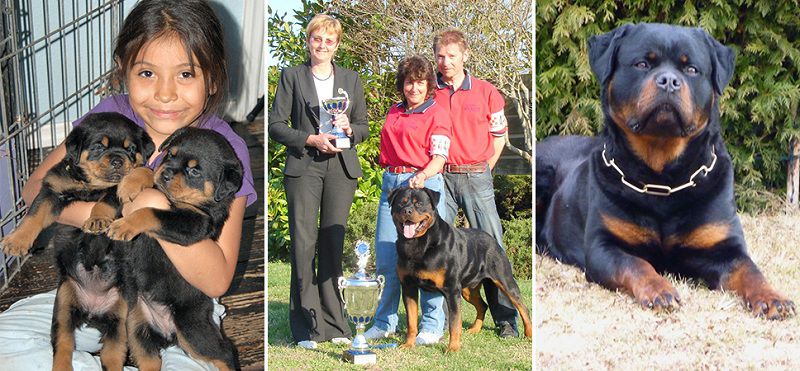 [ux_products products="24″ tags="rottweiler-products" orderby="rand"]
Von Evman has the reputation over the years for breeding Rottweilers that have a long life expectancy. Champ was one of the oldest living Rottweiler ever recorded when he passed at the age of 15 ½. This is due to the fact that Evie and Michael breed a certain old German Rottweiler bloodline which is one of the purest Rottweiler bloodlines with the least genetic defects.
Besides, their dogs excel in all aspects of training and have beauty and brains. At Von Evman, they produce smart, spoiled, and very easy to train puppies. Because of how smart their Rottweilers are, many become Registered Therapy Dogs and Service Rottweilers.
Evie and Michael have built a great environment for their dogs. Rottweilers of Von Evman each have their own large fenced-in yard and their own house so they can go inside and outside as freely as they wish. In addition, the whelping facility for their puppies has also been build which is a state of the art complex, separated from the other Rottweiler quarters where the mothers can quietly be very comfortable and deliver their puppies safely.
>> You May Also Like:
Address: Groveland, Florida
Breeds are raised: Rottweilers only
Price: not public
Website: https://vonevmans.com/
Rottweiler puppies for sale in Von Evman
> Contact Von Evman Kennels Here: https://vonevmans.com/contact-us/