The Shar Pei is an ancient dog breed, developed over 2,000 years ago in China. They were raised for various purposes of protecting, hunting, breeding and fighting,… They are known for their dedication to their owner's family. Legend has it that an Emperor of the Han Dynasty raised more than 2,000 Shar Peis in the palace for companion and hunting. Nowadays, the Shar Pei price is quite high, around $900/puppy on average. In this article below, we will provide all information about prices and reputable places to find Shar Pei puppies for sale.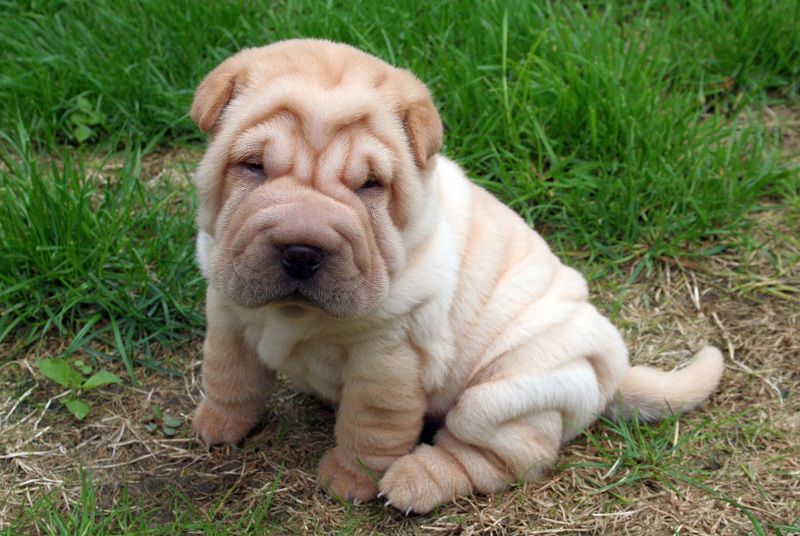 [ux_products products="24″ tags="dog-products" orderby="rand"]
Shar Pei price range
Shar Peis have different price ranges depending on their origin, lineage, raising purpose and breeder's reputation.
Price of Shar Peis with limited registration
Such puppies are pet-only and not allowed to breed. As a result, their price is quite affordable, ranging from $700 – $1000/puppy. If you are not a professional breeder, a limited registered Shar Pei will be suitable for you.
Price of Shar Peis with full registration
Fully registered puppies have breeding rights so they are more costly. However, how expensive they are depends on their lineage, pedigree and breeder.
Shar Peis from common breeding farms cost from $1200 – $1800/ puppy. Such puppies are often of common pedigree and are mainly raised as pets.
Shar Peis from well-known breeding farms are extremely expensive, ranging between $2000 and $6000/puppy. Such puppies have great proportion and excellent lineage. They are mainly raised for breeding or Dogshows.
>> You May Also Like: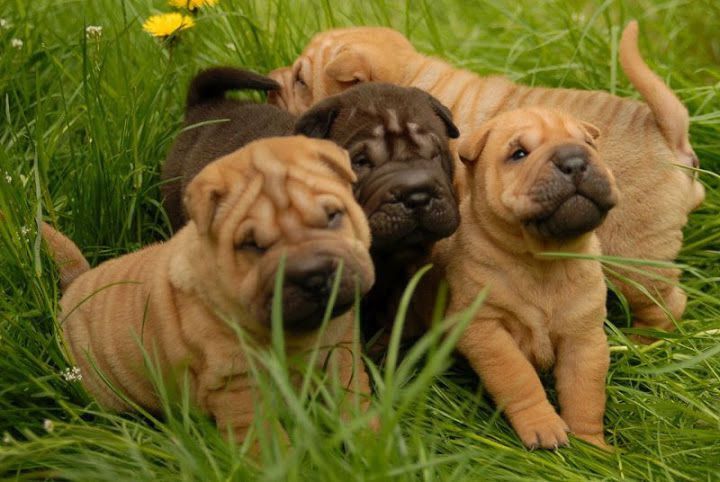 Price of Shar Pei from China
Nowadays, the Shar Pei is still raised at breeding farms in China, where it is one of the most popular breeds (along with the Pug, the Chow Chow, the Tibetan Mastiff and the Pekingese). It is easy to import Shar Peis from China. The original price in China is quite reasonable, about $500/puppy (with good genetic quality and all necessary documents). Upon their arrival in the U.S, due to high shipping expense, each puppy costs from $1000 – $1500.
Where to find Shar Pei puppies for sale
Shar Pei dogs for sale websites
http://www.hoobly.com/shar-pei/ – As a large and famous pet classified website, Hoobly offers a great variety of Shar Peis. However, limited information about puppies may be a slight disadvantage. As for prices, Shar Pei puppies for sale here are quite affordable, fluctuating between $800 and $1800/puppy.
http://www.puppyfind.com/for_sale/shar-pei/ – This site offers Shar Peis of many different price ranges (commonly from $800 – $1200). There is also a great diversity in sizes, ages and genders for you to choose from.
http://marketplace.akc.org/puppies/chinese-shar-pei/ – This is a trustworthy place for you to find quality and healthy pets. Shar Peis on this site vary in ages, sizes and prices. Most importantly, all of them are assured of good health.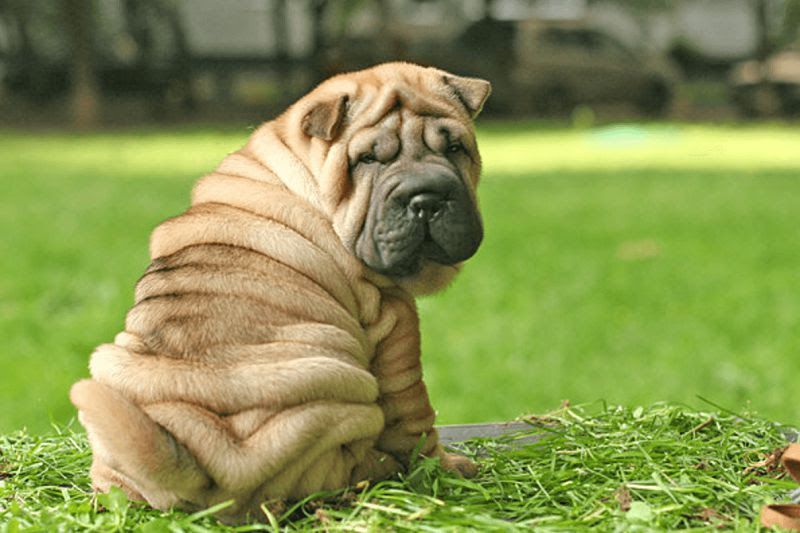 Shar Pei puppies for sale from reputable breeders
1. Tuck 'N Roll Acres
With 38 years of experience in breeding Shar Peis, this farm knows how to raise and train these puppies in the best possible way. Shar Peis from this farm do not just have good health but also impressive appearance. If you are looking for a high quality Shar Pei, be sure to check this place out.
You can find more information and contact them via their website: http://www.tucknrollacres.com
2. Royal Chinese Shar Pei
As a familiar face on many pet magazines, this farm is regarded as the "Royal" Shar Pei breeding farm for their lavish facilities and superb quality Shar Peis. With more than 30 years of experience, they also understand this breed very well.
You can find more information and contact them via their website: http://www.royalsharpei.com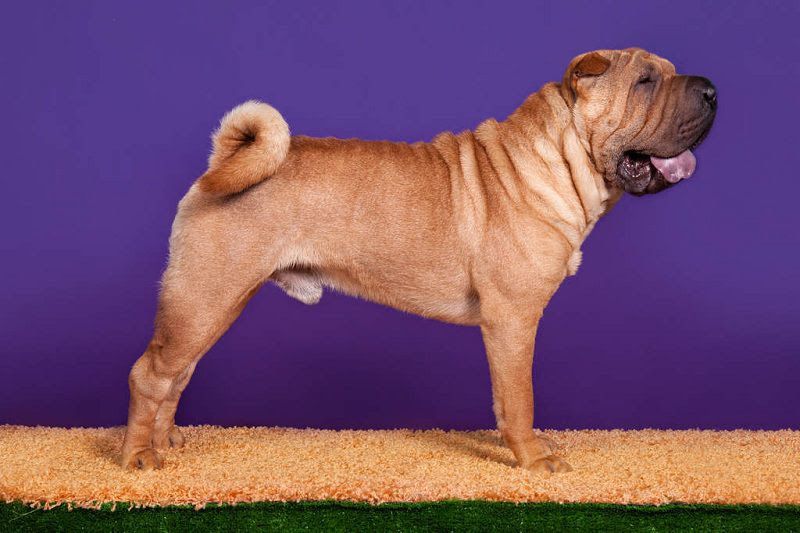 3. Brekkukots
Breeding Shar Peis is the passion of Brekkukots' owner. Since 2002, this farm has bred a lot of beautiful and healthy puppies. With a love for Shar Peis, Brekkukots has constantly improved their training and caring method for the most exceptional results.
You can find more information and contact them via their website: https://www.brekkukots.com/
Characteristics of the Shar Pei
Appearance
The Shar Pei is medium-sized with an average weight of 42 – 55 pounds (20 – 25kg). Their head is large while their ears are small. Their coat is short, coming in different colors. Their skin is particularly thick and wrinkly, which is their trademark and makes many people fall for them.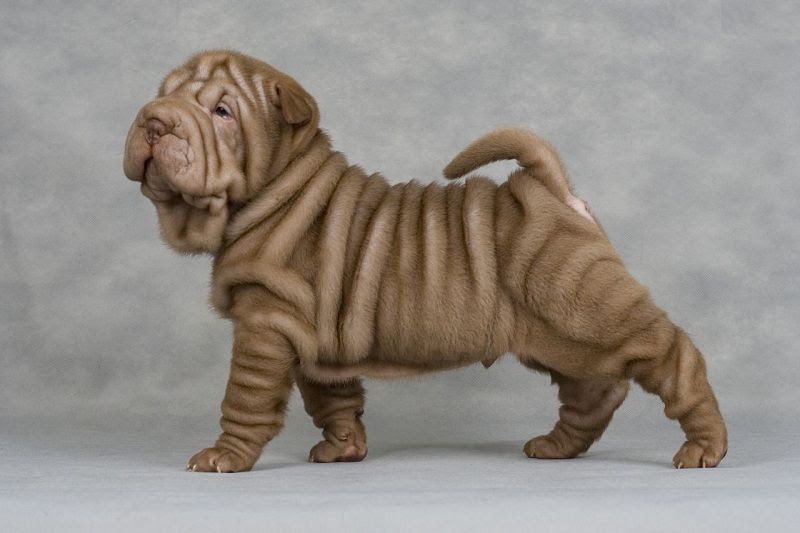 Personality
The Shar Pei is independent and is usually raised as guard dogs. As a result, early training for this breed is necessary to avoid their attacking and hurting strangers. They need a stable and experienced owner to train them in the right way.
Shar Peis are extremely loving and devoted to their family but on distant terms with strangers. They are very calm and confident. They know how to protect their family and are willing to fight if their family is in danger.
This breed is voracious. They can eat a lot and eat anything given to them. To prevent obesity, you should keep them active and make them exercise regularly.