As a working dog breed, the Giant Schnauzer is blessed with exceptional intelligence, agility and resistance. They are loyal and courageous friends to anyone in whom they can place their trust. Today, Schnauzers have been raised as police dogs and involved in many sports. The current price of Giant Schnauzers is quite high, around $900/puppy on average. The prices can vary from $700 – $3000, depending on the characteristics of each puppy. In this article below, we will provide details on prices, reputable breeders and selling websites to find Giant Schnauzer puppies for sale.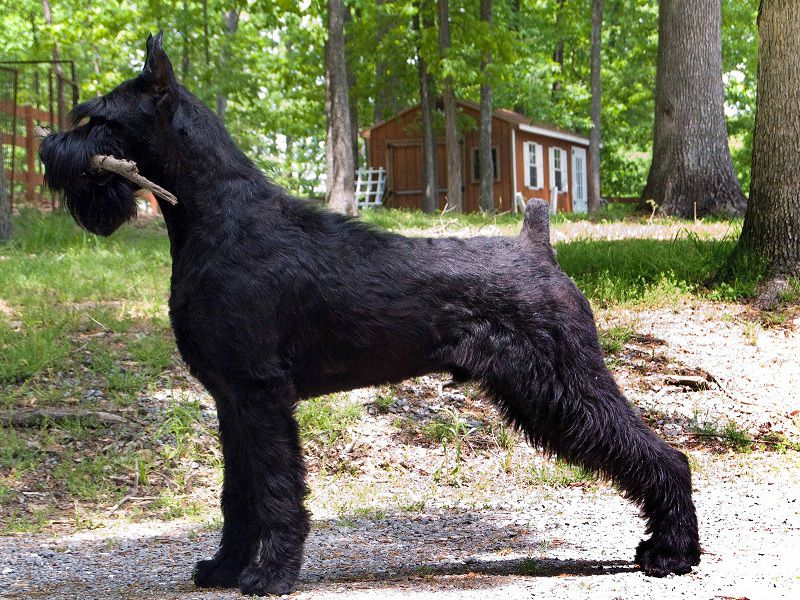 [ux_products products="24″ tags="schnauzer-products" orderby="rand"]
Giant Schnauzer for sale price
Based on what you raise them for and their quality, Giant Schnauzers are divided into 2 price levels: Giant Schnauzers with limited registration (pet-only) and Giant Schnauzers with full registration (with breeding rights).
Price of Giant Schnauzers with limited registration
Such puppies are only raised as pets, which means they are not allowed to breed. Therefore, their prices are quite affordable, ranging from $700 – $1200/puppy.
Price of Giant Schnauzers with full registration
With breeding rights, fully registered Giant Schnauzers are much more expensive than pet-only ones. Their prices are diverse, depending on their lineage, pedigree and breeders.
Giant Schnauzers from common breeding farms cost from $1300 – $1800/puppy. These puppies are usually of common pedigree and over 95% purebred. They are mostly raised as pets.
Giant Schnauzers from well-known breeding farms are way more pricey, about $1800 – $5500/puppy. Such puppies are often of excellent lineage, with their past generations winning contests or Dogshows. Their genetic quality is highly valued so they are commonly raised for breeding or Dogshow participation.
>> You May Also Like: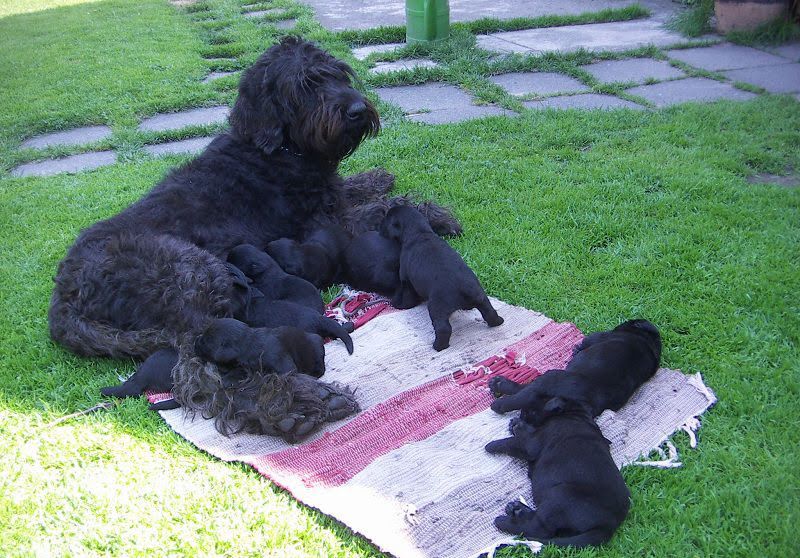 Where to find Giant Schnauzer puppies for sale?
Giant Schnauzers for sale websites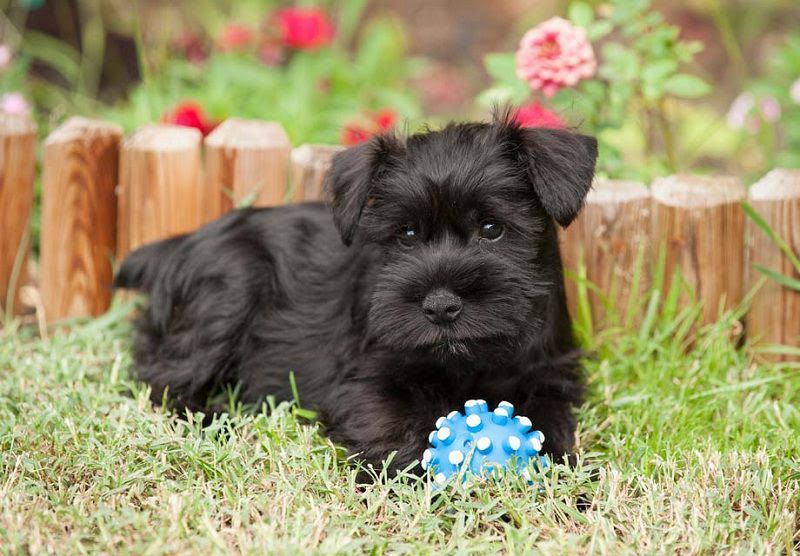 Giant Schnauzer puppies for sale from reputable breeders
1. Classic Giant Schnauzers
With more than 40 years of experience in breeding Giant Schnauzers, breeders here aim to create top-quality dogs that meet all standards of appearance, personality and health. Thanks to such efforts, they have achieved a lot of success in Dogshows and other dog competitions throughout America.
You can find more information and contact them via their website: http://classicgiantschnauzers.com/
2. Skansen Kennel
Skansen Kennel can be considered the best Giant Schnauzer breeding farm in the world for their creation of more than 900 champion Giant Schnauzers, winning more than 100 "Best in Shows" awards during their 45 years of experience. Their goal is to breed the best Giant Schnauzers, and clearly all of their achievements can prove that.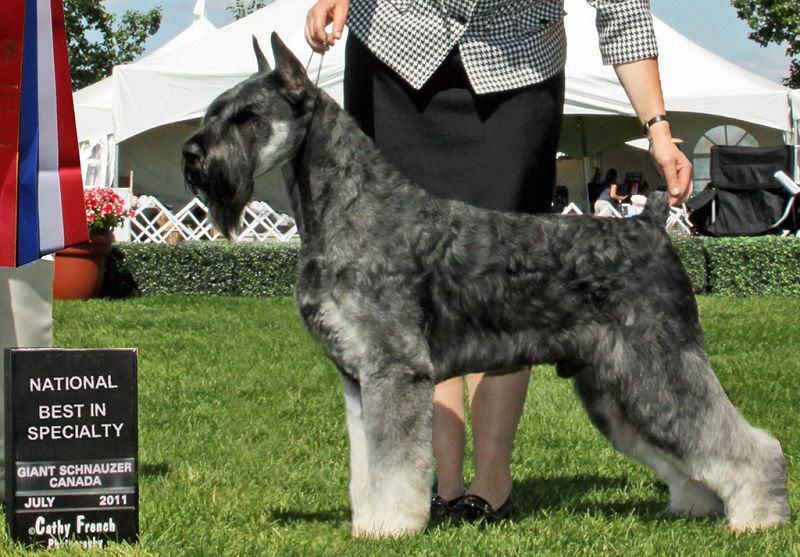 You can find more information and contact Skansen Kennel via their website: http://www.skansen.com
3. Firezone Giant Schnauzer
As a small family breeding farm, they start their breeding job because of their love for Giant Schnauzers. For them, raising dogs is a daily source of joy and is what they do with all their passion and capability. You can be assured of puppies born here as they always receive love and care from all farm members.
You can read more stories about Firezone Giant Schnauzer on their website – https://www.firezonegiantschnauzers.com
Characteristics of the Giant Schnauzer
Appearance
Although called "Giant", the Giant Schnauzer is nowhere near as big as other breeds such as the Great Dane or the Rottweiler. Instead, they are more similar in size to the Standard and the Miniature Schnauzers. According to the AKC standard, male Giant Schnauzers are 25.5 to 27.5 inches (65 to 70 cm) long, while females are 23.5 to 25.5 inches (60 – 65 cm) long.
Their coat is thick and weather resistant. The facial hair forms a distinct beard and eyebrows. Giant Schnauzers come in two colors: black and pepper. This pepper color is when the dogs have both black and white hair covering their body, looking like pepper and salt.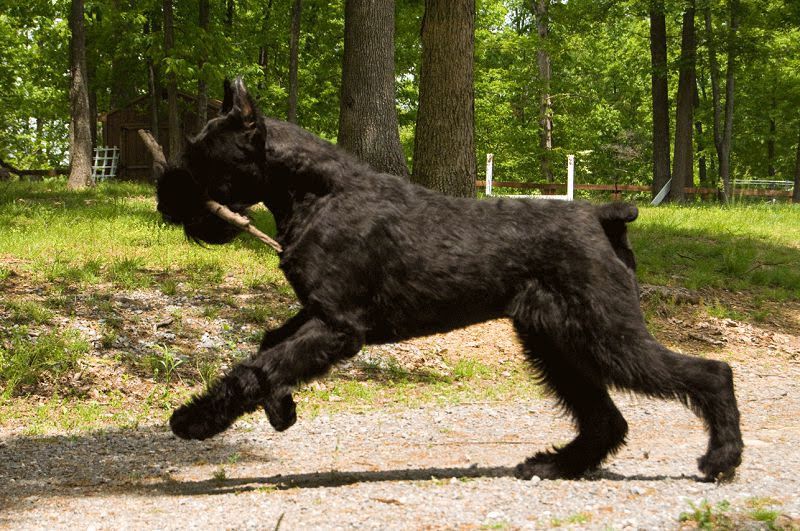 Personality
Giant Schnauzers are active and highly responsible. As working dogs with high energy, they are prone to stress and are bored if kept indoors for too long.
Giant Schnauzers are smart and agile. They can be trained for herding, sports or driving. Apartments are not ideal places for Giant Schnauzers as they need a large space to play around.
It is not recommended to keep Giant Schnauzers near children. They should only be raised in families with children over 12 years old.