Dog crates look like furniture, why not? Most of dog crates are made of steel or plastic; these cages often have no aesthetics. They take a lot of space in the house and could not be used for other purposes rather than pet's shelters. A dog crate furniture can solve this problem. This type of dog cage is usually made of wood and has beautiful design. In addition to pet shelters, they can also be used as furniture, TV racks, or simply used as interior decorating items.
[go_pricing id="dog-crate-furniture"]
The most beautiful dog crate furniture models
Dog crate end table (dog crate table)
This has presently been the most common interior dog design. These cages are usually made of wood, or of wooden frames with metal bars. One side will be the door for dogs to come in and out. The upper side is designed as a small coffee table which could be a place for putting things or decorative items. The most popular place to put this type of cage is next to sofa, on the bed's head or on places near windows where there is plenty of light.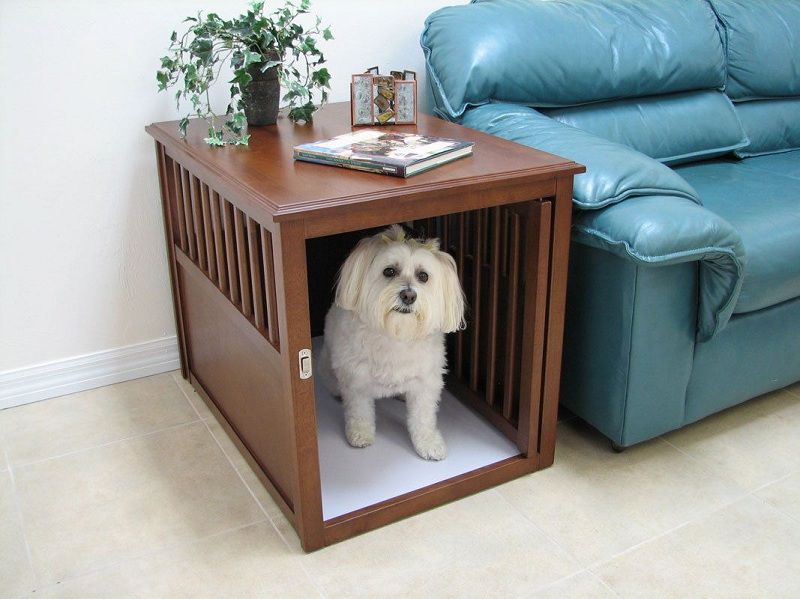 Price of each dog crate end table usually ranges from $80 to $250 depending on material, size and design. Here are some of the most popular and beautiful dog crate tables at the present. 
1. Crown Pet Products – Wood Dog Crate End Table
This is a high-end decorative cage model of Crown Pet Products. The product is made of high quality wood; it is very durable and beautiful. All four sides are airy with very strong bars made of stainless steel. The door can be rotated 180 degrees, and can easily and flexibly open to both outside or inside. Both the inside and outside of the cage are covered with a glossy, waterproof paint layer that makes the cage easy to clean and effectively prevents odors.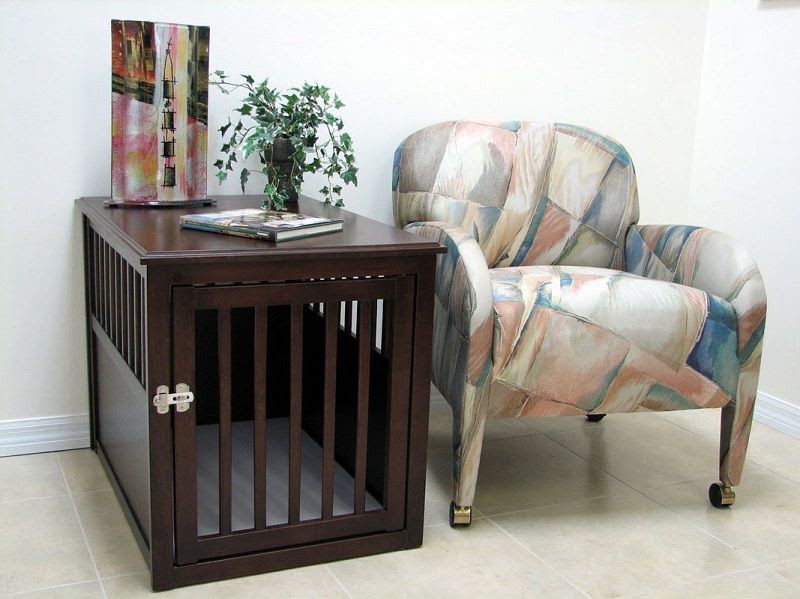 Although made of high quality wood, the cage is lightweight; it weighs only 46 pounds. This cage can be quickly assembled and easily disassembled when not in use. This type of dog crate is suitable for being placed next to a sofa, on the bed's head, or is suitable for a decoration in a corner of the house. This type of dog crate ensures that you and your dog are always close to each other, and at the same time, it still ensures the aesthetics of the room.
Wood Dog Crate End Table of the Crown Pet Products has two designs, one for big dogs (<80 pounds) and one for small or medium dogs (<45 pounds). There are two colors, mahogany and espresso. I personally prefer the espresso color because it helps to reveal scratches when the dog scratches.

2. Casual Home Pet Crate End Table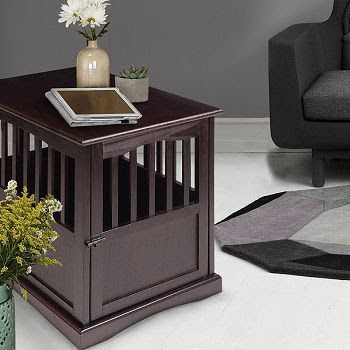 This design of the Casual Home is similar to that of the Crown Pet Products presented above; it has four airy sides and a front door that can be flexibly opened and rotated 180 degrees. However, because it is made of industrial wood, the price of this product is cheaper, less than half of that of Crown Pet Products while it still ensures the durability and beauty.
This dog cage design has two sizes that are suitable for different types of dogs. The small type (24 inches) is suitable for dogs <40 pounds and large size type (27 inches) is suitable for dogs from 40 to 70 pounds. The cage is quite light, only about 30 to 40 pounds depending on size. There are 3 colors to choose from: black, white and espresso.
You can find the exact price and details of this dog crate furniture here

3. Merry Pet 2-in-1 Configurable Dog Crate Table and Gate
I highly evaluate this model design. This product is not only a dog crate furniture, but can also be transformed into a sturdy indoor gate or indoor fence that can be used for both dogs and children. The four sides of the crate are hinged together for easy removal and transforming into different shapes. The top of the cage, like that of other crate end tables, is covered with a waterproof paint layer. The cage can be used as decoration or coffee table.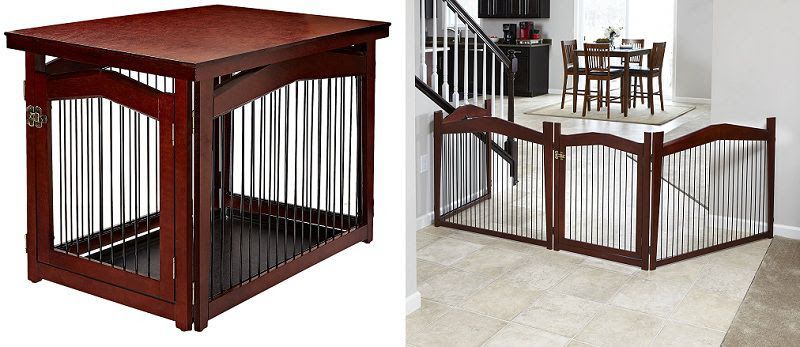 The four sides are designed be absolutely airy. The cage has no wooden barrier underneath; rather, it only has bars made of stainless steel. I personally like the bar underneath like the two above designs because they look more aesthetically, but this design is also good because it is very light and easy to transport. The cage also has two sizes – medium and large. The medium size is suitable for dog breeds less than 40 pounds and the large size is suitable for dog breeds from 40 to 80 pounds.
In general, I have nothing to criticize about this product, all are very perfect, and it is both versatile and aesthetic. You can find more information and order this model of dog crate furniture here

4. Decorative Wicker Dog Crate
This is a dog kennel furniture that has quite special design. All sides are woven by bamboo bars and stainless steel door. This design makes the cage look very private but also very airy, very solid but very light. This cage only weighs 20 to 25 pounds depending on size, so it is easy to carry and clean.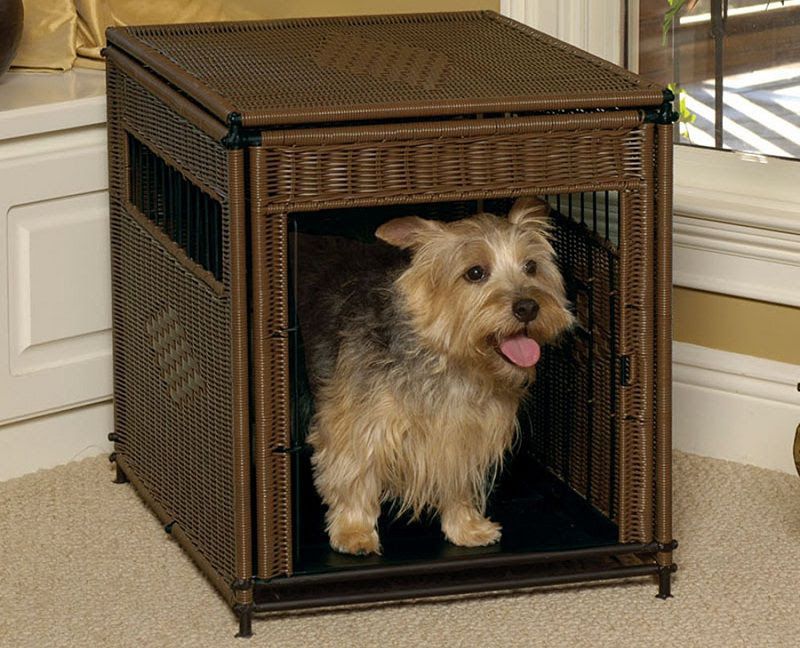 The top of the crate can be used to place decorative items, or could be used as a small Asian style tea table; both ways make it very beautiful. If it is used for decorating, you should not place heavy and fragile items (such as vases) on the top of this kennel. As mentioned above, since this cage is very light, naughty dog can dance inside and spill objects onto the floor.
This model has three sizes for dog breeds <25 pounds, 25 to 45 pounds and under 80 pounds respectively. Prices vary from $160 to $260 depending on size. There are 2 colors to choose from: brown and dark brown. You can find prices and purchase decorative Wicker dog crate here:

5. Merry Dog Crate End Table
This product is generally nothing special, 4 sides are entirely made of metal bars with the frame and the top made of wood. Below the cage, there is a detachable tray for easy cleaning. The design looks coarse, the aesthetics are not high but the advantage of this design is that it is a very airy shelter for your beloved pet, and that you can still use the top of this cage as a small decorative table next to sofa or at a corner of the house.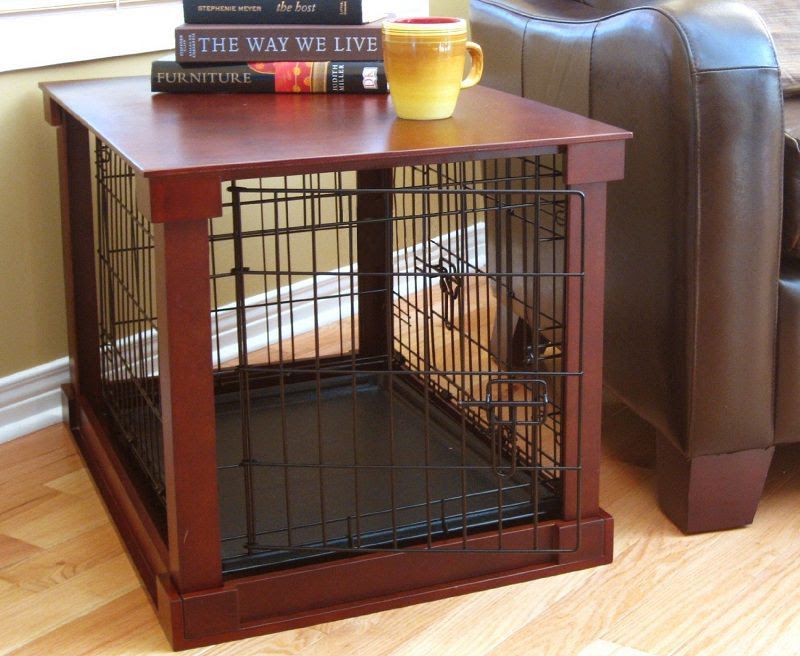 The cage has three sizes: small size for dogs less than 20 pounds, medium size for dogs from 20 to 40 pounds, and large ones for dogs from 40 to 80 pounds. You can view details of prices of each size and read the reviews of users here:

Dog crate TV stand
The dog crate TV stand is usually large size, hence, it is suitable for big size dogs, or it could be used as an accommodation of many small dogs.
This type of design is quite rarely seen because it is often not commercially sold for the mass; rather, you have to order a tailor made design to fit the size and design of each room. Another reason for this type of design not popular is that this crate is very big, very heavy, very difficult to carry and extremely difficult to clean. When you raise your dog inside it for such a long time that it is smelly, you cannot easily carry it outside to clean and dry it up. Overall, it is very inconvenient!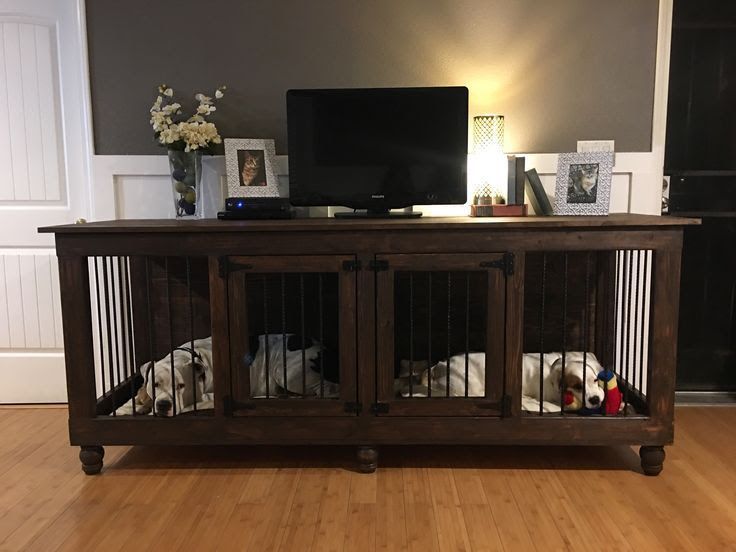 Other decorative dog crates
In addition to the dog crate end table and TV stand, you can also see some rare dog crate furniture designs such as ones that could be placed under wardrobes, bookshelves, work desks, kitchen shelves or beds. However, these models have been designed sophisticatedly and these are rarely used due to their large sizes, which in turn make them almost impossible to be carried outside for cleaning.
There is a way for you to have a dog crate furniture that is both beautiful and easy for cleaning; that is when you design furniture such as a TV shelf, wardrobe or kitchen table and shelf, you can design a hollow and open space, then you can buy (or order) a metal dog house that fits with such space. When you need to clean it, you simply need to remove the cage and do not need to carry other bulky and cumbersome items.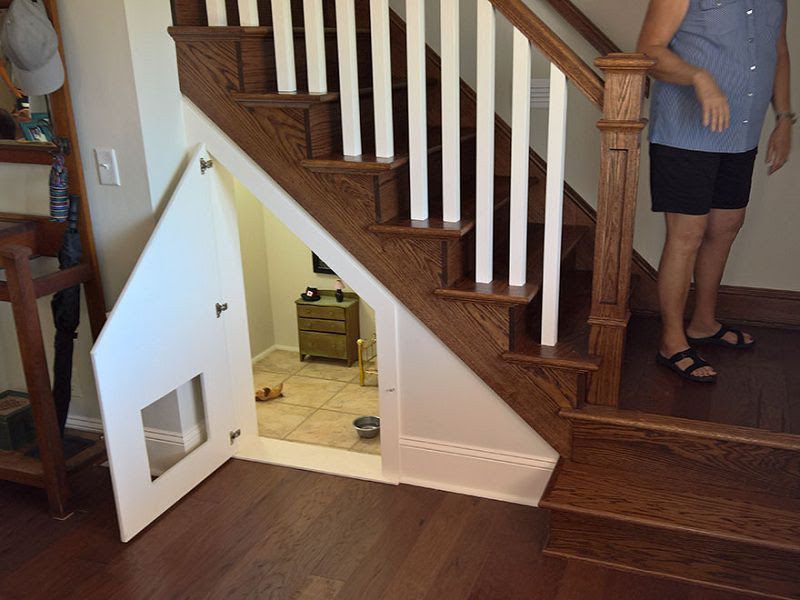 This way is complex and expensive but it is also very useful if you want to have both a furniture item and a beautiful dog stable. I personally do not like such complicated dog kennel furniture, only a dog crate end table is enough for me. 
Notes when you buy and use dog crate furniture
Keep the crate clean
Before using dog crate furniture models, you need to have potty training for your dog. Dog crate furniture models in general are quite heavy, difficult to carry and difficult to clean. Therefore, it will be very hard for you if your beloved dog frequently pees inside his or her house. In that case, the cage will not only be dirty but also have very heavy smell. You should not feed your dog inside the cage in order to avoid unhygienic.
Even if you have kept the cleanliness very well but after a period of use, the cage will still be dirty and smelly. To limit odor, you should have your dog taken bath regularly, also, you should regularly clean the dog cage mat. Besides, regular cleaning should be done to remove fallen fur inside the cage. Once a month, you should bring the cage out for cleaning and drying.
The design of dog crate furniture
Beside beautiful design, decorative dog crates should also be dark to not reveal scratches and bites of your pets. Colors that should be used are black, espresso or brown. Interior paint layer should be polished and waterproof to facilitate cleaning and increased the cage life span.
The cage should be designed airily in all sides to ensure that it is always dry, that your dog will feel comfortable inside, and that it will decrease unpleasant smell in the cage as well. If you choose a closed dog crate, it should be equipped with a fan to circulate air.
In terms of size, it is advisable that you should choose cages large enough for your dogs to stand and sit comfortably inside. Ideally, choose a dog house that is at least 5 inches taller than the height when your dog sit, and at least 8 inches wider than the width when your dog is lying down. Please note that you should not take the current size of your dog as the standard, rather, take the estimated size of your puppy when he or she grows up when you choose a dog stable.
Keep warm in the winter
Decorative dog crates are often designed open and airy while they could not use crate covers, hence, it is very difficult to keep warm in winter. You should use extra heated bed or heated mat for your beloved dog, which costs only a few tens of dollars each. There is an important note when you use such mats and beds; that is the wire part. You should skillfully place wires hidden to avoid that your dog feels curious and bites them.
Conclusion
In general, dog crate furniture is extremely useful in saving space and beautifying the house. You have both shelter places for your pets and beautiful furniture simultaneously. There are currently hundreds of beautiful dog crate furniture models sold at very diverse prices. If above models do not please you, please refer to the other designs here.