Best dog food for Poodle
Like all other breeds, the amount of food you should feed your Poodles depends on their size, age and level of activity. Dogs of the same size may not necessarily need the same amount of food. You should not copy exactly what other Poodle owners do – this is completely wrong. What and how to feed them should be based on the condition of each Poodle.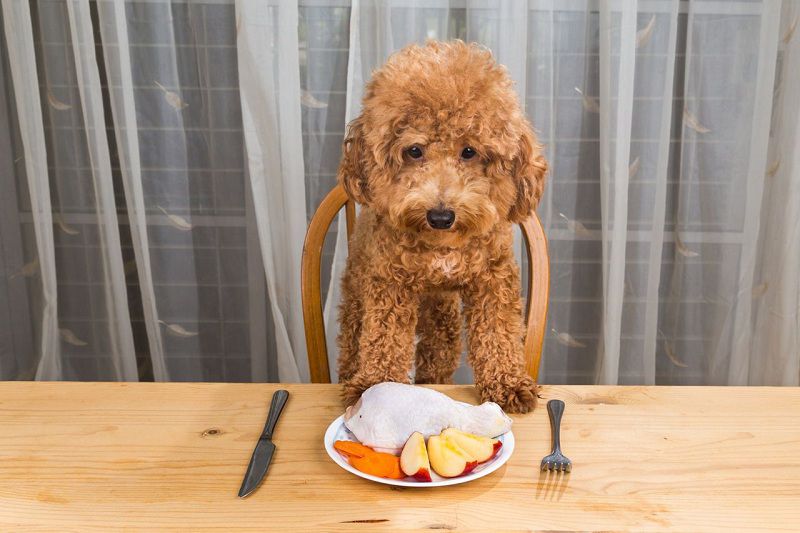 Food quality is important. It is the best to buy dog foods as they ensure adequate nutrition, with detailed instructions on the amount of food needed daily based on each dog's weight and age.
For example, for dry dog food, a standard Poodle needs 1.5 – 3 bowls a day, a Miniature Poodle needs 3/4 – 1 bowl a day, and a Toy Poodle needs 1/4 – 1/2 bowls a day.
Poodles will gain weight fast if you feed them too much. Although a chubby Poodle may look cute, overweight may cause some serious health problems, such as Dyslipidemia and heart problems. Proper feeding is the best way to keep your Poodles fit. Do not feed them as soon as they ask for. Otherwise, they will become demanding.
[ux_products products="24″ tags="poodle-products" orderby="rand"]
Keep your Poodles in a good shape by measuring daily food intake. Feeding them three times a day is better than leaving food for them for the whole day. If you are not sure whether your dog is overweight, you can do the following simple test:
First, look down from the back of the dog, you will see a waist. Place two hands on the back in the waist area with your thumb along his/ her spine and the others hugging and pressing lightly. If you can feel his/ her ribs, your Poodle is perfectly normal. Otherwise, he or she is overweight, and you need to have your Poodle eat less and exercise more. If you can feel the ribs right when you place your hands without pressing lightly, the Poodle is thin and needs to eat a little bit more.
>> Teacup & Toy Poodle price range. Standard & Miniature Poodle price
>> Poodle sizes & temperament. How to take care of the Poodle?
>> Hair care & Hygiene care for Poodles. How to take care of Poodle's coat?
Exercises for Poodles
Poodles generally like to be active. You should take your Poodles out for a walk on a regular basis, preferably in the afternoon. The park is a good place to walk. You should also buy a ball or rubber bone and play catch with them. In addition to being fun, this game is also a great way to improve their health and create a bond between the owner and Poodles.