Australian Shepherd is the dog breed that has the origin from America, but is popularly raised in Australia. They are called by different names such as Australian Berger or Aussie. They are raised as protecting dogs, police dogs, search and rescue dogs, sheepdogs, guard dogs, circus performing dogs, etc. Currently Australian Shepherd price is not very high, around $700 for each puppy, on the average. If you are interested in this dog breed and looking for a puppy, this article could help you in searching information. We would recommend you some information on prices, pet websites and reputed dog breeders for your reference.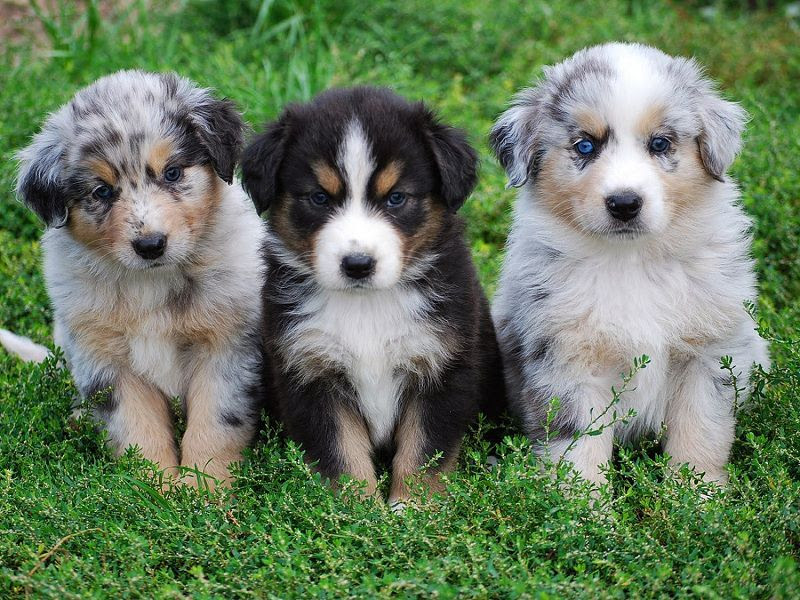 [ux_products products="24″ tags="australian-shepherd-products" orderby="rand"]
Australian Shepherd price range
Australian Shepherd is classified into 2 kinds: dogs with limited registrations (raised for pet purpose only) and dogs with full registrations (allowed for breeding). You could choose a suitable Australian Shepherd puppy depending on your living conditions and raising purposes.
Price of Australian Shepherd with limited registrations
These puppies are mainly raised as family pets and are not allowed for breeding. And of course, prices for these puppies are rather low, from around $600 to $1000, depending on size and appearance attributes. You could find Aussie puppies in this price range on some pet online websites mentioned below.
>> You may also want to read: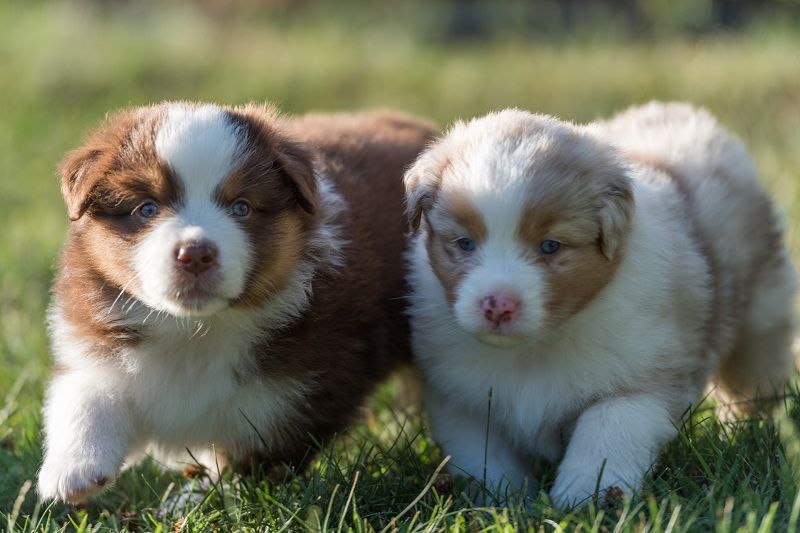 Price of Australian Shepherd with full registrations
For these puppies, you are not only able to raise them but also allowed to breed them.  Australian Shepherd puppies are often offered much higher than ones raised as family pets only. Price fluctuation is very large and depends on breeder's address, bloodlines, family records, etc.
Australian Shepherd puppies with normal family recordwould be often offered from around $1000 to $1800. These are born at less reputed dog breeding farms, and have the blood purity above 95%. They are usually raised as family pets, or could be used for breeding purposes by amateur or semi – professional dog breeders.
Australian Shepherd puppies with excellent bloodlineswould cost very high, you could have to pay from around $1800 to $4000 each, or even much higher than that for such a puppy. These puppies are born at famous dog breeding farms with outstanding family records; especially they are suitable for breeding or participating in beauty dog shows.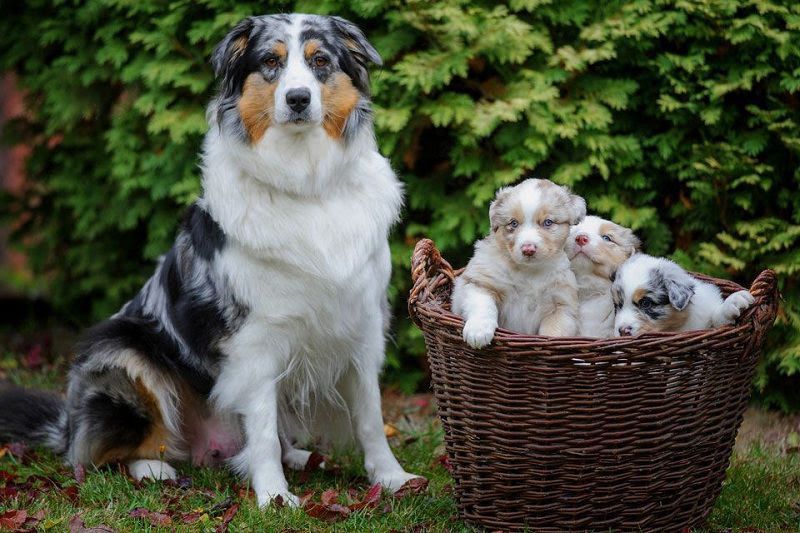 Where to buy Australian Shepherd puppies
Online pet websites
These websites are considered as an easy way to find an Australian Shepherd puppy as your family pet. Prices are diversified and ranges from $400 – $3000. Below are some of the most reliable websites:
marketplace.akc.org/puppies/australian-shepherd/ – This is certainly the address that any pet lovers know and trust. You could completely feel secure when you would like to find an Australian Shepherd puppy with complete kinds of sizes, coat colors, age ranges without worrying about their quality here.
lancasterpuppies.com/breed/australian-shepherd-puppies/ – This address could supply a huge number of Australian Shepherd puppies with complete kinds of sizes, coat colors, age ranges, etc. The price range is very large as well, popularly from around $600 to $1100. Lancasterpuppies is such a rather big and reputed website that you could trust to the puppy quality when you find one here.

greenfieldpuppies.com/australian-shepherd-puppies-for-sale/ – Price of Australian Shepherd puppies are very varied here, from around $500 to $1300. This address could supply a huge number of Australian Shepherd puppies with commitment about their quality and good health status. This is one of the most reliable places to buy Australian Shepherd.
Reputed Australian Shepherd breeders
1. Colin & Glynis Dowson Owner
They are the couple with high experiences in breeding Australian Shepherd, and they are also the owner of a famous dog breeding farm named Ozzypool Kennel. This is the dog breeding farm that has received many positive feedbacks and belief from Australian Shepherd raisers in many places all over the world.
You could find more information and contact them here: http://www.ozzypoolaussies.com
2. Karen Cunningham
Having over 40 years of experience in breeding, Karen Cunningham always knows what are necessary to puppies' health, especially of Australian Shepherd puppies. You could find more information and contact Karen Cunningham via the website http://www.cedarpaws.ca
3. Cuebiyar
Cuebiyar Australian Shepherd is a quite new address in Australian Shepherd breeding field, but it has proved its position in this field through professional and effective working method. You could trust them if you would like to find cute Australian Shepherd puppies that are assured good health status.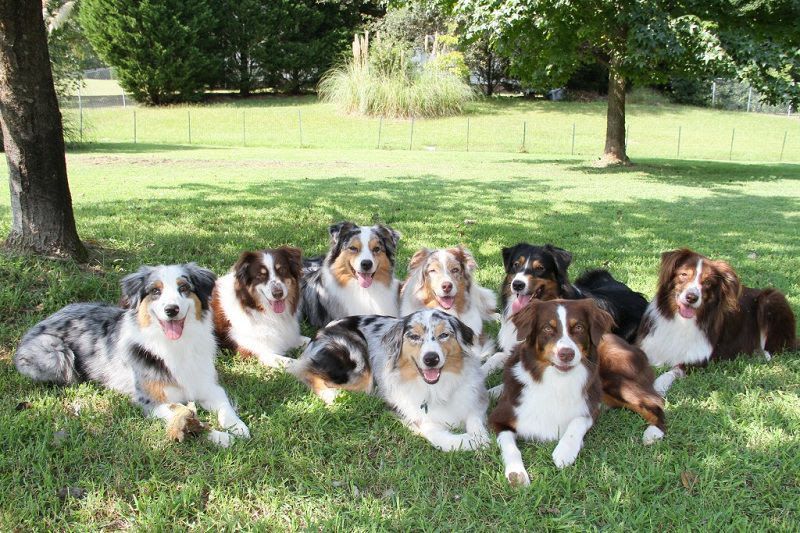 Purebred Australian Shepherd attributes
Appearance attributes
Australian Shepherd breed has a medium – size, compact, slim, and quiet wild body. Male Australian Shepherds are from 52cm to 58cm high and weigh from around 25kg to 29kg, while female ones are from around 46cm to 53cm and weigh from around 18kg to 25kg. They have very strong breasts, and straight and steady legs which are capable of fast movement.
Their coats are not quite dense and have medium length. The coat colors are often blue, slight red, dark brown, red – brown, and maybe with some white patchworks or brown patch combining together. This breed does not shed so much and you do not need to take careful and good care of the coat.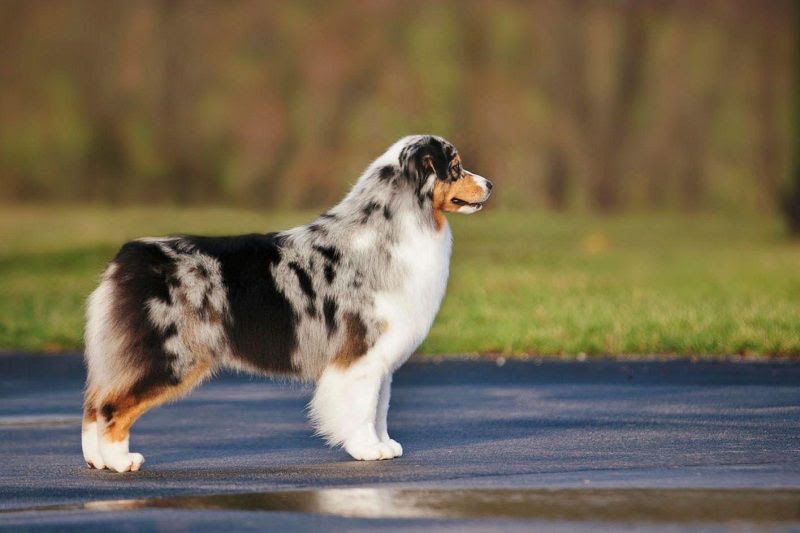 Characteristic attributes
Australian Shepherd is very friendly to people, especially kids. They are not aggressive but often cautious to strangers. They are very active and energetic, love running and playing. They become bored easily if not having exercise. So you should give them many chances for exercise such as giving them tasks or playing with them, etc.
Aussie is the dog breed that has loyal, intelligent, courageous, independent and highly focused instinct. They are easily to be trained and have high IQ score. These attributes make Aussie absolutely suitable for performance, professional work and as well as normal work. If you need a puppy like that, you could contact dog breeding and training farms. A trained Aussie puppy is offered from around $1200 to $2000.