There are a lot of Beagle puppies in the U.S. because they are friendly and social. It's true that Snoopy from Peanuts is a Beagle. President Lyndon Johnson had three of them while he was in the White House. However, if they don't have enough time to play and be stimulated, these curious dogs can easily get into trouble. It was in England that beagles first came to be used as pack dogs to hunt rabbits and beavers.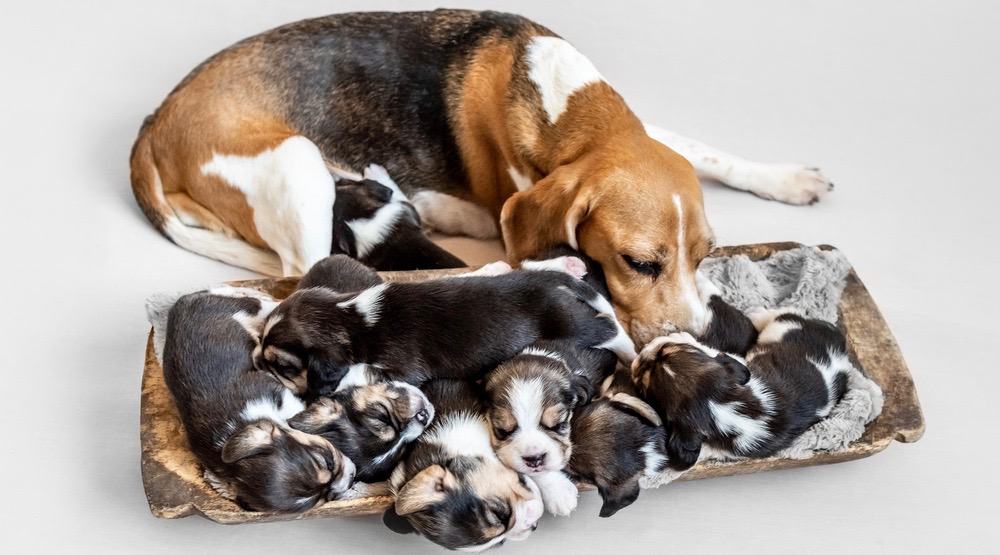 These small dogs were called "foot hounds" in the old English slang because they could not be kept as hunting horses. They were used by people who couldn't afford to keep their own hunting horses. Taking on a new puppy is a wonderful experience. Additionally, it's nerve-wracking and concerning. One of the most major questions of new owners is whether their dog is developing at the appropriate rate or not?
Beagle Facts
Beagles are sociable, lively, cheerful, and playful. They continue to be employed as working and hunting dogs throughout the world but have gained popularity as family pets as well. They originate in England and date all the way back to the 14th century. Whether you maintain one as a working dog or adopt one into your family, you can enjoy a loyal friend with an exceptional sense of smell. Consider them to be muscular, particularly if they labour in the fields all day, and start training them early if you wish to restrict their vocalisation.
Growth and Height Charts of Beagle Puppy
Whether you believe your Beagle is growing too quickly and is at risk of becoming overweight, or is growing too slowly and you are concerned about disease and other possible complications, knowing their ideal weight at various times of their life can provide you with peace of mind. You can decide the appropriate size for your puppy by looking at the given below chart , but keep in mind that not all puppies develop at the same rate. Males and females develop at various rates within breeds, and some puppies just grow slower than others. Your puppy's food, type of exercise, and overall health are all aspects that may influence how quickly and to what size they grow.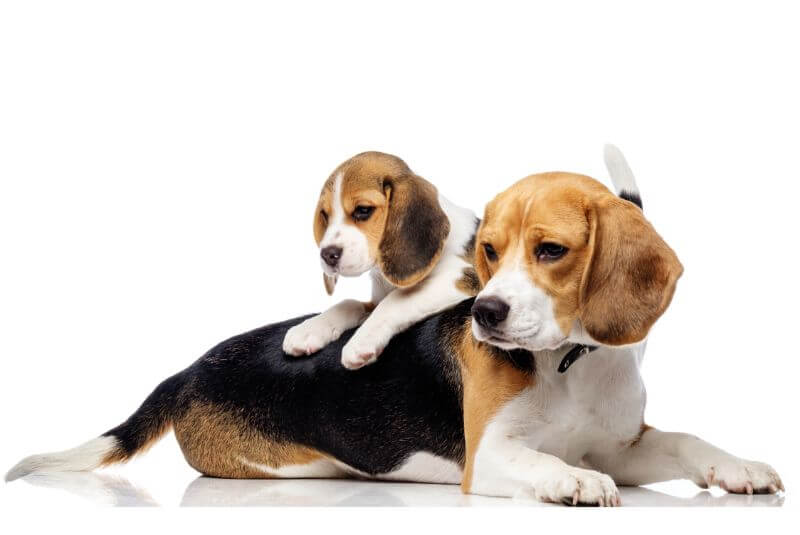 Weight Chart of Male Beagle Puppy.
Age
Weight in.                Pounds
8 Weeks

9 Weeks

10 Weeks

11 Weeks

3 Months

4 Months

5 Months

6 Months

7 Months

8 Months

9 Months

10 Months

11 Months

Adult

4 – 6

4.5 – 6.8

5 – 7.5

5.5 – 8.3

6 – 9

8 – 12

12 – 16.5

13 – 19.5

15 – 22.5

17.5 – 26.3

19.5 – 29.3

21.5 – 32.3

24 – 36

26 – 39
Height Chart of Male Beagle Puppy
Age
Height
8 Weeks

9 Weeks

10 Weeks

11 Weeks

3 Months

4 Months

5 Months

6 Months

7 Months

8 Months

9 Months

10 Months

11 Month

1 Year

2 Year

6″-8″

6"-8"

7″-9″

7″-10″

8″-11″

8"-11"

9″-12″

9″-12″

10″-13″

10″-13″

11″-14″

11"-14"

12″-15″

12″-15″

13″-16″
Weight Chart of Female Beagle Puppy
Age
Weight in pounds
8 Weeks

9 Weeks

10 Weeks

11 Weeks

3 Months

4 Months

5 Months

6 Months

7 Months

8 Months

9 Months

10 Months

11 Month

1 Year

2 Year

4.5 – 6.5

5 – 7.5

5.5 – 8

6 – 9

6.5 – 10

7 – 11

8.5 – 12

10 – 14

12 – 16

13 – 17

15 – 19

17 – 21

18 – 22

19 – 23

20 – 24
Height in Chart of Female Beagle Puppy
Age
Height
8 Weeks

9 Weeks

10 Weeks

11 Weeks

3 Months

4 Months

5 Months

6 Months

7 Months

8 Months

9 Months

10 Months

11 Month

1 Year

2 Year

5″-7″

5"-7"

6″-8″

6″-9″

7″-10″

7″-11″

8″-11″

8″-11″

9″-12″

9″-12″

10″-13″

10"-13"

11″-14″

11″-14″

12″-15″
Beagle's growth process
While individual dogs mature at varying rates, there are some general rules you may follow. We've included the stages of periods of growth below so you can monitor your little friend's development.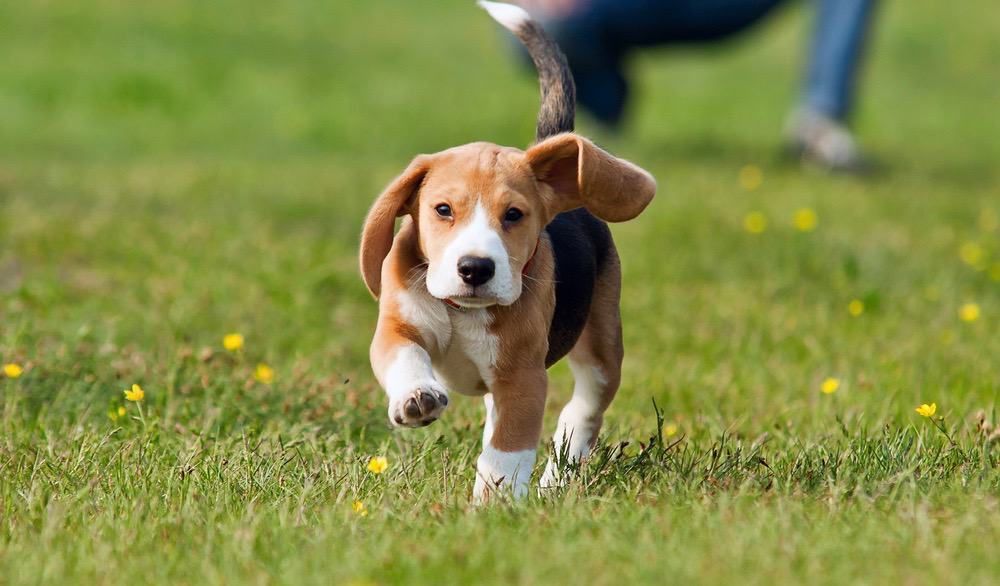 Within Six Weeks – Eight Weeks
At around six weeks, when your Beagle begins to run and bark, you can begin introducing puppy food into his diet. He will begin to nip at eight weeks. Typically, his littermates will be the ones to tell him that this behaviour is unacceptable. You can begin basic play with your dog at eight weeks. However, it should be moderate and not excessively harsh. Additionally, you can enroll your dog in puppy classes to enhance socialisation with puppies from other puppies. You should continue to stay away from dog parks. This is the most popular age for puppy adoption.
At three months (twelve weeks)
This is the age at which puppies begin to develop into young canines. Their coordination will significantly improve, they will begin to understand what constitutes safe and risky behaviour, and their fear response will reduce. At this age, house training should begin, and general training should have begun by now. Negative experiences might stay, so guests and family members should exercise caution when handling the dog. At this age, you should be encouraging him to stop chewing his hands and instead engage with toys.
Your Beagle will be around half his full size at six months. You can begin walking him outside now, and toilet training should be nearly complete, if not completely, by now. His mental capacity will continue to grow, making it easier to teach him more difficult instructions and a greater variety of them. At this age, your Beagle's excellent sense of smell will begin to develop fully, and you should allow him to pause and sniff his surroundings. This is typically the age at which you would have your dog vaccinated.
1 year
Your Beagle will be virtually full-grown by the time he or she is 12 months old, but this breed does not attain complete maturity until the age of 18 months. In the next two months, your Beagle will grow taller and heavier, but by this point, you should have a reasonable sense of its size. Your puppy should be well-trained, well-socialized, and on his way to becoming a highly talented and intelligent hunting dog at this point in time.
What Age Do Beagles Stop Growing?
By the age of 18 months, beagles have reached their maximum size. Their skeletal system is fully developed, and their weight should remain stable following this point. A male Beagle should weigh approximately 25 pounds, while a female should weigh approximately 22 pounds. Expect to get at least one hour of exercise each day. Each day, your Beagle will consume between 1 and 1.5 cups of food. If he is an active dog, his food requirements will increase.
Final Verdict
To ensure your Beagle's growth is healthy, monitor their growth and milestones to ensure they are developing normally.
Ensure that you ask the breeder questions before purchasing your puppy and that you track their growth and weight with regular veterinarian visits. Developing healthy habits early on will help keep your dog healthy as an adult.