Pugs are a pedigree breed popular amongst dog lovers. They have quite a history too, originating from China and were introduced to Europe in the sixteenth century. Pugs were popular for being owned by many monarchs and people of fame over the centuries, making them quite the royal breed.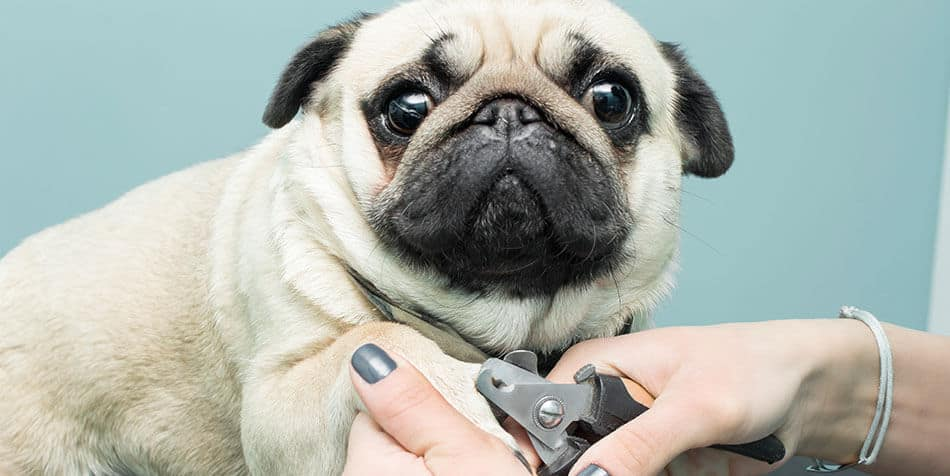 This breed is known for being a very lovable, social and gentle companion with strong will and even-tempered and charming personalities. They are slightly stubborn, loyal, playful, somewhat mischievous and affectionate. These features make them endearing to everyone.
Cutting your Pugs' nails should also be one activity you look forward to doing. At the end of this article, you'll be armed with everything you need to know about trimming your Pugs nails.
Why Do I Need To Cut My Pugs Nails?
With such a royal demeanor also comes a responsibility. You have to prioritize nail care when it comes to Pugs. Their nails tend to grow faster than most breeds. Due to their companionship-oriented and gentle nature, they are mostly indoor dogs and do not do much running or exercise compared to other dogs. Result is that their nails grow more freely and are not worn away naturally.
Leaving their nails untrimmed can cause many paw problems. It can make the nails grow into your Pug's paw, causing pain. This also puts excessive pressure on the toe joints, hindering your Pug from walking well. If this condition drags on for too long, it can cause sore toes that lead to arthritis in his/her feet.
It also increases the risk of their nails being caught on anything and causing injuries of varying degrees to your pet. In extreme cases, the nail can be torn out completely.
Long nails are also unhygienic and unhealthy for this breed. Simply put, long nails are signs of neglect for your Pug.
Pug Nail Anatomy
Nail color varies amongst Pugs. Some have clear-colored nails and others have dark-colored. Pug nails are made of the protein keratin and are usually oval-shaped. Like all dogs, their nails are divided into two sides by the quick; a bed of tissue containing blood vessels and nerves embedded inside the nail.
The quick is usually pink colored with clear nails. It blends with the nail color in Pugs with black nails. This makes it difficult to spot in the quick on dark-nailed pugs. The quick is sensitive to stimulus because of the nerve present and can cause pain when cut into.
The other part of the nail before the quick has no nerves and does not cause pain. This is the part of the nail that is cut off when Pugs get their nails trimmed.
How Often Should I Cut My Pug Nails?
A pug's nails naturally tend to grow fast. Their nails also aren't worn off naturally because of their indoor tendencies. Therefore, it is recommended you trim them every two or three weeks. Their claws should not touch the ground, so you should cut them before they get that long.
How To Trim Pug Nails
Most Pugs hate getting their nails trimmed. They squirm, tense up and sometimes even bark. If you're a Pug owner having some trouble trimming your dog's nails or you want to make that switch from the groomer's office to cutting your dog's nails yourself at home, you can follow these simple steps;
1. Prepare your grooming tools
It's important to get everything you need in one place. You don't want to have to leave your pet to get something you left out. You might be lucky the first time but some Pugs won't sit still the second time.
You'll need a dog nail grinder or clipper, a towel or old newspapers to do the trimming in, hypoallergenic cleansing wipes for dog, a nail file, styptic powder or cornstarch in case of cutting into the quick, an optional source of light if the room is not well lit, some cotton swabs and of course, treats.
2. Select a comfortable position and a good environment
Pick a position and a place your Pug will be the most comfortable in. You could lie down and hold your Pug between your legs or face your pet. You should also be positioned in such a way that you can see what you're doing and reach all your dog's paws easily. Pugs can sense the mood of their owners and reflect it, so as much as possible, try to stay relaxed.
3. Identify the quick
The quick is pink-colored and pretty easy to spot in clear-nailed pugs. With dark claws, you have to turn the nail to the underside and cut or grind away slowly until you spot a darker circle or dot in the middle of the nail. That's the sign that you're very close to the quick. The blood vessels in the back paws are usually shorter than those in front, so keep that in mind while trimming.
4. Hold your pug's toe firmly and cut carefully
It's important to hold the toes firmly, not squeezing too tightly. Use your fingers to separate the toes, place a mark away from the quick and cut. When using nail clippers, cut from top to bottom at a 45-degree angle. Don't cut too close to the blood vessels. You can opt for the option of using a file when you're done cutting to give the nail a smooth finish.
When using a dog nail grinder, touch the tool to the nail for a few seconds and stop, then repeat the touch-grind-release pattern. Grinding for too long produces heat and damages the trimmer  too. Grinders are however easier to use than clippers because they reduce the risk of cutting into the quick.
5. Reward your Pug
While trimming, use words of reassurance and treats between trims. They help your Pug see trimming as something fun and positive that earns them a lot of love, not fear. It also helps them sit still during trims.
In case of cutting into the quick, stay calm, apply pressure on the wound and stop the bleeding with coagulants like styptic powder, cornstarch, or silver nitrate sticks.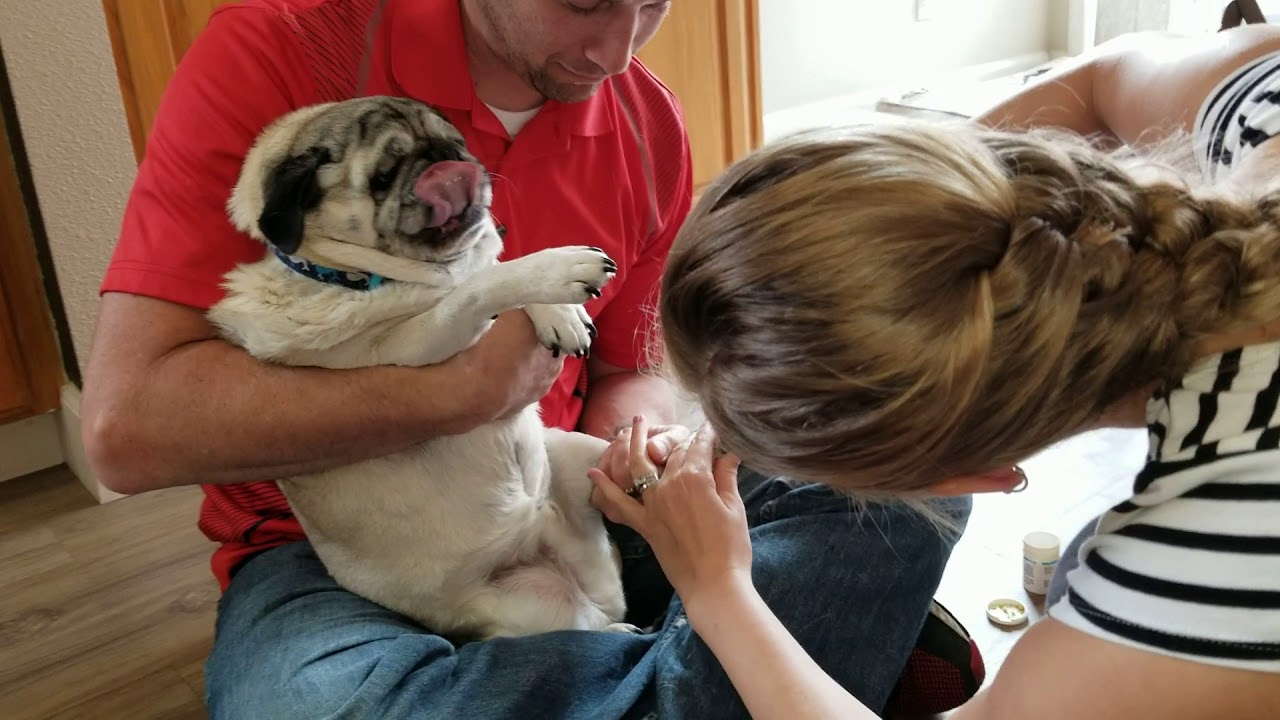 Tips For Trimming Pugs Nails That Are Afraid
Pugs get scared of trims a lot. If you have a fearful dog, you can try these tips;
Hiding the process from their eyes by using a barrier like a tower to cover your dog's paw so that they don't get scared seeing the trimmers.
Getting them used to the sound of grinders. Pugs tend to get scared at the hum of a grinder, so leaving your trimmer on randomly helps them adjust to its sounds.
Let your Pug play with the cutting device to help them get used to the objects so they don't get scared when it's brought close to them.
Speaking softly and giving them treats.
Going at your Pug's pace. Give breaks in between and try again later. You don't have to trim them all at once.
Conclusion
Remember that caring for Pugs' nails is the main part of their well being. Never force them to get their nails clipped. They are very special dogs and respond to love, not force. So no matter how frustrating your dog may get during the trimming session, be patient and love them right through it.