Bullmastiff is a strong, firm and very reliable guarding dog breed.They always are on the alert to strangers, but they are very nice and friendly to the members of their family.They are fast, intelligent and enthusiastic. Because of these advantages, many families aspire to own a Bullmastiff puppy for their family. Average Bullmastiff price is very high, about $1100/ puppy. You could follow the below article for more detail information including prices, reliable addresses to find Bullmastiff puppies for sale, their attributes, characteristics and as well as notes when raising Bullmastiff dogs.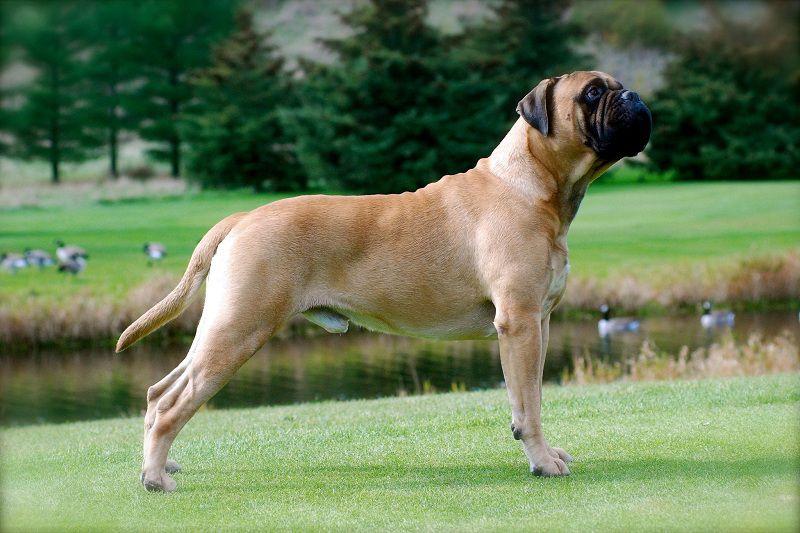 [ux_products products="24″ tags="dog-products" orderby="rand"]
Purebred Bullmastiff Price Range
Prices of Bullmastiffswith limited registrations
For these puppies, you would not be allowed for breeding. Thus, prices are very reasonable, from around $900 to $1200/puppy.If you are not a profeesional dog breeder and only would like to raise a Bullmastiff puppy as your companion, the puppies with limited registrations would be the best choices for you.
Prices of Bullmastiffswith full registrations
For these puppies with full registrations, you could breed them. Thus, prices are offered much higher.The prices vary from low to high depending much on quality, family records, bloodlines and dog breedings farms.
Bullmastiff puppies coming from normal dog breeding farms are often offered from around $2000 to $2400/ puppy. These puppies often have normal family records and are mainly raised as family pets.
Bullmastiff puppies coming from famous dog breeding farms are offered at much higher price, from around $2500 to $6000/ puppy. These puppies often have good family records, outstanding bloodlines. Therefore, they are mainly raised for breeding or participating in the Doog Beauty shows.
>> You May Also Like: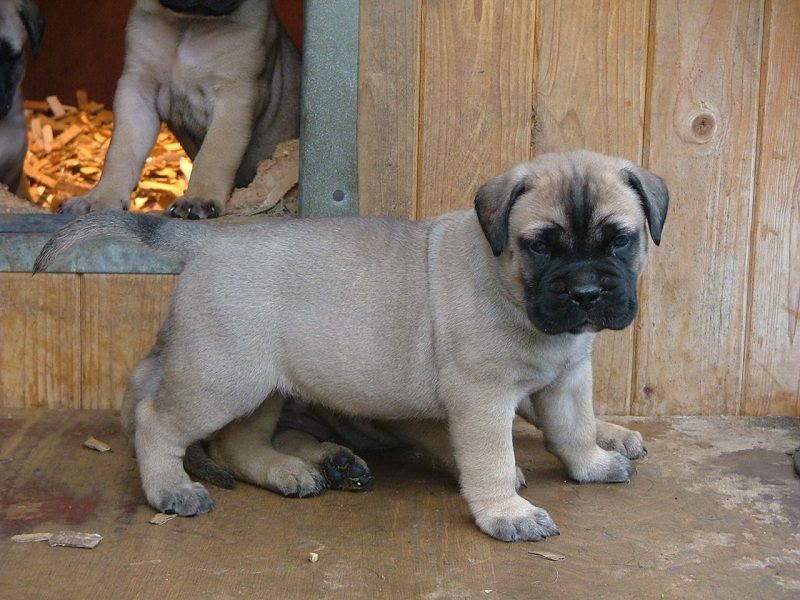 Where to find Bullmastiff dog for sale
Online Bullmastiff puppies for sale websites
Hoobly.com/bullmastiff-for-sale/ – This is such a big and famous advertisement website that allows you to find puppies on sale from many places in the world. The numbers of Bullmastiff puppies for sale here are rather huge and vary from colors, sizes and ages for your choices.
Marketplace.akc.org/puppies/bullmastiff/ – AKC Market may be such a reliable and famous address that pet lovers know well. You could completely give your trust on their quality and good health status.However, the prices of Bullmastiff puppies here are generally a pretty higher than ones at other advertisement website.
Puppyfinder.com/bullmastiff-puppies-for-sale/ – Similar to Hoobly, this is a big pet website, and you could find it there are many varied Bullmastiff puppies here. However, you do not forget checking him or her carefully before taking home.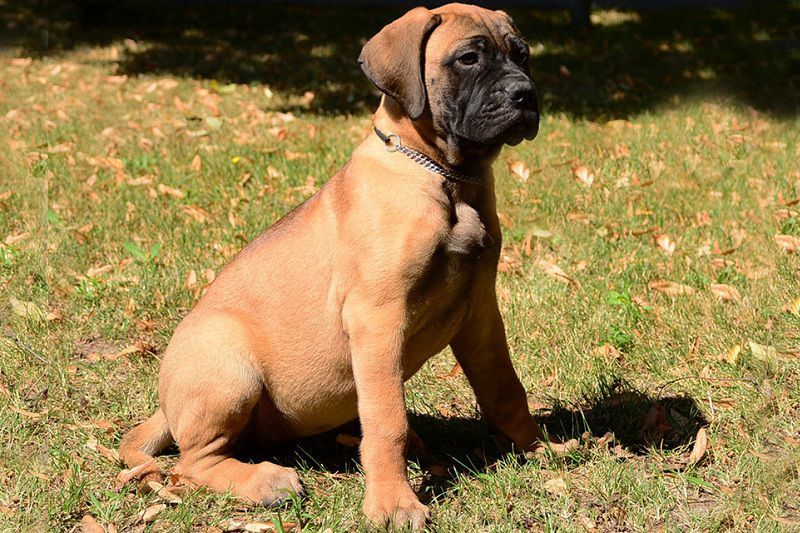 Bullmastiff puppies for sale from best breeders
1. Bullguard Bullmastiff
This dog breeding farm is absolutely warm and happy places of many lucky Bullmastiff puppies born here.Love is considered to be the most important thing that both of the Bullmastiff dog breeders and the dog carersalways would like to bring to their children.You could fell free to trust them for good health status and quality of the puppies since they are always taken the most comprehensive and responsible care.
You could refer more information and contact them here: bullguardbullmastiffs.com
2. Dawstin Bullmastiff
This is an experienced dog breeding farm for many years in breeding Bullmastiffbreed. They have also gained much knowledge and huge experience on this field. Thus,the puppies created by them are always guaranteed about good health status and characteristics.This is one of the most reliable addresses that you could refer in cases that you would like to find aBullmastiff puppy with good quality.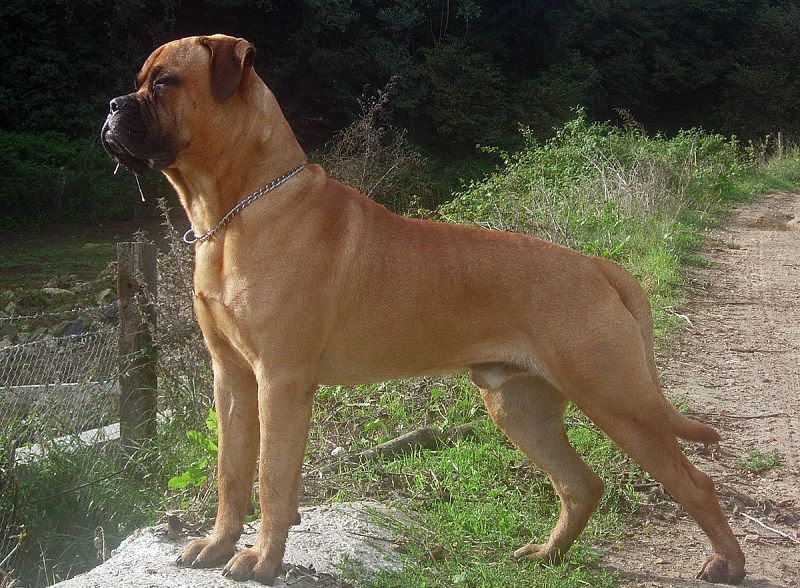 To know more detail information on prices and the kennelsof Bullmastiffs about to be on sale, you could refer here – dawstinsbullmastiffs.com
3. Kampbell Kennels Bullmastiffs
With the training and professional caring method, this breeding farm would bringyouthe healthy puppies with great characteristics.They have spent enough time to know what Bullmastiff puppies need. Thus, we do believe that they would satisfy you well.
You could refer more information and contact Kampbell Kennels here: kampbellkennelsbullmastiffs.com
Origin of Bullmastiff dogs
Bullmastiff is a dog breed who was developed in the 19th century, around the 1860s. The reason was that forest guardians in England needed a dog who was  fearless to help them stalkingthe poachersand strong enough to hold them.
Bullmastiff is a significant achievement of crossbreeding 2 dog breeds: English Mastiff và Bulldog. Mastiffs are big but not powerfull enough, while Bulldogs are brave and endurable but have a shortage of sizes for holding and beating up the poachers. Finally, Bullmastiff is the great combination to meet all the needs of the forest guardians.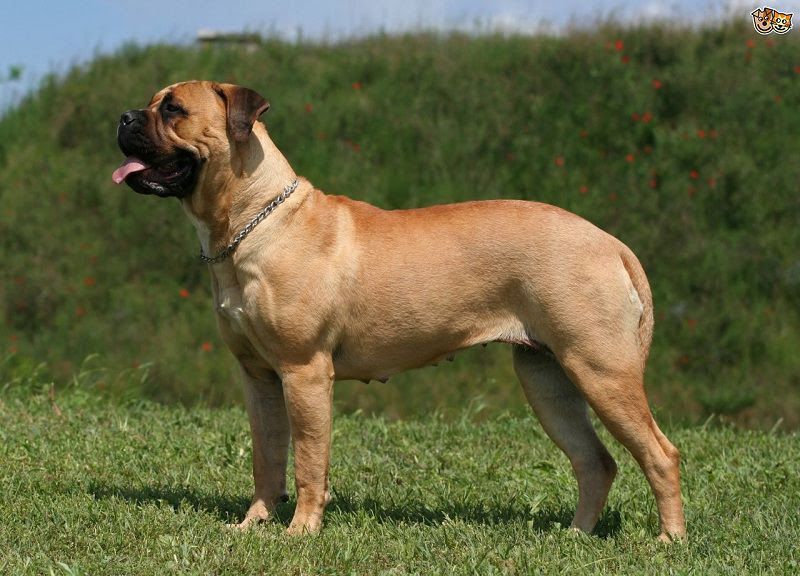 In 1924, English raising dog club (England's Kennel Club) recognized this dog breed.The first dog recognized by AKC was in 1934.
Attributes of Bullmastiff dogs
Apperrance attributes
Bullmastiff attributes combine from 2 dog breeds Bulldog and Mastiff. They have big, compact and powerfull bodies, and as well as big sizes with the weight from around 90 pound to 130 pound (45 – 60kg).
They have dark faces withdeep wrinkles.Their heads are rather big and square. Their ears are approximately big and often hang downward.Their coats are short and dense, as well as often havesome brindle hair patches, or black patches on the body, brown – yellow or brown – red.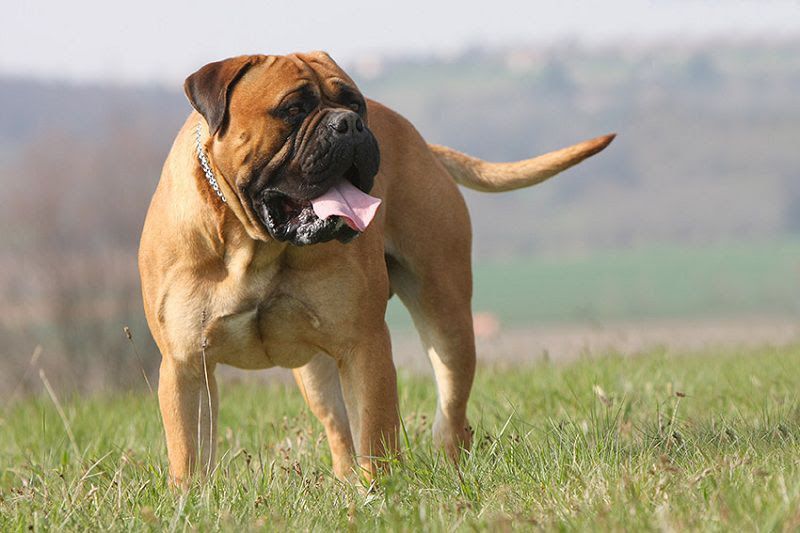 Characteristic attributes
This is a brave dog breed whohighly protects their borders by instinct.They are intelligent, calm, loyal, kind dogs to their relatives and young kids. But they could attack the illegal intruders "professionally".
They are a powerfull dog breed, and sometimes they become little stubborn. Thus, you need to pay attention in training them when being a child so that you could control their instincts.This dog breed is rather lazy and very inactive indoors. You have to give them reasonable excercises and enough space for their movement.
Bullmastiffs are very loyal and listen to their owners. However, they do need and would like to be loved and taken comprehensive care by their owners.