Pet animal is kept in the home and treated as the family member. Many people keep the dog as the pet animal. Even you can keep the dog as the pet animal as they are "the best friend of man". On a fresh morning, a walk with your friend will provide pleasure to both of you. At home also you can enjoy its company which provides relax to your mind.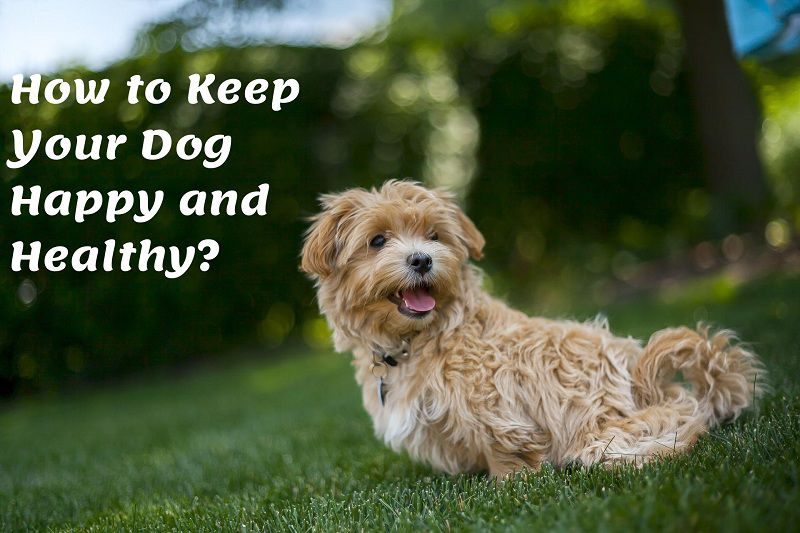 Studies reveal that dog owners do not suffer from serious health diseases. The children also enjoy their company. You can recover faster from illnesses if you are in the company of your dear loving pet dog. These cute loving pet dogs bestow unconditional love to you which in turn create the emotional attachment between you and him or her.
Your pet dog is like one of the family members in the house that not only provide security and shelter to your home but also give pleasure to the members of the family by their cute loving activities. Proper care has to be taken of your faithful dog so that he or she can live happily and can enjoy the healthy lifestyle. The following steps to be undertaken by you to keep your pet happy and healthy are as follows:
1. Provide adequate shelter
First of all, your loving dog needs the adequate shelter so that he or she can live comfortably. You can also arrange dog crate that provides them extra comfort. It will be great if your dog crate is linked with a blanket, towel or dog pillow. All these things should be in such a manner that can be easily removed or washed.
2. Clean and dry bed
It would be better if you make an arrangement of clean and dry bed for the pet dog. In this way, the dog will develop the habit of sleeping and resting in his or her own bed. It will not roam here and there at the time of sleeping and will sleep at its fixed place without bothering you. The clean bed will give your doggie a sense of comfort.
3. Supply clean and fresh Water
You should supply adequate fresh clean water to your sweet loving pet. The clean water will provide him or her healthy and sound body. Treat your pet just like a child. Check him or her for adequate hydration by observing his or her skin and gums. Even you can place fresh drinking water in the bowl and can keep the small amount of chopped meat and stir it to provide a tasty broth.
4. Feed a high quality of food
The high quality of food should be fed to your pet keeping in mind his or her age and weight. It would be great if you provide Pro Plan for your puppy. The Pro Plan formula provides food for every stage of life from puppy to senior that will immensely help you in arranging food for your pet loving dog.
5. Exercise your dog regularly
Exercise is best for the healthy lifestyle. Regular exercise will provide sound health and body to your pet which in turn will be helpful for your health too. The easy exercise is walking. It will give freshness to you and your doggie. Play with your dog daily.Pomsky is cute loving dogs that are fond of playing.
6.Maintain a proper body weight
It is essential to see to it that your dog is weighing according to its age and breed. You can weigh your dog every fortnight to see to it that your dog is healthy and fit. By keeping a check on your pet's weight, it is easy to keep them away from diseases and also helpful in taking required precautions if your dog is underweight or overweight.
If you notice some drastic change in your pet's weight, then make changes in their diet and exercise routine accordingly. In case even after making changes you notice that the dog is still not healthy then take him to see the vet.
7. Spend time with your dog
Dogs need care, affection, and love from their owners. In the busy schedules, it becomes difficult for a lot of people to spend some quality time with their pets. Make it a point to devote one-two hours with your pet daily after coming from work. Dogs feel lonely when left alone at homes and wait for their owners to come back and spend time with you.
You can play games, take your dog for a walk, take them to a park to help them get fresh air and in this way you will also be able to be with your little furry friends.
8. Grooming your dog
It's very important to make a grooming routine for your dog and follow it monthly. It should be seen to it that the dog is groomed every once in while at home with the help of grooming kits available in the market or you can also take your dog at a professional for the same. Along with grooming their hair coat, it is also important to keep a check on their claws and groom it too.
Also, don't forget to clean the ears of your dog once in a while along with brushing their teeth. It is very important to keep your dog's hygiene for keeping them healthy.
9. Keep your dog socially active
Dogs like to socialise like humans. It is often seen that owners just take their dog on the walks without helping their pets to find friends. You can take your dog to the park where there are other dogs so that your pet can play with others.
Dogs also bond well with kids which can be done to keep them socially active. You can also take your dogs on a car ride and make him meet the new people if he likes socialising. This way your dog will be able to meet new people and stay refreshed.
10.  At least once a year take your dog to the Vet
It is important to take your pet to the veterinary doctor at least once in a year so that his or her health check up can be done properly. Not only at the time of ill health he or she should be taken but also for routine check up.
Remember
All the above points will make the life of your pet dog pleasurable and loving. It is important to take care of your cute loving puppy so that you can provide happy and healthy life to him or her.
Author Bio : I am Rachel Brier – blogger by choice. I love to discover the world around me and share my discoveries as well as experiences. I love to write about automotive, gardening, science, travel, technology and much more. Check out my blogs to know more.