Many Husky owners love to take their pets with them on vacation, and an outdoor camping trip can be excellent fun for everyone.
So, before you pack your tent or RV and hit the road in search of adventure with your furry friend, be sure to read our top tips!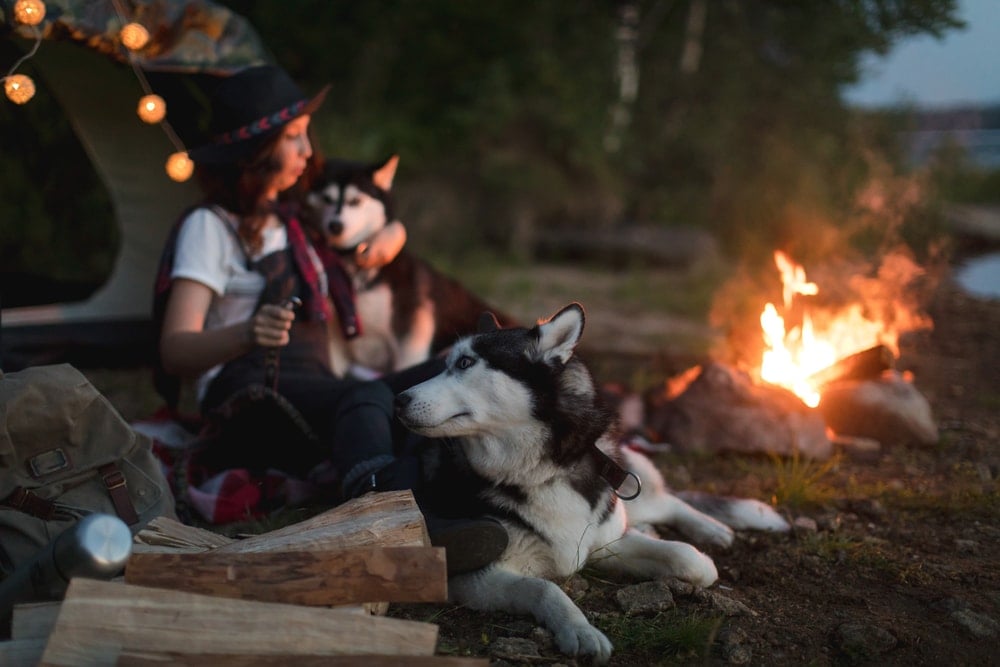 1. Is Your Campsite Dog-Friendly
Arriving at your chosen campsite with your dog to find that Fido isn't welcome is every Husky owner's worst nightmare.
So, before you set off, do some research to ensure that the campsite you're considering is definitely dog-friendly. Many campgrounds operate a strict leash-only rule, and dogs must be confined or tethered at all times when they're not leashed and with their owners. So, make sure that you take a suitable crate for your Husky. Also, some sites only permit dogs to accompany their owners during the off-season.
Check that dogs are permitted on trails and hiking areas around the campground. Most do allow dogs but only if leashed. However, many wilderness areas will not permit dogs at all.
2. Camp-Friendly Train Your Husky!
Wherever you're spending your camping vacation, you must ensure that your dog is correctly trained and well-socialized.
Party tricks are not necessary, but your dog must reliably come to you when you call him. A dog running wild in a busy campsite is an unwelcome nuisance, and an overexcited dog could easily dash out into a busy road.
The other essential command that your dog must obey is the "leave it!" command. That's especially important if you're walking along trails in areas that are rich in wildlife. In many states, certain wildlife species are protected, and your pet could land you in hot water if he's caught disturbing nesting birds or chasing wild animals.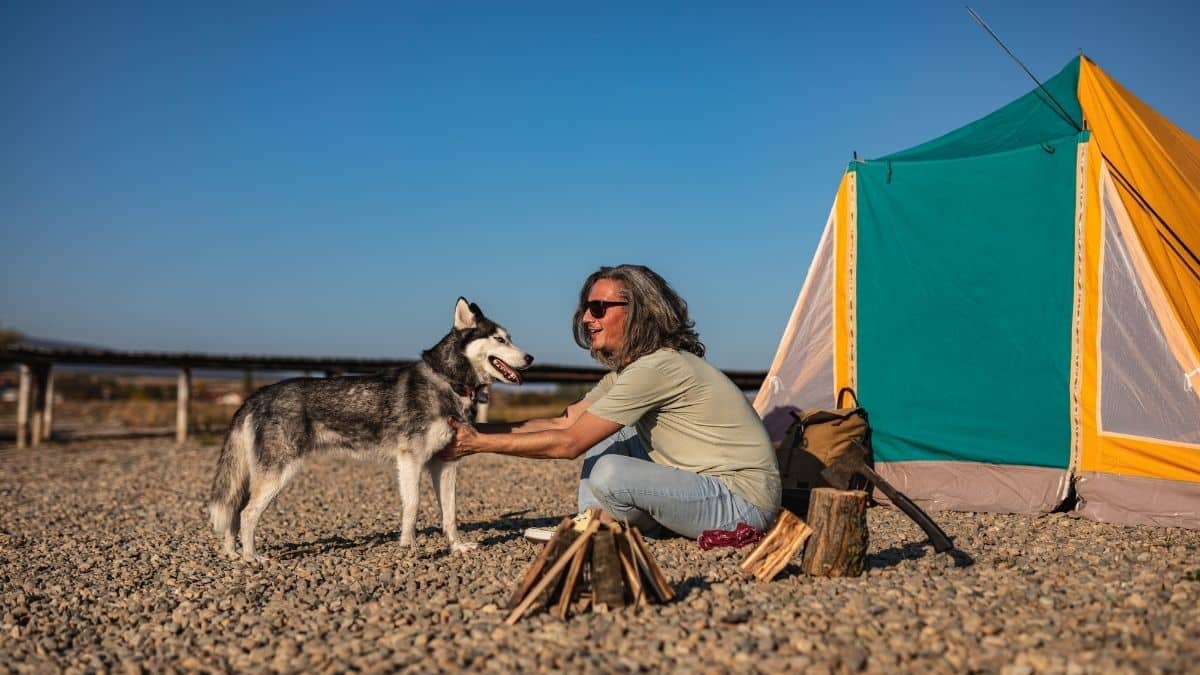 3.  Emergency Preparation
Accidents can happen, so you'll need to take a dog's first aid kit on vacation. Make up a laminated card showing your pet's health history, vaccination record, and contact details. Double-check that your Husky's microchip and tags are up-to-date.
The U.S. Forestry Service recommends that your canine first aid kit contains the following items:
Tick remover
Bandana for a makeshift muzzle
Space blanket for treating cold or shock
Needle-nose pliers for extracting thorns or porcupine quills
Protective booties in case of injured paws
Contact information for a local vet clinic
You should also include some bandages and antiseptic to help patch up minor scrapes until you can get your dog to a vet.
4. Pack Your Dog's Essentials
When you take your Husky camping with you, you'll need to pack everything that your pet needs to stay comfortable and safe while you're away from home.
Here are some essentials that you need to pack for your pet:
Dog food and treats
Food and water bowls
Prescription medicines
Harness and leash
ID and rabies vaccination tags
Stake or tether
Towels
Poop bags
Dog bed
Dog crate
Brush
Dog shampoo
It's a good idea to put all your dog's gear in a separate plastic crate or bag so that you know where to find Fido's stuff in a hurry.
5. At The Campsite
Once you arrive at the campground, there are a few crucial things to remember:
Never Leave Your Husky Unattended!
No matter where you are on your trip, you must never leave your dog unattended. That goes for the campground, dog park, in your RV, or during fun activities.
Every dog can get stressed in an unfamiliar place or situation. So, to keep everyone safe and happy, never abandon your dog.
Take Lots Of Doggy Toys
Even though you'll be spending much of your time having fun outdoors while you're on vacation with your Husky, most dogs are used to playing at home with their human family.
So, take a few of your pet's favorite toys with you on vacation and make the time each day for some fun, interactive playtime.
Keep Your Dog Well-Hydrated
In warm weather, dogs can quickly become dehydrated, especially when hiking.
Did you know that an adult dog needs at least one fluid ounce of water per pound of his body weight every day? However, if your dog is running around in the sun, he will need more than that. Take a large, unbreakable bowl for use at the campground and a collapsible bowl that you can carry with you when hiking or boating.
Keep the bowl in a shady spot to prevent the water from evaporating or getting too warm, and top the bowl up regularly.
Secure Your Dog!
Most campsites insist that your dog be crated or tethered when he's outside your RV or tent, and you'll need to keep your dog leashed when you're moving around the campground.
Keep Safe Around Wildlife
If you're hiking in the wilderness, you're almost certain to run across wild animals and strange plants. Keep your dog leashed so that he doesn't chase or disturb wildlife.
Keep your Husky away from stagnant pools that could harbor bacteria, and don't let your dog swim in water where toxic blue-green algae are present. Take a guidebook on local flora that could present a danger to your dog, and familiarize yourself with toxic plant species growing in the areas you intend to visit.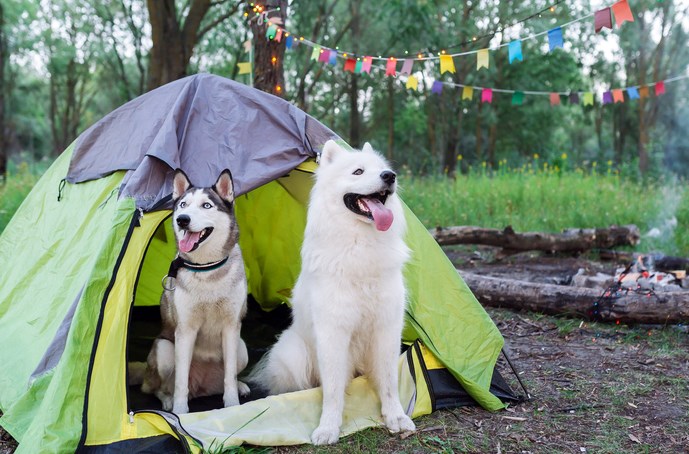 6. Plan Activities
Although your Husky is sure to love taking to the trails with you and your family, make the vacation even more fun by planning a few more dog-friendly activities before you go.
Here are a few popular activities that you might want to consider:
Kayaking or boating (you'll need to take a doggy life jacket if you're planning this activity)
Beach or lakeside walks
Visiting local attractions and parks
Eating out at dog-friendly bars and restaurants
Bear in mind that not all attractions are dog-friendly, including many state parks and beaches. So, be sure to check with the local authority in the area you're visiting. Take plenty of poop bags with you when you're out and about with your Husky and always clean up after your dog.
Final Thoughts
If you're planning a camping vacation, your furry friend would love to go too!
Plan ahead and prepare properly to ensure that your canine companion has a fun-packed time with you and your family. Find a dog-friendly campsite, ensure that your Husky is well-mannered and obedient, and pack everything you need for a wonderful vacation!