Hello there, bunny lovers of all ages, races, religions and creeds! Should you choose outdoor or indoor rabbit hutch (or cage)? We are all united by our love for our pet bunnies and our desires to care for them in the best possible way.  Do I sound crazy? Well, I am.  CRAZY ABOUT BUNNIES!!   That is why I have devoted so much time into becoming a bunny expert.  I love helping people become the best owners that they can be, and…
I love rabbits.  I always have.  They are cute, soft, and cuddly.  But, more than that, they are wonderful companions and pets with a great deal of personality and spunk.  I have had many bunnies over the years and have used probably close to a dozen or so cages and hutches in that time.  I have found what works, and what doesn't.  It has been a labor of love finding the perfect residences for my fuzzy cuddle buddies and, soon, I hope to become a bunny foster mom so my experience and expertise will come in handy!  I am excited about this new adventure and I know that part of my new job as foster mom to the rabbits is to help educate their new owners/parents.
In this article, I will put my pet owner education skills to the test and I hope that I can be of aid to you in your search.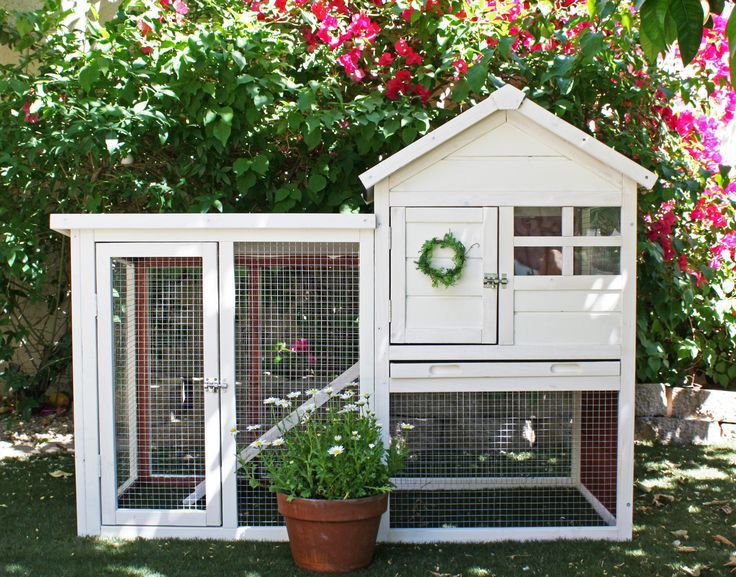 Are you a new bunny owner?  Or are you just looking for a new home for your furry friend?  Either way, I am here to help you make the best decision for yourself, your and (always!) your pet.  Today, I want to share with you my insights into your pet's living quarters.  Everyone's situation is different and there is no one hutch or cage that is great for everyone.  But, I can give you some great guidelines and advice to make the best possible choice, whether you're looking for an indoor rabbit hutch, an outdoor rabbit hutch or a simple cage for a classroom or bedroom.
There are some very elaborate cages and dwellings, and other much plainer and simpler ones. You will see some with amazing design elements and others that are ultra-convenient and simple cages. What works for you is your decision.
I. Indoor Rabbit Hutch & Cage Reviews
When it comes to an indoor rabbit hutch, there are many options.  What you choose will depend on your needs. For example, if you want a very attractive home for your pet then # 1 might not be your first choice. But, # 2 is definitely worth considering.
1. Living World Deluxe Habitat (for Indoor Use)
The basics:
This is a simple straightforward and traditional cage that will work for most people and will be great for indoor use. lt is not great for outdoor use but the XL size is big enough that your pet will feel like it is running free.  It is perfect for classroom use or for a small apartment.
This habitat delivers everything you want for a safe and secure home for your beloved bunny.  The hybrid cage has an upper wire frame and a plastic bottom base. The plastic is easy to clean. It is airy and ventilated so that your pet will not feel trapped. This also helps keep any smells or odors ventilated so that the cage doesn't become stinky.    Measurements: 46-8/9-inch length by 22-4/5-inch width by 24-inch height.  It also comes in an extra-large size for larger bunnies, or for two small pets.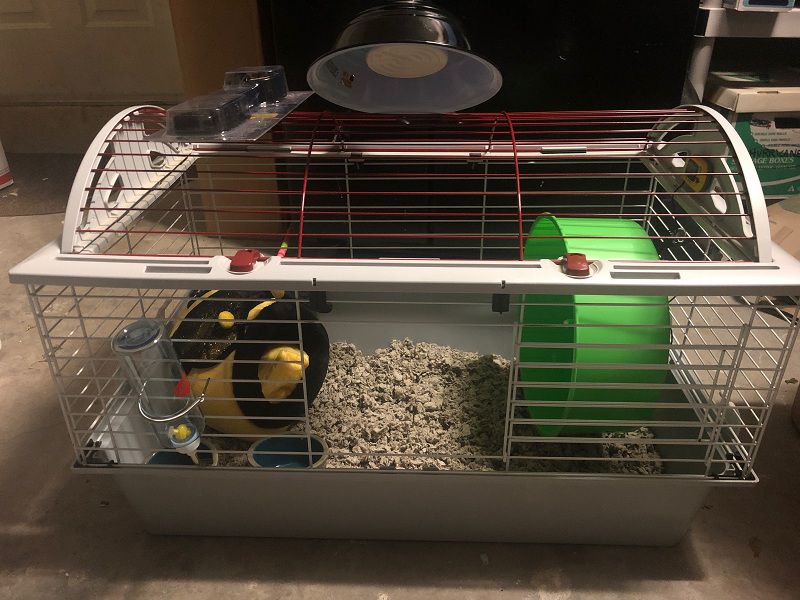 Fun features:
A balcony with an access ramp gives your bunny an extra bit of luxury.   The spill-proof food bowl attaches to the balcony floor. The cage is huge.  A human can practically fit.  Any small pet will feel like they are living in a mansion. If you love your rabbit and want them to live in luxury, then this might just be the perfect cage for you.  Of course, \ it is important to remember that this is not appropriate for outdoor use.  Depending on your needs, you may need both an indoor and outdoor cage or hutch.

2. Petsfit Wooden Indoor Rabbit Hutch
The basics:
This hutch is very attractive and will actually add charm and beauty to your home. You won't want to hide it.  You will want to show it off.
Solid wood construction and easy assembly make this rabbit home perfect for any house.  It is pretty and fits right in with home décor and it goes together like a snap.  You will not spend hours frustrated.  The water-based paint is safe for your pet and the white and gray classic color scheme give the hutch a look of sophistication that not many rabbit cages have.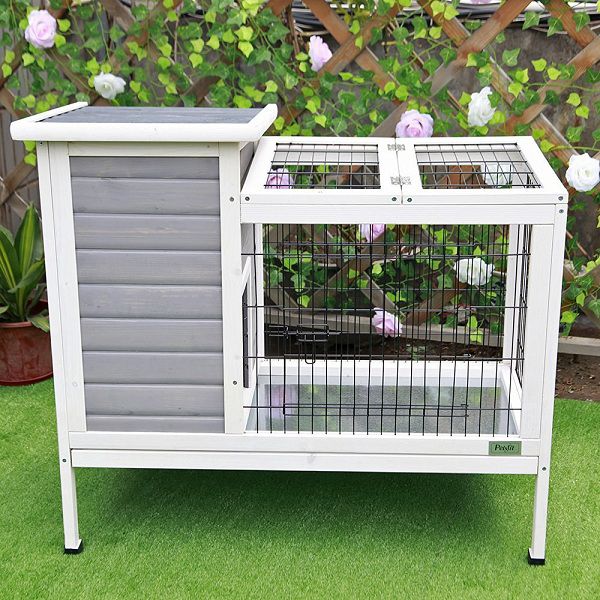 Fun features:
This is a nice, roomy rabbit hutch and is a much nicer choice than a wire cage.  The pre-drilled holes take all of the guesswork out of putting it together. It should take no more than an hour. There are multiple places to open the hutch for easy access to your pet and for simple, fuss-free clean up. The thing that makes this cage so special is definitely its adorable, classic design.  It won't look out of place in your house and will look good with almost any décor. This hutch is not treated for water, so you will have to purchase an outdoor hutch if you want your bunny to spend some time outside.

3. Merax Wooden Outdoor & Indoor Rabbit Hutch
The basics:
If you love your pet, then you want them to be comfortable and happy and this is the kind of home that will do it.  It is as practical as it is adorable.
This hutch measures 53.7"L X 19"D X 36"H and is made from fir and stained with high quality materials. The surface is coated with waterproof paint.  It can be used outdoors for that reason.  But, it is so attractive that it will fit right in inside of the home, as well.  The roof is protected with composite shingles keep your animal safe and sound, and add a special touch rustic fun.  It has one wooden door and three wire doors for easy access to your pet.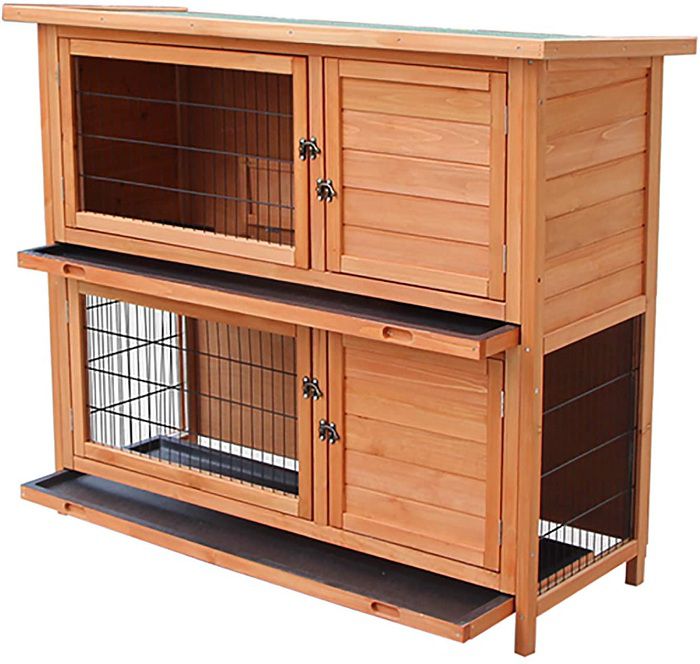 Fun features:
It is the merger of the snoozing area and exercise area that our pet will love the most.  He or she can go from "room to room" depending on their mood or what they want to do.  There 2 locking arms on the hinged roof which make it easy-peasy to access the cage from above.  That is the easiest way to get in there without letting your bunny out, of course. Natural aroma and color of cedar lumber generates a calm and blissful residence for your sweet pet rabbit.  He or she will feel like they are right at home and the scent will even make them feel like they are outdoors, when they are in the house!

II. Outdoor Rabbit Hutch & Cage Reviews
If you are in the market for an outdoor rabbit hutch or cage, then take a look at these 3 great options.  They all have different benefits and drawbacks and you will have to decide which one you feel fits your needs best.  But, I have done the dirty work for you and found some that I really love… to get you started.
1. Advantek The Stilt House Rabbit Hutch (for Outdoor & Indoor Use)
The Basics:
Cute is an understatement.  This thing is adorable.  The beautiful design is matched only by the durable materials.
This is a secure and safe, comfortable outdoor home for your furry friend.  The colors are brown and white in a classic and rustic style.  The enclosure includes a pull out trade and rot-resistant fir lumber. Measures: 25L x 48W x 36H in.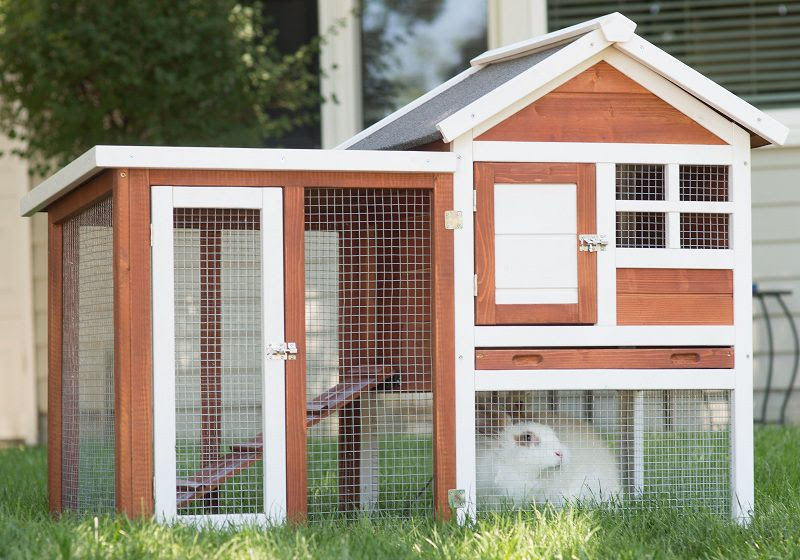 Fun Features:
This is a hutch that could be used for just about any small pet.  It would be an absolute paradise for any bunny who loves to get out and enjoy the sunshine.  It is a mansion for a few bunnies who can all live and play together.  The stilted enclosure is for sleeping and cuddling while the outer area and ramp are for play and fun.  Your bunnies will have more than a home – they will have a haven that will give them a peaceful outdoor existence.  This could theoretically be used indoors but has an outdoor friendly look that almost resembles a barn.

2. Confidence Pet 62″ Outdoor Rabbit Hutch / Chicken Coop
The basics:
It's gorgeous and simple.  It is exactly what you think of when you think of an outdoor pet or animal enclosure and it will add pizazz and charm to your yard.
This hutch is suitable for a wide array of animals and pets: chickens, rabbits, ferrets, etc. and is made of antifungal wood.  The furniture grade double level enclosure is equipped with a hinged, waterproof roof and built-in open run area. There are two lockable entries with wooden fasteners.  It is easy to assemble, but is not the quickest on this list to put together.  So, if you are not particularly handy then this may not be the hutch for you. Dimensions: 62in x 24in x 29.5in. It is great for a big backyard!!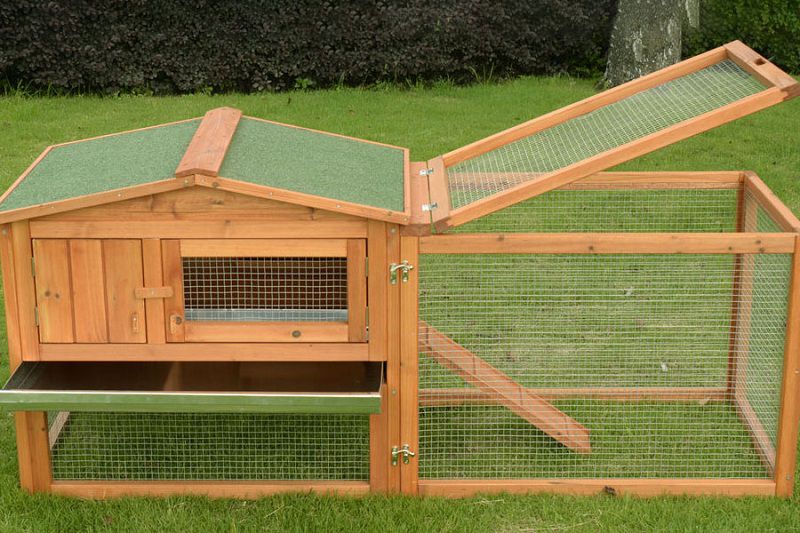 Fun features:
This coop/cage/hutch is absolutely beautiful and has a ramp from the hutch to open run area that creates a little "resort" for your animals.  It feels like they have rooms and that they can move about their home in comfort and with ease.  The pull out plastic tray is easy to clean so that you keep unpleasant odors away from your sweet rabbit

3. Trixie Outdoor Rabbit Hutch with a View
The Basics:
This cage is 2 stories and is the perfect little getaway for your precious pet, or pets.  3 or 4 animals could live comfortably in this beautiful enclosure.
For easy upkeep, a pull-out plastic tray is included, and a hinged roof with two locking arms that can be opened on each side. Hard wood construction, glassy pine varnish, and premium materials mean this cage will tolerate a month of Sundays of use with little maintenance. It is compatible with TRIXIE Outdoor Runs. Dimensions: 59 x 31 x 42 inches.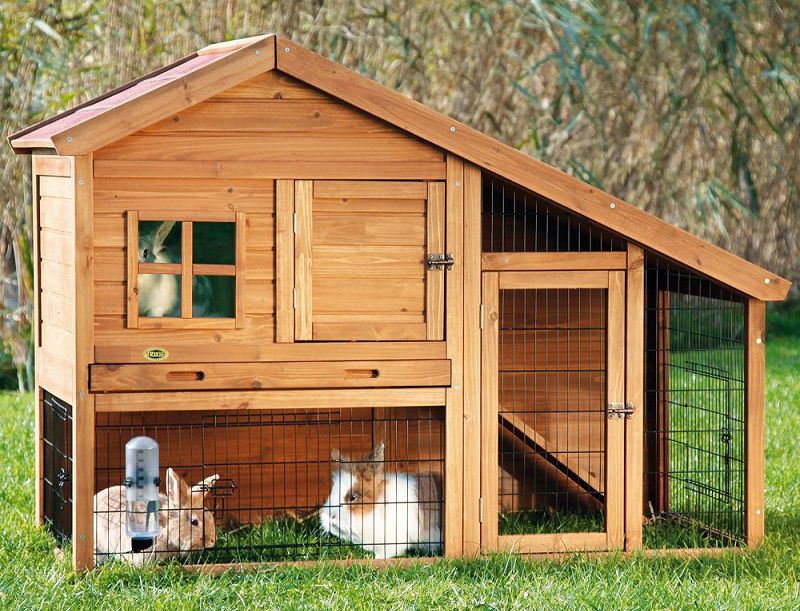 Fun Features:
This attractive 2-story cage is equipped with not one, but two, upper retreat areas separated by a sliding door. There is also a window with a plastic windowpane and an attic with a detachable floor.  The pull-out plastic tray makes for quick and easy cleaning, which always makes life easier, and less smelly. It is perfect for groups of rabbits who can live, work, play and love together in this perfect little pet getaway. It is just so cozy.  You will probably want to move in!

III. How to choose a Outdoor / Indoor Rabbit Hutch or Cage
There are many things to consider when choosing a home for your pet.  Here are a few important points to go over while shopping.
Size/Dimensions/Measurements/Stories
The size of your enclosure should depend on your pet's size as well as how much room you have for it.  You may also select the size based on how many pets you want to keep inside.  Be sure that you know that the dimensions of the cage are appropriate for the area where it will be put.
Shape/Design/Color/Style
The shape is mostly for aesthetic purposes, of course.  It also has to do with where you want to put it.  The two-story versions, for example, are great for some rooms, but would be too much in others and some of the designs are clearly better for an outdoor landscape.
Indoor or outdoor
The differences between indoor and outdoor hutches can be huge, or small.  But, the main thing about having an outdoor cage is that you need to make sure it is rot proof and has a finish that will help it to withstand the elements.  When you are considering an indoor enclosure you may want to be careful about the design and size so that it is not overwhelming or tacky in a room.
Type of rabbit. How fast will your pet grow?
If your rabbit will grow to be very large, then you should be aware of that in advance.  There is no use in buying a small cage now only to have to throw it out next year.  It is a better investment to purchase larger enclosure than a small one in some cases.
Personality/disposition/activity level of rabbit
Is your rabbit active, or a bit lazy?  Does he or she enjoy play time or rest time more?  Would they prefer to be indoors versus outdoors, or vice versa?
Type of wood/finish/varnish
The type of wood as well as the stain and finish will matter for aesthetics and also in terms of durability.  If you want something for indoors, this is less important.  But, if it will be outdoors be sure that the wood and finish are durable and can withstand the elements.
Climate/Weather/Seasonal Changes
If you live in an area with extreme weather or unpredictable precipitation, then an outdoor enclosure may not be a great idea.  If you do get an outdoor cage and you have seasonal changes in weather, then an additional indoor cage is a very good idea.
Budget
Of course, the money matters.  What can you afford?  The prices vary but you can get one for as little as 50 dollars all of the way up past the 200 dollar range.
Number of Bunnies
Making sure that your pets are happy and healthy is important to you and you don't want them to be cramped up together in their hutch so make sure and get one that will accommodate everyone. This is really important because animals need their own space and you should talk to your vet to make sure that all of your pets have enough room to thrive.
At the end of the day, you will have to choose the cage or hutch that suits your needs and works best for your family and your pet.  You may end up deciding that you need 2 cages.  Or, you may decide that you would prefer for your rabbit to be an indoor pet and that an outdoor cage just isn't for you.  Areas with extreme temperatures or a lot of snakes, for example, would not be great places to keep a rabbit outdoors.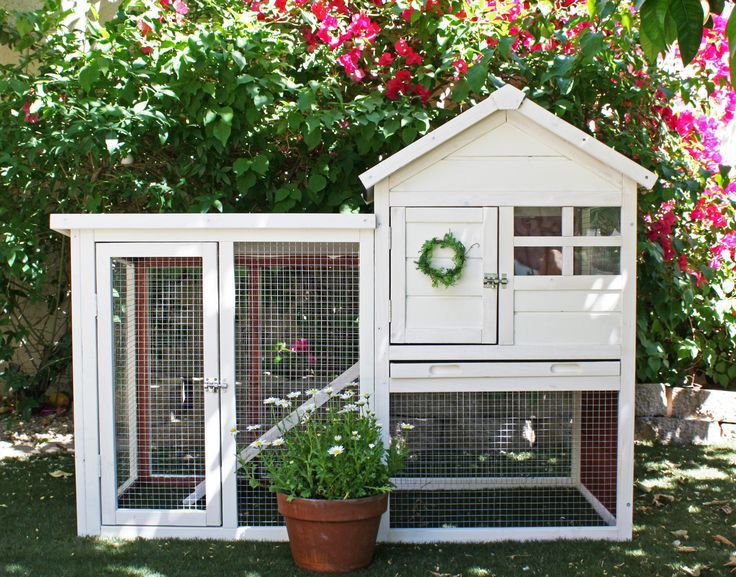 Your pet is your family member and only you can know what is best for them.  The best possible solution for most bunnies is two enclosures – one for the indoors and another outside. But, you may not have a safe spot outside.  Or, you may live in an apartment.  Heck, you may even have a family member with an allergy so you have to keep it outside.  So, make the best decision for your family and enjoy the fun and bonding that you will get from your amazing pet.  Because, the most important thing is the gift of pet ownership.
Happy Shopping, Bunny Buddies!