[ux_products show_cat="0″ ids="208196,207758,201076,199762″]
The German shepherd mom t-shirt and hoodie have got brilliant designs that are able to get you looking fabulous all day. The t-shirts are made of cotton fabric while the hoodies are made of a blend of cotton and polyester.
They are soft on the skin and keep the body warm. They come in different styles to give the body, regardless of the shape and size a perfect fit. They can easily be washed, no need for fabric softeners or bleach and they are so durable they last longer than any other t-shirts or hoodie out there.
[ux_products show_cat="0″ ids="143555,103013,102415,154352″]
Go with these selections which have been made to give you all the comfort you need in clothing.
> You May Also Like:
[ux_products products="24″ tags="german-shepherd-products" orderby="rand"]
4 Best German Shepherd Mom T-Shirt and Hoodie
1.

German Shepherd I Love Mom Tattoo Women's T-Shirt
This will serve as a nice gift for mother's day or for any other special day. The I Love Mom Tattoo German Shepherd Mom Mother's Day Gift T-Shirt has printed on the front, the picture of a sitted brown german shepherd sticking out its tongue, in a grey top and tattoo on its shoulder reading 'I LOVE MOM'. This is funny but it's a message of love, which is why it's a nice one for moms on mother's day celebration.
This nice design can also be found in other products; there are stickers(which you can package along with the t-shirt), coffee mugs (you can also add this too), wall arts, notebooks, pins, laptop case, magnets and many more. Apart from the Mother's day, it can also be given to any special woman on any other special days like birthdays, Valentine's day, Christmas day and others.
This German shepherd t-shirt has been made in different styles to add more finesse to the t-shirt. It comes in numerous colours, check it out the colour list to pick your best. The different sizes available depends on the styles. Do take time go through the size chart, it will help make the perfect choice.
You can buy it here:
[ux_products_list ids="201076,143555″]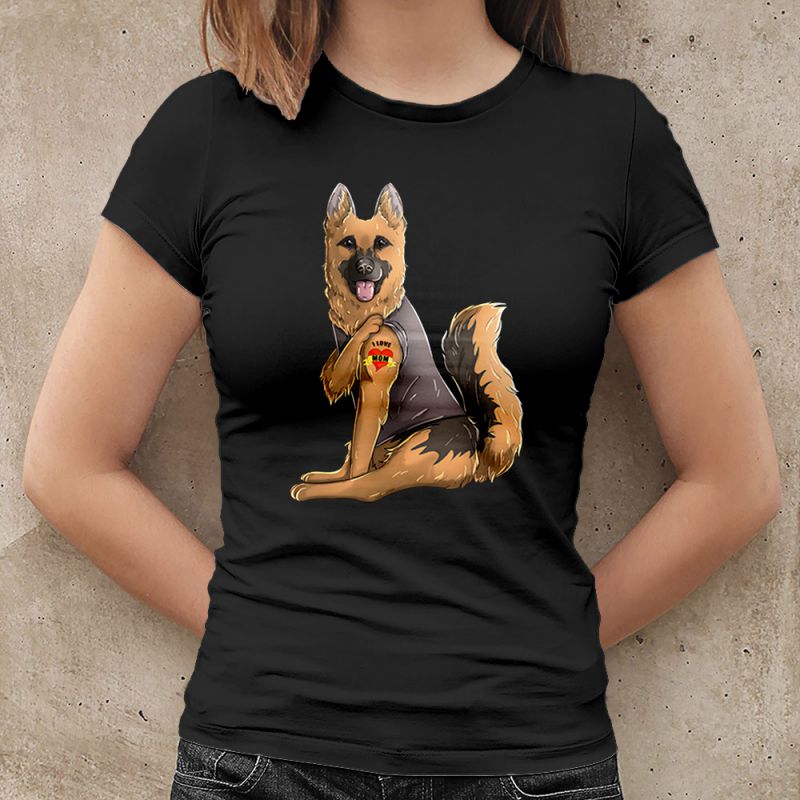 2. Best German Shepherd Mama Ever T-Shirt
This German shepherd t-shirt is the real deal. The design comes in attractive colour combinations. The German Shepherd Gift For Women German Shepherd Mom T-Shirt has on a multicoloured circular background, the face image of a brown german shepherd in black spectacles, sticking out its tongue. The design has the words 'BEST GERMAN SHEPHERD (above the image) MAMA EVER'(below the image), all in white. The words 'MAMA EVER' appear bolder than the rest. This can be given as gift to the special women in your life, whether family, friend or colleague.
It's available in different styles and in nice colours, a whole lot of them. There is black, red, white, soft pink, asphalt, maroon, yellow, kelly, navy creme, vintage green, purple heather, mint, teal, light olive, vintage white, and many more. These are beautiful colours women will love to add to their wardrobe. It isn't for women alone as there are male styles and the colours peculiar to them too.
You can buy it here:
[ux_products_list ids="199762,154352″]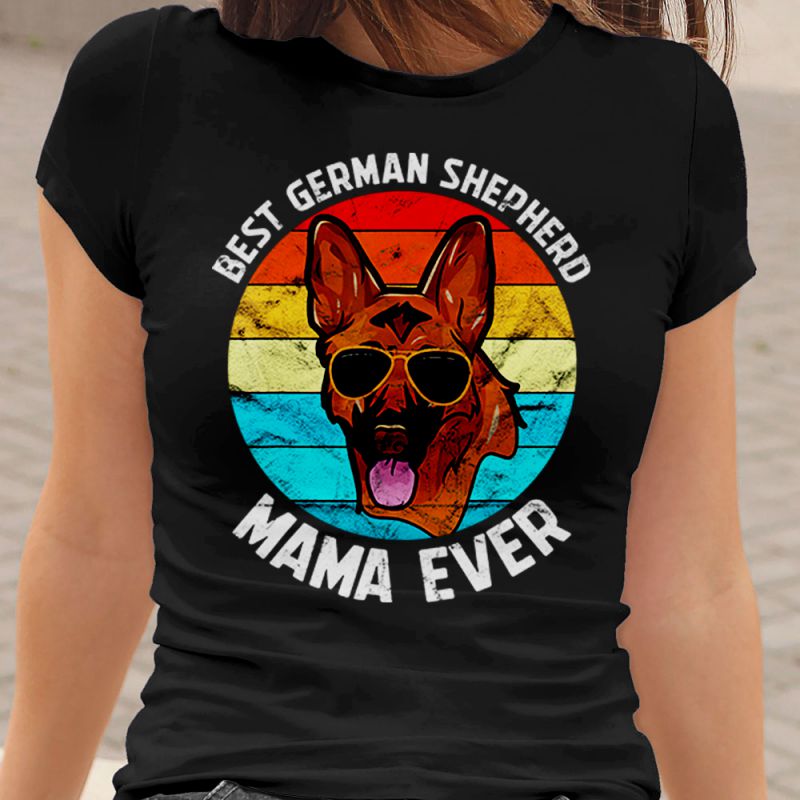 3.

Funny German Shepherd Mom Badana Unisex T-Shirt
This one has a beautiful art design. The Funny Womens German Shepherd Mom Gift For Women Dog Lover T-Shirt design has the image showing the face and neck of a brown German shepherd sticking out its tongue and in red polka dot bandana. Around the chest are beautiful pink flowers with green leaves and the words 'German Shepherd(both in white)Mom'(in red). The colour combinations in the design is so lovely anyone will love it. It's a perfect gift idea for your loved ones.
The German Shepherd Christmas T-Shirt isn't just for christmas celebrations alone. It can also be worn on other special days, the choice is all up to you. But do know that you can never go wrong in this at any time. It's available in lovely colours and styles. A size chart and a list of colours and styles have been attached to this to help with your choice.
You can buy it here:
[ux_products_list ids="207758,103013″]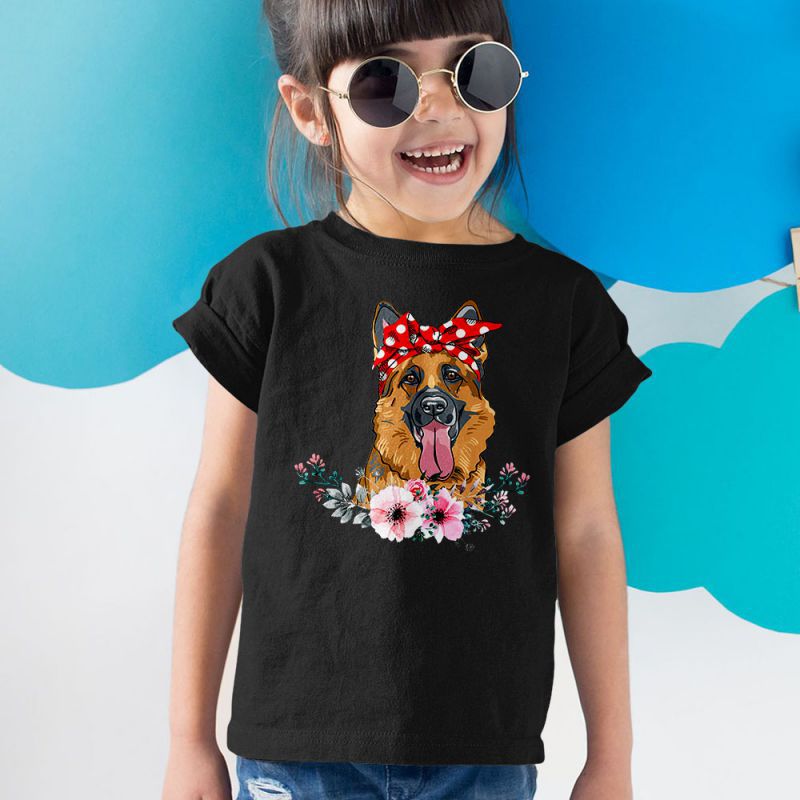 4. Your Kid My German Shepherd Mom Dad T-Shirt
This is a simple but meaningful design. The Your Kid My German Shepherd Mom Dad T-Shirt has its impressed with the two images. One is of a sitted human baby in a vertical rectangular frame and the other, the face of a German shepherd dog in a square-like frame. Below the baby are the words 'your kid' while below the dog is 'my kid'.
There are other useful stuff that come with this design. There are posters and art prints, pins and buttons, stickers, magnets, tank tops, sweatshirts, masks, phone cases, kids hoodies, onesies, mugs and many more.
This German shepherd t-shirt has been made from cotton fabric and is available in different sizes and styles. It can be used by both male(there are male styles) and females, there are many female styles to choose from. Do check through the list of numerous colours to pick the one that appeals to you. Get this t-shirt now and go rocking in it.
You can buy it here: 
[ux_products_list ids="208196,102415″]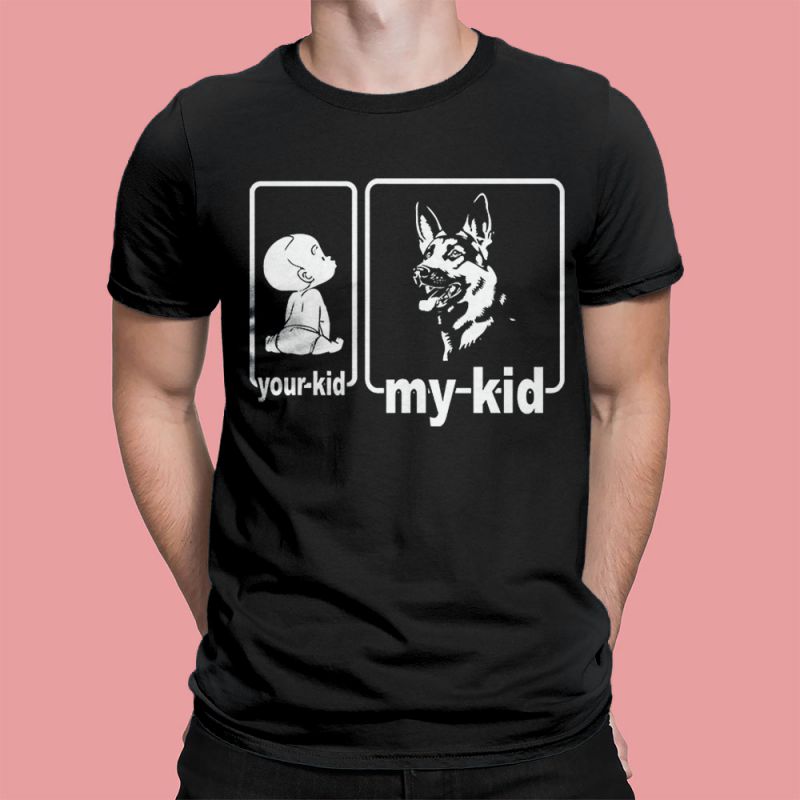 Conclusion
The German shepherd mom t-shirt and hoodie designs are no ordinary ones. They've been made with lots of experience and with your interests at heart. Going with any or all of it will be the best decision you can make concerning your wardrobe. Do go in any of these for an impressive look anytime.