[ux_products show_cat="0″ cat="877″ tags="875″ order="asc"]
Dobermans are a breed of dogs that started to become popular when they were used as guard dogs during the second world war. They were later used in movies and shows. As a result of their agility and intelligence, they're mostly used as protection dogs because they're one of the finest in the world. They can be very concerned and protective over their owners and even their puppies. They exist in different interesting colours of which the black and rust is the most popular.
[ux_products show_cat="0″ cat="243″ tags="876″ orderby="rand" order="asc"]
The dobie mom doberman mom (dobbie mom) t-shirts and hoodies are a set of breath-taking designs put together to satisfy your taste and give you a charming look wherever you go.
> You May Also Like:
4 Best Doberman Mom (Dobbie Mom) T-Shirts and Hoodies
1. Dobie Mom Doberman Pinscher Mom T-Shirt
Here on the front of the Dobie Mom Doberman Pinscher Dog Puppy T-Shirt, is printed an image of a white doberman pinscher with a red collar around its neck. In front of the image are the words- DOBIE MOM and a red heart shaped paw print. This is a unique design with different styles and colours which is sure to get you all the qualities you need in a t-shirt. It's a durable and of high quality, made from cotton. There are other nice products in this design too such as home goods and kids apparel.
This doberman t-shirt has been made in different styles and in spectrum of colours, suitable for both men and women. As a dobie mom, you should get one of these for yourself and for friends. You're sure to come back for more.
You can buy it here: 
[ux_products_list ids="193078,188923″]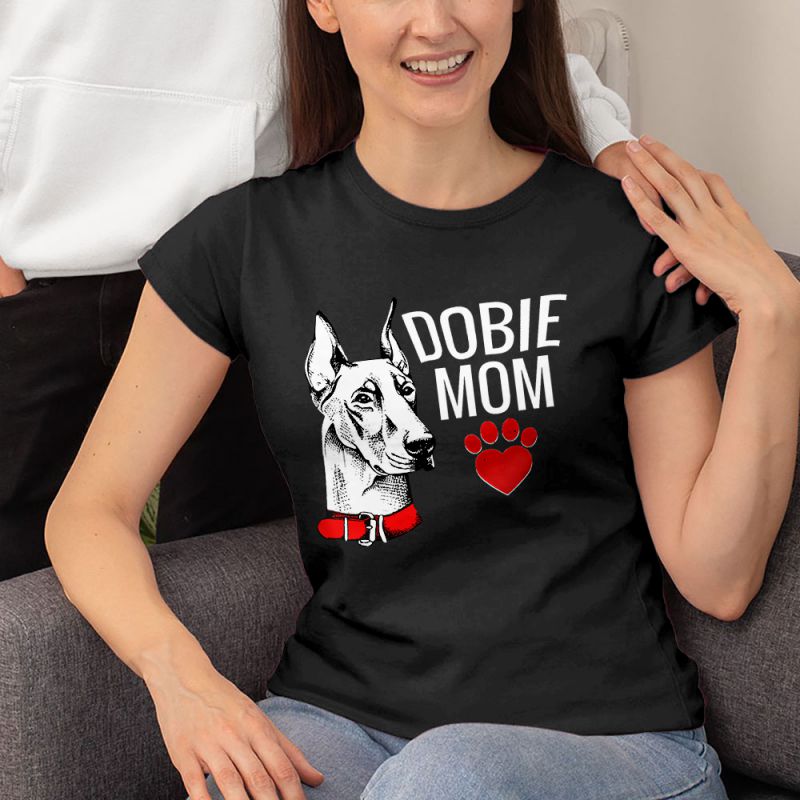 2.

Kinda Busy Being a Doberman Mom Unisex T-Shirt
All lovers of floral designs, here's one for you. It's the love for doberman, flowers and colours all together. The doberman mom kinda mother's day dog lover gift t-shirt t-shirt is captivating. Printed on its front is the image of a mature black and rust dobie with a red polka dot bandana around its head, red spectacles on its face and a small garland below it. There's a phrase- 'Kinda Busy being a' above the image and with hearts around it while below, there are the words- 'DOBERMAN MOM' with a dog paw print in the 'O' of MOM.
Want this design in different colours? We've got you covered as there are so many unique colours available and styles too. It's a gift for dog moms and other special moms.
You can buy it here: 
[ux_products_list ids="235873,243244″]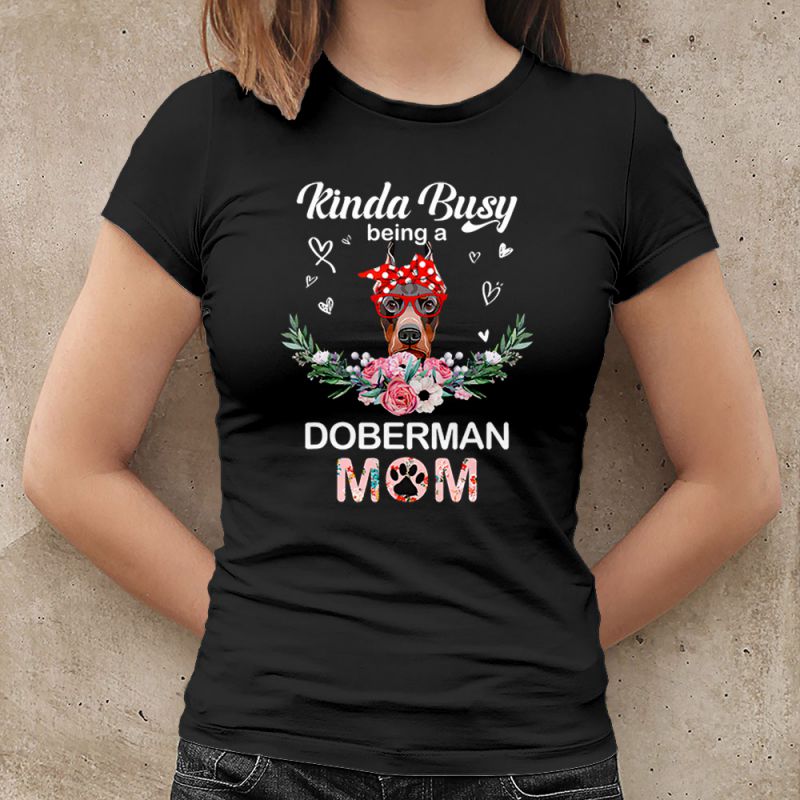 3.

Best Doberman Mom Ever Vintage Unisex T-Shirt
Yea, here's a cool artistic design. The Dog Vintage Best Doberman Mom Ever Gifts Lover T-Shirt has a doberman with reflective glasses on, standing in a small field with a colourful circular lined background. Below this are the words – 'BEST DOBERMAN MOM EVER' arranged one on top of the other. The display of colours on the words look beautiful. 'Best' in red; 'Doberman' in yellow; 'Mom' in dusty white; and 'Ever' in blue. You should add this to your cart right away because it's not a shirt you should miss. There's a book with the title- BEST DOBERMAN MOM EVER. It's a lined notebook journal which can also be used as a diary or log book in which you can keep track of all your pet's activities and all the fun you had together.
This doberman t-shirt is available in both male and female styles and in different sizes too. They've been produced in many colours to satisfy your needs.
You can buy it here: 
[ux_products_list ids="194721,166402″]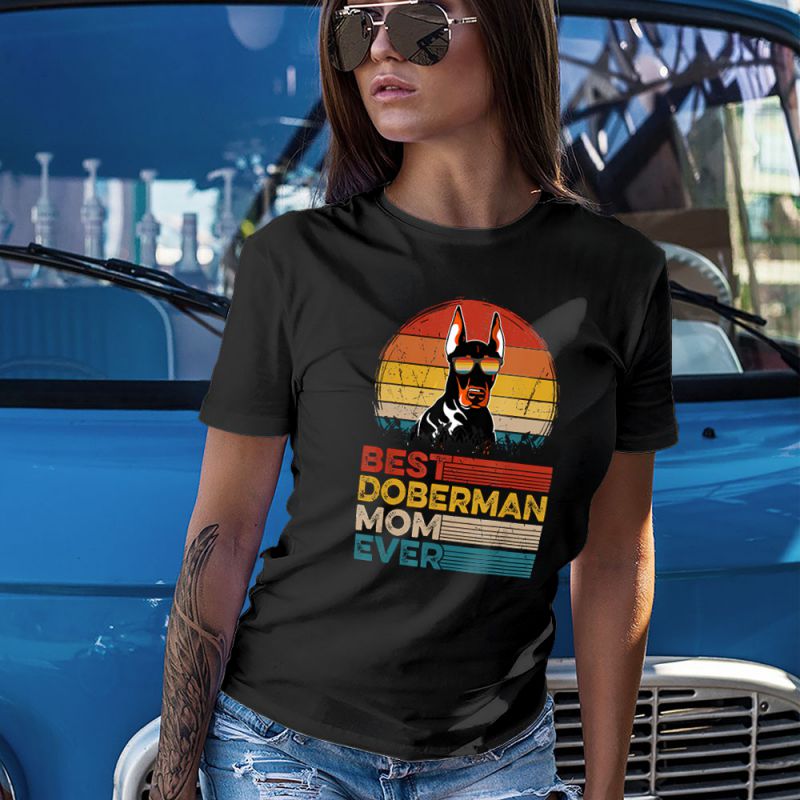 4. Doberman Mom Sunflower T-Shirt
Wow! This is enthralling! Right here is what is better seen than described. The Doberman Mom Sunflower Doberman Mothers Day Gift T-Shirt's design is one of great artistic intelligence. It has a printed painting of a happy black and tan doberman emerging from a sunflower field. Below this are the words- 'Doberman MOM' in yellow and white respectively. This will be a great gift for any doberman mom anytime, anyday. Being a doberman mom is something special and to be proud of. You should rock the feeling in one of this t-shirt.There are lots of other useful products in this design.
Variety is said to be the spice to life which is the reason this doberman t-shirt has been produced in lots of cool colours and styles. Spice up your world today by picking your choices out of the many available.
You can buy it here: 
[ux_products_list ids="237079,244450″]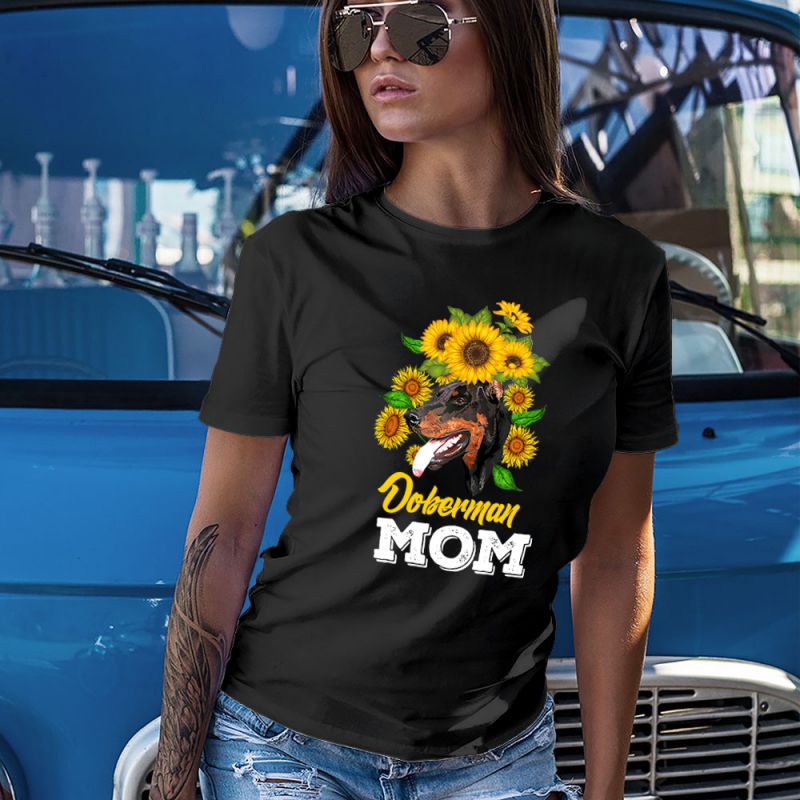 Conclusion
Looking good is something we have to do everyday. We have to deal with all sorts to be able to get it right which can sometimes be overwhelming. Everything has been simplified here. All we need do is – go for it and look good always, everyday.