[ux_products show_cat="0″ cat="877″ tags="775″] [ux_products show_cat="0″ cat="242″ tags="781″]
The funny pug mom t-shirt and hoodie are made from 100% combed ringspun cotton and the graphics designed by different independent artists who have taken the time to give a  unique work that will appeal to your senses. If you are searching for something classy, cool, bright, simple or lovely, you get it right here. Check out the varieties of colours, the different styles and the exquisite arts in these selections. We are sure you'll love them because only the best has been put into making them.
>> You May Also Like:
[ux_products products="24″ tags="pug-products" orderby="rand"]
I. 4 Best Funny Pug Mom T-Shirt and Hoodie
1. Funny Cute Bandana Pug Mom Unisex T-Shirt
The Funny Banana Pug Mom Lovers Mothers Day T-Shirt has a nice deisgn of the image of a pug in pink polka dot bandana and the words 'Pug Mom' below it. Its fabric is made of cotton and the art design printed with an advanced form of technology to give a faultless finish.
This is a durable t-shirt, just right for the pug lovers or the pug moms. The lovers of simple but awesome; this one will be a great choice for you too. The design is available in other products- totes, log sleeve t-shirts, onesie, hoodies, sweatshirt, notebooks, pins and many more. The colours of this t-shirt in stock are- hot pink, navy red, turquoise heather, asphalt, teal, Kelly, purple, slate, red heather, vintage black, light olive, plum and lots more.
The female sizes come in small, medium, large, XL, 2Xlarge and 3Xarge. There are also sizes 1,2,3,4 for the curvy t-shirt and curvy V-Neck styles for females. Other styles are available for your choice. For the extra softness, you can try the tri-blend t-shirt (for both male and female) and dolman tri-blend t-shirt styles for females.
You can buy it here:
[ux_products_list ids="211261,101419″]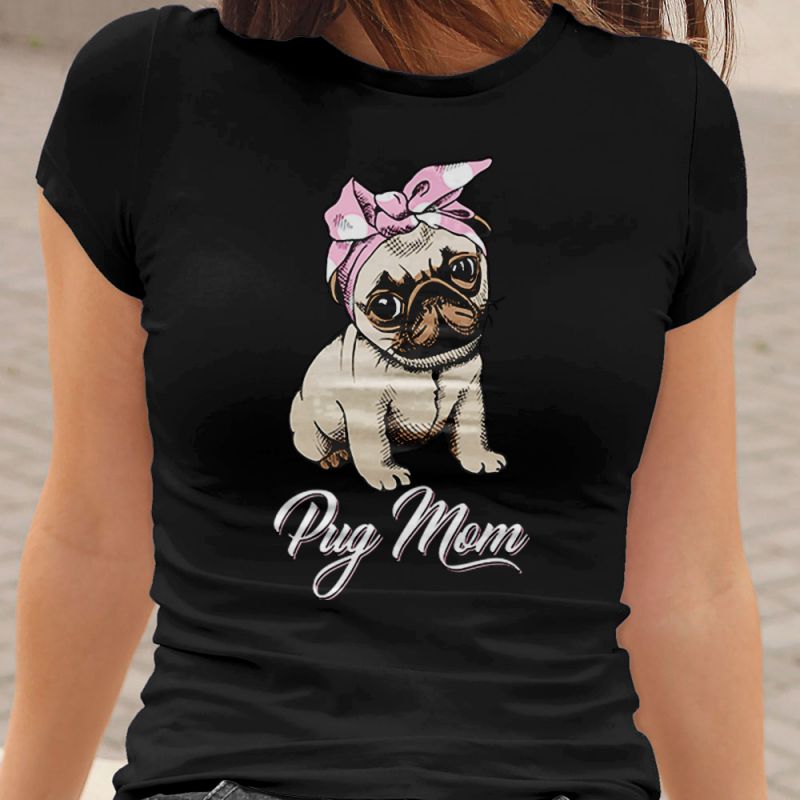 2. Pug Mom Life is Ruff T-Shirt
The Pug Mom Life is Ruff T-Shirt has a unique design and it comes in red, yellow, navy, soft pink, crème, light blue, mint, purple, white, hot pink and in other great colours. The Pug Mom t-shirt has the image of a brown and black pug lying on its tummy with the words 'PUG MOM' in white above it and 'LIFE IS RUFF' also in white below it.
The words 'PUG MOM' appear bolder than the rest. There are other products that come with this design: Kids T-shirt, coffe mugs, Hoodies, Baseball T-shirt, Tank Tops, Onesies, Long Sleeve T-shirts and many more. Pug Mom Life is Ruff T-Shirt has been made in different styles- Classic T-Shirt, Tri-Blend T-Shirt, V-Neck T-Shirt, Ringer T-Shirt, Heavy weight T-Shirt and others. All sizes are available too.
You can buy it here:
[ux_products_list ids="205677,100759″]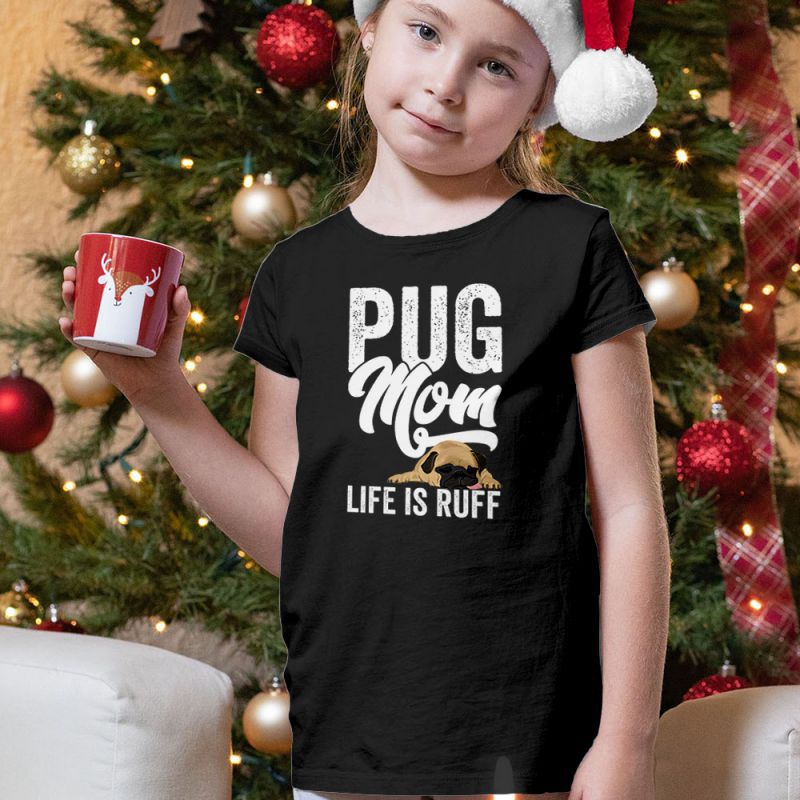 3. I'm The Pug Mom Just Like A Regular Mom But Way Cooler T-Shirt
Here on the front of the I'm The Pug Mom Just Like A Regular Mom But Way Cooler Happy Mother Day Mama T-Shirt is printed, the image of a happy pug. Above it are the words 'I'M A PUG MOM' (with the image of four butterflies around it) and 'JUST LIKE A REGULAR MOM BUT WAY COOLER' below. There are other products in this design- Wall Art, Kids T-Shirt, Tank Top, Crewneck sweatshirt, Long Sleeve T-Shirt, Onesie, Laptop case and lots more.
It is produced in many colours- black, maroon, royal blue, Kelly red, navy, orange, light blue, heather, slate, purple and hot pink to mention a few. The Pug Mom Mothers Day T-Shirt comes in different styles and sizes- Ringer T-Shirt; one of the male styles comes in four different two-colour combinations. They look awesome. You should check it out.
You can buy it here:
[ux_products_list ids="206333,101034″]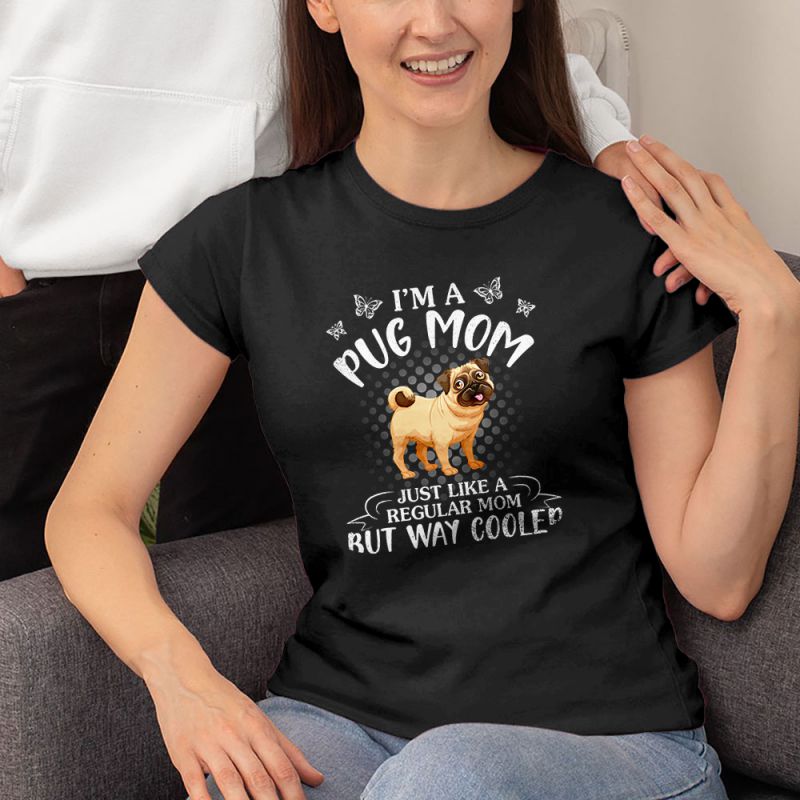 4. Pug Mom Stay At Home T-Shirt
'BORN TO BE A STAY AT HOME' 'PUG MOM FORCED TO GO TO WORK' are the words printed on the front of the Pug Mom Forced To Go To Work Shirt Dog Mom T-Shirt Gifts T-Shirt. The design also has the picture of a confused white and black pug with front paws placed on 'PUG'.
There is a multi-colored background with images of pine-like trees and two orange dog paw prints on either side of 'TO GO TO WORK' There are other products with this interesting design- Kids T-Shirt, Hoodie, Coffee mug, Onesie, Pin, Wall Art and many more. Soft Pink, Hot Pink, Crème, Yellow, Light Blue, Teal, Red, Maroon, White and Black are just a few of the colours available for you to choose from. Do get this in your right size and keep looking cool.
You can buy it here:
[ux_products_list ids="205786,100814″]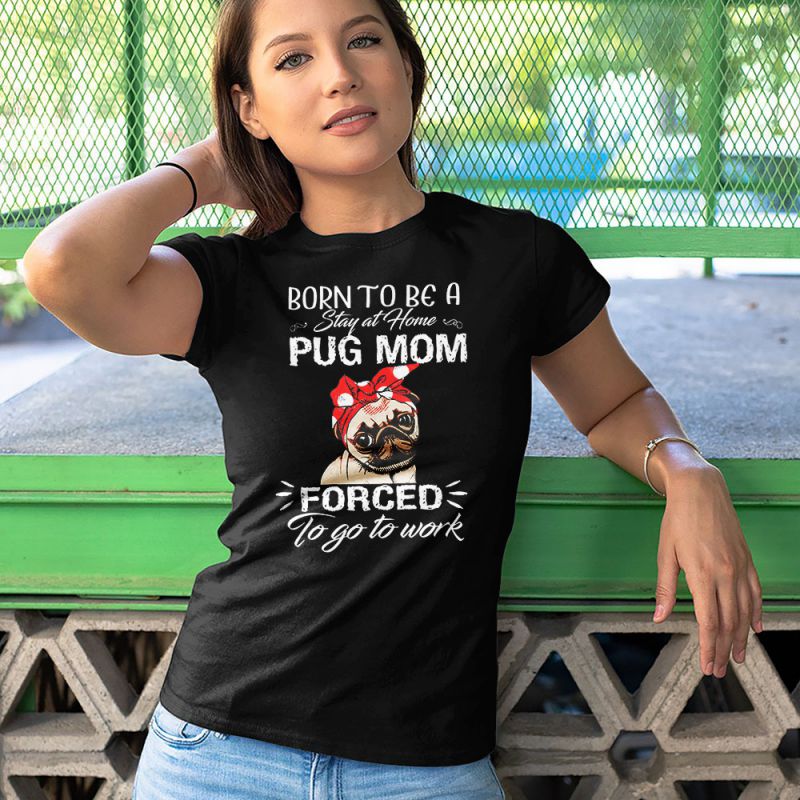 II. Conclusion
An amazing appearance is what these four different designs will give to you, we're sure of that. So, whichever you go for, do it with confidence. And remember to include your loved ones on the budget for these. They will also love and appreciate it.