[ux_products show_cat="0″ ids="204801,205458,205129,204144″] [ux_products show_cat="0″ ids="121147,115677,115549,124764″]
Best things in life are always free they say; this is so true in the case of best great dane shirts collection. Being the best cuts across all the details- the fabrics which are soft and light in weight; designs which are artistically extraordinary; styles which are uniquely made; colours, lots of them so irresistible; digitally made printing for a flawless finish and the list goes on. All these made with the thought of your tastes and ideas of your personality in thought which includes having your great danes close to your hearts.
Great danes are truly great pets which have been represented in these durable, timeless shirts which have got the tenacity to last for all times.
> You May Also Like:
4 Best Great Dane Shirts
1. Great Dane Fun Say Hello to My Little Friend Unisex T-Shirt
The great dane fun t-shirt is a cool design depicting the image of a great dane on one side and the words "SAY HELLO TO MY LITTLE FRIEND" in red on the other side. It's a nice combination of colours and ideas. This sentence is from the 1983 movie- 'Scarface' directed by Brian de Palmer. It's a famous quote made by Tony Montana also known as Scarface, played by Al Pacino in the movie when his rival's men were gathered outside his door. These were the words he said as he blasts the door open with his M16 rifle. In other words, they were to say hello to his supposed life saver.
This great Dane fun t-shirt with the image of the great dane which is also a life saver to its whoever has it. In the old days, they were kept in the palace to protect the prince when he's asleep. They're known to guard their space well and will attack with little warning when there's a violationvof their territory. This funny t-shirt is ideal for all dog lovers.
Buy It Now:
[ux_products_list ids="204801,121147″]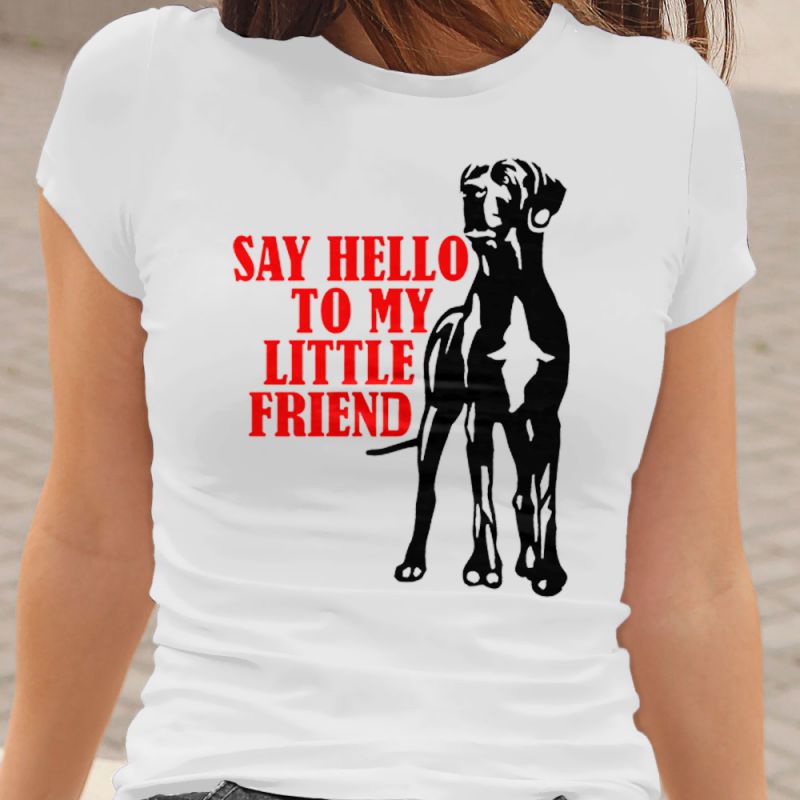 2. Funny Great Dane 4th of July Unisex T-Shirt
This is an amazing design on a quality branded t-shirt. The Great Dane Shirt Funny 4th of July Pup Tee T-Shirt has the words- "I'M ONLY HERE FOR THE HOT DOGS" in the pattern and colours of the United States flag and the face image of a grey merle great dane on a reflective glasses below it. The 'O' in the word 'DOGS' is replaced with a hotdog. Hotdog is a sandwiched sausage that has either been steamed or grilled. It is also used to refer to the sausage used in the hotdog. The ingredients used in making the hotdog differ in the different parts of United States.
The great dane t-shirt has a design for the patriotic minds. The styles are awesome and the colour choices, amazing. It's available for both male and female.
Please your orders here: 
[ux_products_list ids="205458,115677″]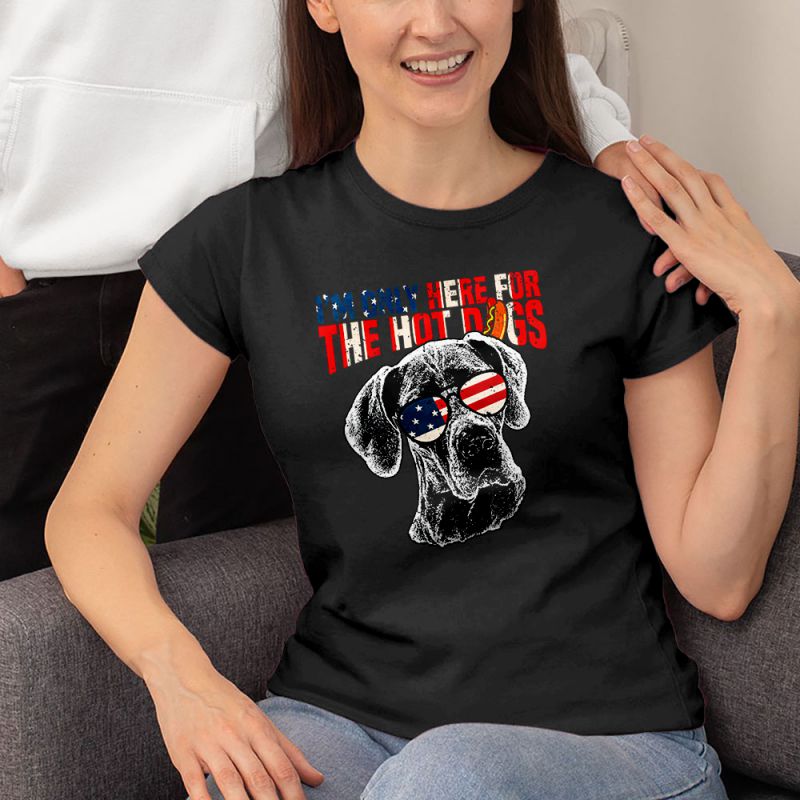 3. Funny Great Dane Dog Skeleton Halloween Costume Pet Gift T-Shirt
Here on the Funny Great Dane Dog Skeleton Halloween Costume Pet Gift T-Shirt is an image of a great dane with a white dog bone in its mouth on one side and a white smiling skeleton in a white carved gourd. Behind them in the background is a circular orange space with dry black trees and flying black bats. These mentioned above are some of the symbols of halloween with different meanings. The evening before the All Hallows' Day or the Christian's All Saints Day or the All Saints Eve. It's usually celebrated on October 31st where people wore costumes and lit fires to chase away ghosts . There are lightings of bonfires, carving of pumpkins and making of jack-o'-lanterns, visiting haunted attractions, watching horror movies and telling of scary stories.
The Funny Great Dane Dog Skeleton Halloween T-Shirt is a quality shirt for all who love the idea of halloween. It's pretty around the corner, get one for yourself and some for your loved ones. It's available in male and female styles and in numerous colours.
Place your order here: 
[ux_products_list ids="205129,115549″]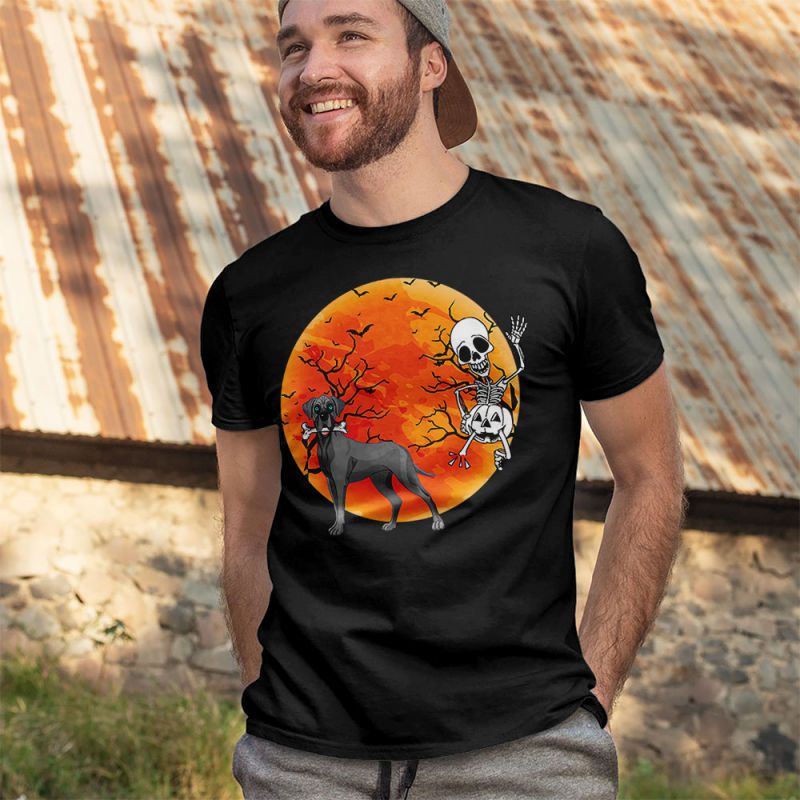 4. Life Is Better With A Great Dane Unisex T-Shirt
Here on the front of Funny Great Dane Dog T-shirt With Cute Graphic for Pup Lover T-Shirt is a sitted harlequin floppy-eared great dane on one side and the words "LIFE IS BETTER WITH A Great Dane" in white and orange colours. This is a classic artistic design with great words. Great danes are lovely pets who have earned their way into the hearts of many, thereby forming a unique bond. And for those who own one will agree that life can be better with you giving them all the love and attention they need. There's a book also titled "Life is better with a great dane" by someone named- NOT A BOOK. It's a 120pages notebook which can be used as a journal or a diary. With this, you can note down all your special and fun moments with your lovely pet.
This Funny Great Dane Dog With Cute T-Shirt has been specifically designed for lovers of classic. With this t-shirt on, you stand out anytime anywhere. It's available in different colours and styles for an admirable look.
Place your orders here:
[ux_products_list ids="204144,124764″]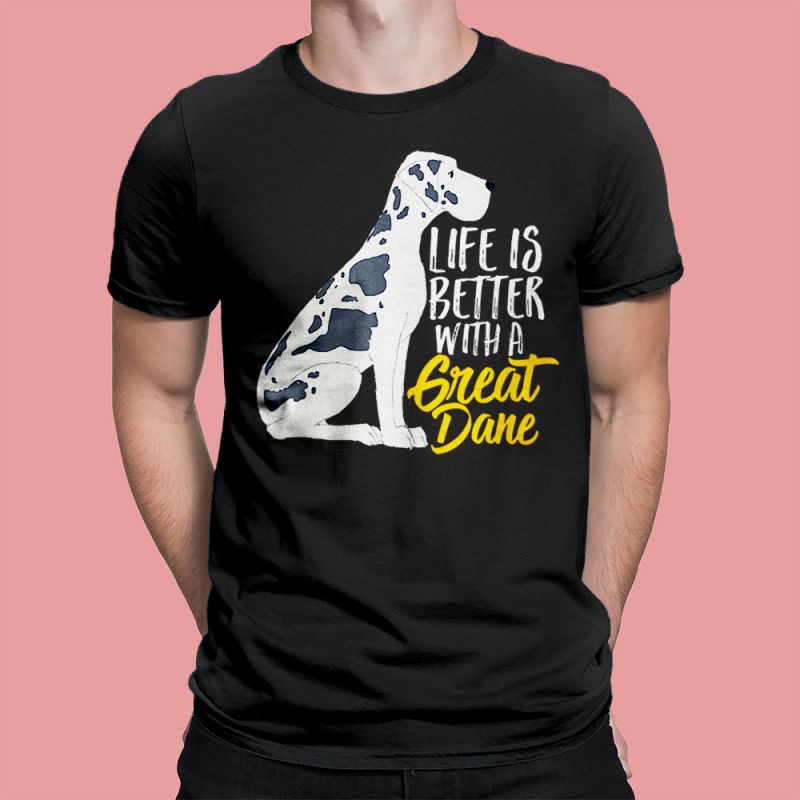 Conclusion
The best great dane shirts are top-notch in artistic designs, colour options and in styles. Won't you rather go for the outstanding? Shop, indulge yourself and loved ones and feel the aura that comes with these.