As you know, your kitty is often self-sufficient and spends half the day sleeping. It can be excellent if you are busy or work all day long. Still, it will like playing and need a challenging, engaging, and safe toy to have fun until you are absent.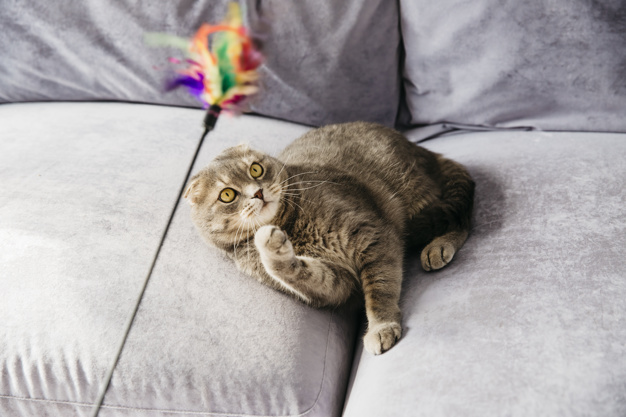 I will list you 6 cat gifts to keep your furry friend entertained for hours. Let's see.
Types of Toys Your Kitty Will Adore
Feather toys – Pick out a feather-based mouse or a bird to encourage hunting instincts in your cat and keep it fit. My beauties have a round cage with a tiny mouse in it hanging on the terrace door for years. They enjoy hunting, nibbling, and slapping it whenever passing by.
Cat ball, tree, and tunnel toys – It seems that these elements are the most attractive to cats. Choose any of them and keep your furry friend intrigued for hours.
Puzzle toys – They are an ideal choice for overweight cats by motivating them to look for treats actively. They will also limit the amount of food your kitty takes during a day.
Wand toys – These toys are always a great challenge for your furry friend, but they include your engagement, as well. Take a rod and let your kitty chasing a lure.
Electronic toys – Lasers and toys running on batteries will help your furry friend become more active. Keep in mind that they will be an ongoing expense since you need to change batteries regularly.
Catnip toys – Some experts claim that 80% of cats react favorably to catnip. I am not sure about it since that plant can be harmful and even toxic to kitties depending on their genetics.
The Crucial Features for a Cat Toy
Cat toys need to be:
Healthy – Approximately 60% of cats in the US are overweight or even obese. You should offer your kitty a toy that will force it moving.
Safe – Pick out the toy, which will not harm your kitty. Avoid easy-to-break and bad-smelling toys, as well as those made of poor-quality materials.
Durable – You need a toy that will last at least one to two seasons. That is not very demanding, is it?
Stimulating – Since your cat is probably lazy (though I am sure they cannot be as lazy as my three beauties), you should choose toys that will stimulate its predatory drive.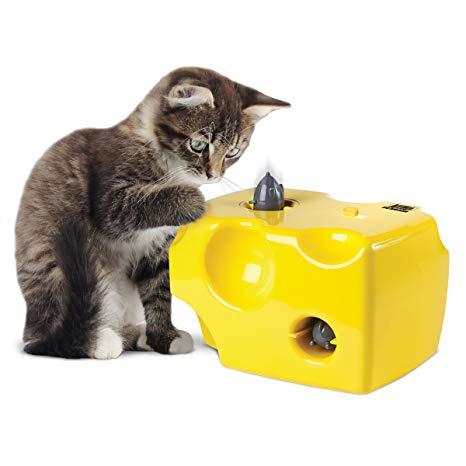 6 Top-Notch Cat Gifts on the Market
1. Automatic Cheese and Peek-A-Bird
My cats are not successful hunters, but they adore this fun cheese automatic toy. Itseems that it encourages their waned hunting instincts.
Since this toy contains two mice popping out unpredictable from the holes placed on different sides, it is an ideal choice for you if you have more than one cat.
Pros
You can set it to activate three separate automatic sessions
There is an on/off button, but it can turn off automatically after fifteen minutes
Made in the US
One year warranty
Cons
The package doesn't include necessary alkaline AA batteries
2. YOFUN Smart Interactive Toy for Cats
The battery-powered ball will catch the attention of your furry hunter in the long run. Thanks to the internal motor, self-balancing system, and sphere shape, this ball will change the direction automatically. That will encourage your cat to run without taking a break.
Pros
It will motivate your pet to move and keep it busy
While rolling around, the ball produces an intrigue red light, which will attract the attention of your kitty
One charging the batteries offers four hours of fun time
The ball turns off automatically after 40 minutes
Cons
It doesn't work on rugs
Older cats may keep an eye on the ball without a desire to catch it
It makes an annoying plastic sound while rolling
3. Ethical Wide Colorful Springs
It is a cute and affordable toy suitable for your cat, which will let it roll and jump all over the floor. The package contains ten 2 inches (5 cm) long plastic, multi-colored springs.
Pros
It is an uncomplicated but highly attractive indoor cat toy
Since springs are made of high-grade plastic and do not contain metal parts, they are safe for your kitty
Cons
Springs will roll under the furniture, including the heavy one
Kittens may swallow broken pieces
You may notice strong-smelling paint from the package
4. Catit Design Senses Play Circuit
Most cats have developed natural hunting instincts, but you should encourage their using. The circuit is a highly durable, appealing, and versatile toy. Your cat will adore chasing the motion-activated, flashing ball, which rolls inside the partially covered track.
Pros
It is an ideal choice if you have a high-energy kitten
You can attach additional tracks to make the play more fun
A few points allow speeding up and slowing down the ball every time your cat touches it
Cons
Sometimes you may face losing or separating some parts of the toy
You can't let your kitty playing without supervision
5. Trixie Activity Fun Board
With five separate games, this toy will be a stimulating challenge for your kitty. Add dry or wet treats to encourage your cat catching them from the different parts of the board, including a tunnel, pegs, holes, and alleys.
Pros
Each section on the board represents a unique task for your cat, which will stimulate it both physically and mentally
The board is large enough for multiple cats
You can wash it in a dishwasher
One-year warranty
Cons
Some kittens may lose their patience while asking for treats
It is not suitable for big cats with large paws
6. Hartz for Cats – Bizzy Balls
Your cat, especially if you have a kitten, will adore hunting and chasing these small balls. They stimulate the natural hunting instincts your baby has. The great thing is that it can play all day long without supervision.
Pros
The package includes three colorful balls
Differently textured surfaces of the balls cause erratic rolling, highly encouraging for kittens
Included bell add play value to each ball
The toy is an excellent choice for your cat regardless of its age
Cons
The product is a bit expensive relative to quality
A bigger cat may break a ball by stepping on it
A rigid plastic sounds loud on a hard floor
Conclusion
Believe it or not, I have bought numerous toys for my three beauties. Unfortunately, they hate most of them. On the other hand, some of these products have captured their attention for days.
Catit Design Senses Play Circuit is one of these. That versatile toy helps my cats develop their natural hunting instincts. It seems to me that it is not suitable for very young kittens and seniors, but it is an irreplaceable choice for high-energy cats.
Author Bio:
Emily is an animal lover and a content writer at catcaveco.com. She has a passion for writing about pet care & health. Through her writing she is spreading awareness on how people can live better happier lives with their pets. Till now she has adopted 3 stray cats & always encourages people to adopt animals from shelter homes.